"Design is not just what it looks like and feels like, Design is how it works!" – Mr. Ingvar Kamprad – Founder, IKEA.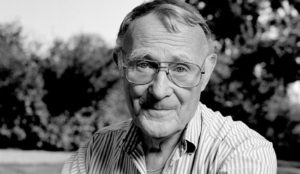 It is true what they say about necessity being the mother of invention, when a boy of 5, started selling matches to make some money. That same boy expanded his business to sell Christmas decorations, pens and pencils by the time he was 10, to reel in more profits. The boy we are talking about is obviously none other than Mr. Ingvar Kamprad, founder of the greatest furniture company in the world, IKEA.
Born in Smaland, Sweden, this enterprising young boy started a business in 1943, selling christmas decorations, picture frames and stationary, with the money his father gave him as a reward for securing good grades. At the young age of 17, Mr. Ingvar Kamprad, started IKEA, a short acronym for his own initials and the name of the family farm where he was born (Elmtaryd) and the nearest village (Agunnaryd). Little did he know, that IKEA would one day rise to be the world leader in innovative and low cost furniture and have over 370 stores in 47 countries.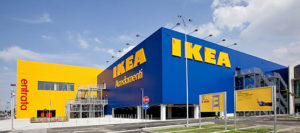 It was two years later in 1945, that Kamprad's business outgrew his ability to make individual sales calls, and he thus began advertising IKEA in local newspapers and used a milk van to deliver products to a nearby train station. In 1948, Mr. Kamprad introduced a line of furniture, produced by local manufacturers, which was a massive success. The furniture soon became a hit, not just in nearby locations but word of it spread far out. Mr. Kamprad figured that it's easier to sell furniture on a much bigger scale using a catalogue, and thus in 1951, the first IKEA catalogue was born.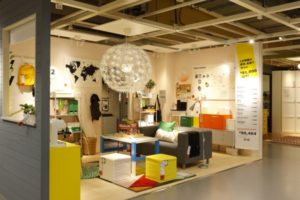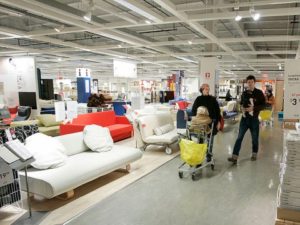 A firm believer in the functionality of furniture and his overall ease of use and multipurpose-ness, Mr. Kamprad wanted these designs to reach the masses. The first IKEA showroom, opened its doors to the public in Almhult, Sweden in 1953. 10 years in the business, and Mr. Kamprad had already tasted success and defeated most of his competition on the basis of his products and their quality.
However, to this day, what sets IKEA apart from all other furniture brands, is the premise that everyone can assemble their furniture themselves. Yes, the flat packing strategy! As usual, it was basic necessity that gave rise to this million dollar idea, when one of the co workers in the company, removed the legs of a small table, so as to fit them into a car without damaging them. After this discovery, the company started exploring the possibility of flat packaging all of the furniture they manufactured, to be sold with a manual and assembled by the customers themselves. The designs were simplified and broken down in a step by step process, in order to empower customers to assemble it themselves. This flat packaging reduced shipping and manufacturing costs to a whole new level, which meant cheaper, easier and more functional furniture in the rooms of the common man!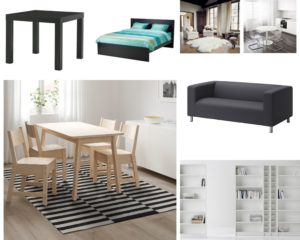 So what is the USP of this company? Isn't furniture being sold by a million other companies worldwide? What is its speciality? Well, IKEA is proof, that simple and minimalist design, where form follows function, will always triumph and be a hit among the masses than rather complicated and just aesthetically pleasing design. IKEA products, though a bit standard, are easy to assemble, fix and have multi purpose uses. Yes, IKEA wouldn't be the first choice to buy furniture according to our personality, or character and is not very unique, but its a simple solution to everyday needs which is exactly what sells in the market – Solutions for everyday needs. Moreover, the intense quality checks and new innovations for which IKEA stands, ensures that the company stays on top and continues to allure every teenager, professional or homemaker towards its wide and never ending product range.

With a net worth of 4.2$ Billion, he taught other designers a priceless lesson. "Simplicity and Common Sense should characterize planning and strategic direction." Design need not be ornamented or complex in order for it to be a success. Identifying daily problems and coming up with conducive solutions is the backbone of a good design. Be it in the world of furniture, or interiors, or fashion, or user experience, web design, etc., the ingenuity of a design lies in its simplicity. Mr. Ingvar Kamprad is testament to the fact, that nothing appeals to the masses as much as making the most out of what they buy.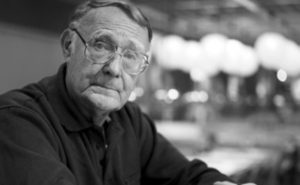 On 27th January 2018, Mr. Ingvar Kamprad, the brains and soul behind IKEA, passed away, leaving behind his legacy of design. IKEA continues to inspire designers and promote accessible designs with clarity. This is our small tribute, to a great immortal legend!
"Make it SIMPLE, but SIGNIFICANT." – Don Draper