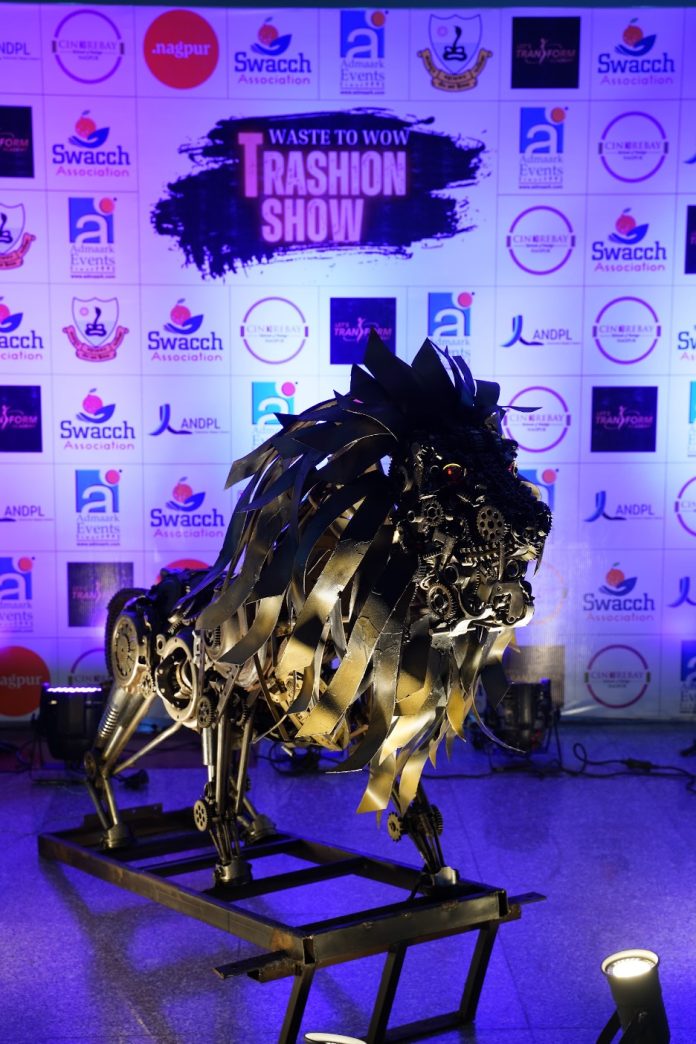 In a world awakening to the harsh realities of climate change and environmental degradation, innovative minds are finding creative ways to transform waste into wonders. Enter the captivating world of trashion, a movement that marries fashion with sustainability, where discarded materials are given a second chance to shine on the runway. Nagpur, a city renowned for its rich heritage and vibrant culture, has proven to be a hotspot of trashion brilliance as its forward-thinking individuals and communities have come together to craft something extraordinary out of the ordinary. By giving importance to the environment, Swacch Association, Nagpur, in affiliation with Cindrebay School of Design, Nagpur, AdmAArk Events, Avinya Nirman and Design Private Limited, Nagpur Municipal Corporation (NMC), Nagpur Smart and Sustainable City Development Corporation Limited (NSSCDSL), and Let's Transform Academy, held a trashion show on July 30, 2023, to celebrate Nagpur's achievers and environmental sustainability, which has grabbed attention all over the country. Let's dive deep into the show!
Trashion, a portmanteau of "trash" and "fashion," represents a movement that embraces creative reuse and upcycling of discarded materials to craft unique, stylish, and sustainable fashion pieces. The concept encourages designers to think beyond conventional materials, using items like plastic bags, bottle caps, newspapers, and more to create stunning garments. By transforming waste into wearable art, trashion showcases the potential to minimize our ecological footprint while promoting innovation and creativity.
Waste to Wow' aims to promote awareness about sustainable fashion, a buzzword these days, and to make everyone more conscious of the substantial environmental impact of our wardrobe. Anasuya Kale Chhabrani, president of the Swacch Association and show organizer, voices the dilemma of environmental sustainability and dreams of embarking on a future where creativity and environmental consciousness coexist. The event emphasized the necessity of minimizing waste and implementing eco-friendly practices in the fashion and creative industries, as well as at the individual level, to lower our carbon footprints. The premise of the show was built around the 6 R's: Recycle, Reuse, Reduce, Redesign, Renovate, and Recover.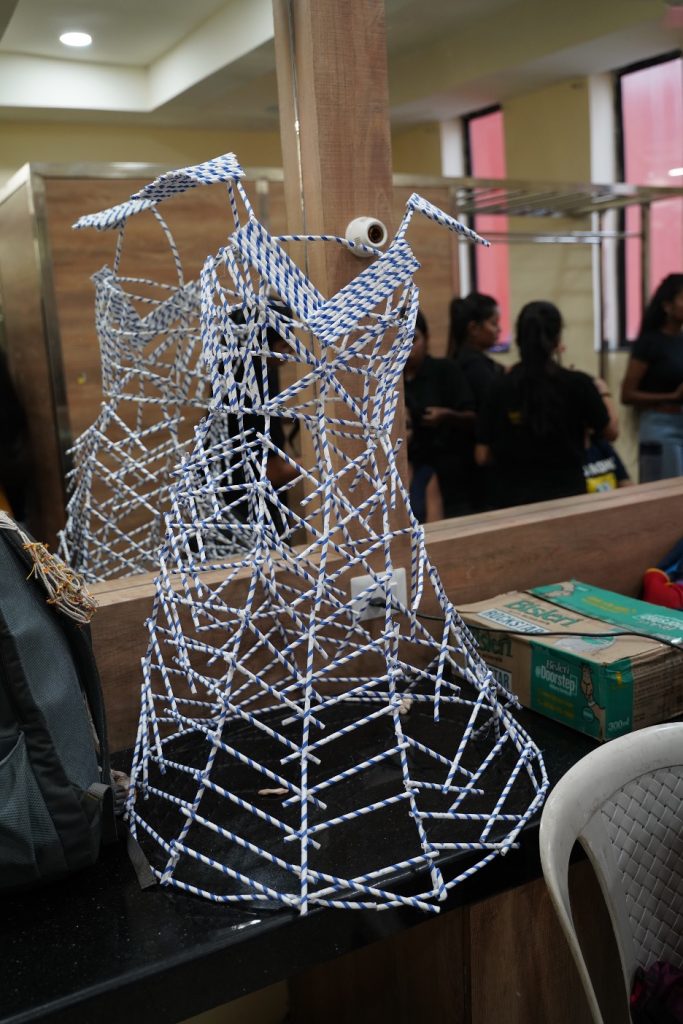 The show went beyond just promoting eco-friendly fashion. It was also a platform to honor and celebrate the achievements of individuals who have significantly contributed to their respective fields. The notable personalities who grace the ramp with their presence are Lohit Matani IPS, API Amol Dond, Abeer Ramakrishnan, Anay Ramakrishnan, Anchal Verma, Ashmita Patil, Avinash Deoskar, Avni Tiwari, Bimla Negi Deoskar, Jyoti Amge, Kalyani Satija, Khushroo Poacha, Madhumita Chuckerbutty, Mahima Suri, Ms. Navya Paliwal, Nikhilesh Tabhane, Pooja Chhabrani, Prachi Gondhane, Priyanka Acharya, RJ Saurabh, Rakesh Totla, Ritika Thaker, Dr. Rozina Rana, Sachin Giri, Sangeeta Ramteke, Dr. Shantanu Sengupta, Shilpa Agrawal, Soumya Paliwal, Dr. Vaidehi Marathe, Vanmala Munghate, Dr. Vartika Patil, Vilas Kale, and Vinita Bhatia. By combining the artistry of trashion with the recognition of local achievers, the event created a powerful synergy that resonated with the community. All of them who lined the ramp glimpsed gracefully in their magical attire designed by the talented hands of Cindrebay and inspired the young generation and Nagpur city to bring about a change in society.
One of the most remarkable aspects of the "Waste to Wow" trashion show was its emphasis on innovation and creativity. By displaying awe-inspiring creations produced by students and professors of Cindrebay School of Design, Nagpur, using sustainable waste materials, the show served as a compelling platform to merge art, fashion, and social responsibility, promoting the concept of trendy upcycling. Designers and artists took on the challenge of working with unconventional materials, pushing the boundaries of fashion design. This kind of creativity not only sparks new ideas within the fashion industry but also encourages people to think outside the box in various aspects of their lives. The show wasn't just a one-time event; it serves as an ongoing inspiration for building a sustainable future. It encourages designers, artists, and the general public to see waste not as something disposable, but as a resource that can be repurposed and transformed into something extraordinary. The event demonstrates how a change in perspective can lead to positive outcomes for both the environment and society.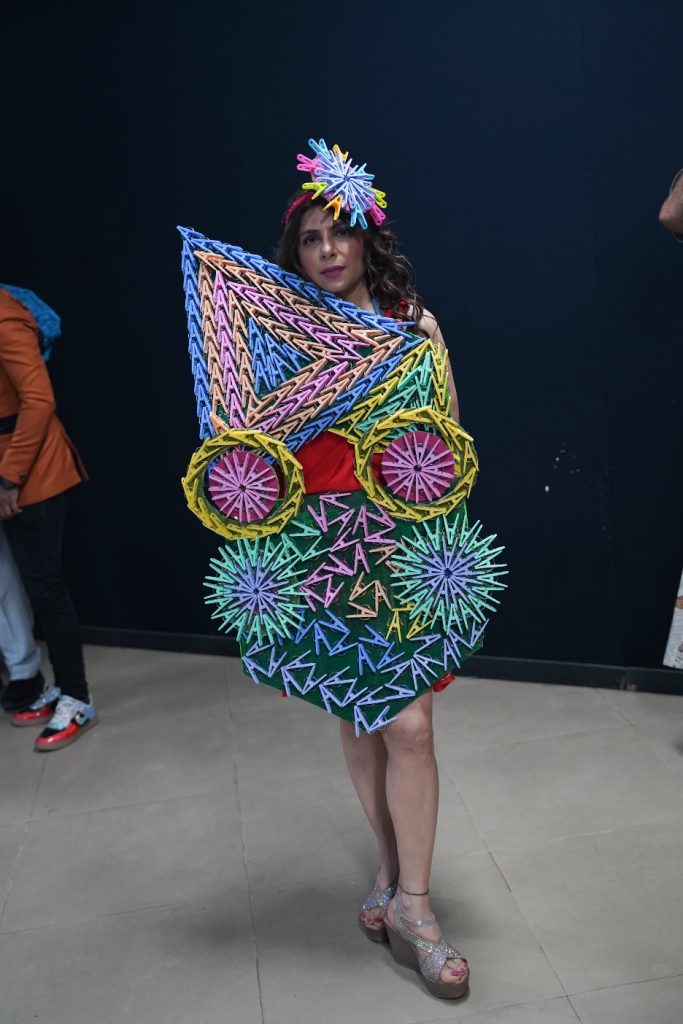 The "Trashion Show: Waste to Wow" sent a strong message about the urgency of addressing environmental issues and stands as a shining example of how art, fashion, and sustainability can intersect to create something truly remarkable. With sustainability at its core, the event emphasized the pressing need to adopt more responsible consumption habits and reduce waste. By showcasing how discarded items could be repurposed into stunning fashion pieces, the show prompted attendees to reflect on their own choices and the impact they have on the environment. By celebrating achievers and promoting environmental consciousness, the event left an indelible mark on both attendees and the city itself. As we move forward, it's crucial to draw inspiration from such initiatives and integrate their values into our own lives, fostering a more sustainable and innovative world for generations to come.
Highlighting the importance of environmental sustainability and raising awareness about waste reduction is essential in our modern community. Trashion shows serve as a platform to raise awareness about the environmental impact of excessive waste and consumption. By showcasing creative and stylish pieces made from discarded materials, they emphasize the need to reduce, reuse, and recycle. It encourages individuals to adopt more sustainable lifestyles by demonstrating that fashion and art can be created without contributing to excessive waste. This can inspire people to think twice before throwing away items that could be repurposed.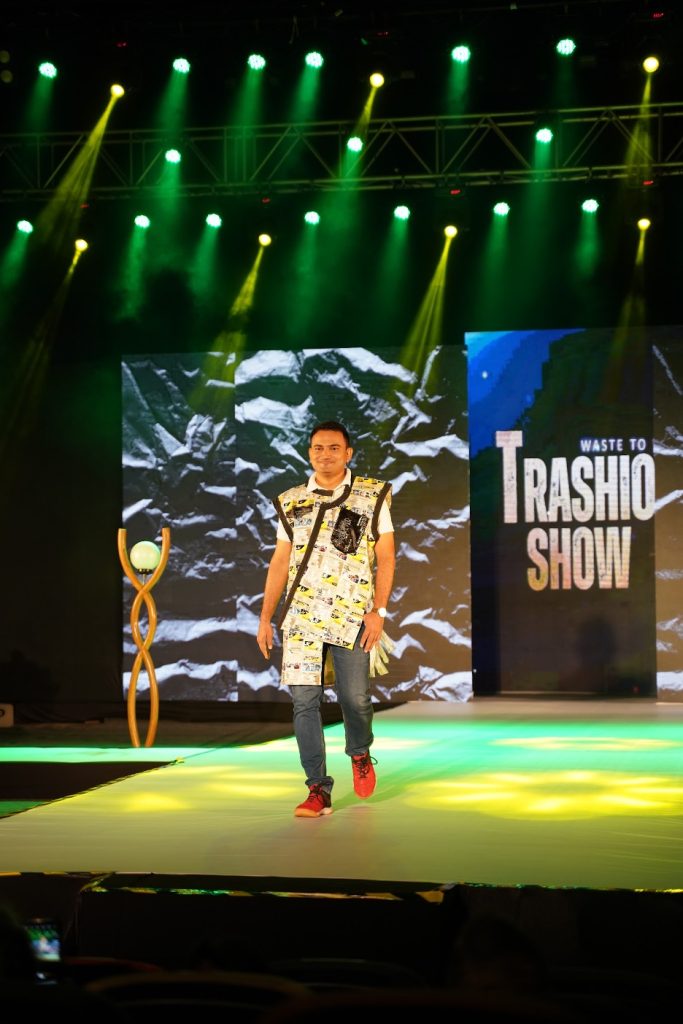 "Waste to Wow" was more than simply a runway extravaganza amidst the mesmerizing glitz and glamour; it was an impassioned appeal for change. It saw how creative designers gave new life to daily trash, inspiring a change towards a more sustainable and eco-friendly future. The show honored the beauty of reinventing waste materials into breathtaking fashion marvels. Each outfit presented a compelling environmental story and demonstrated the limitless potential of innovation in solving the worldwide waste challenge. The event provided an outstanding evening of elegance, creativity, and, most importantly, a more sustainable future for future generations.