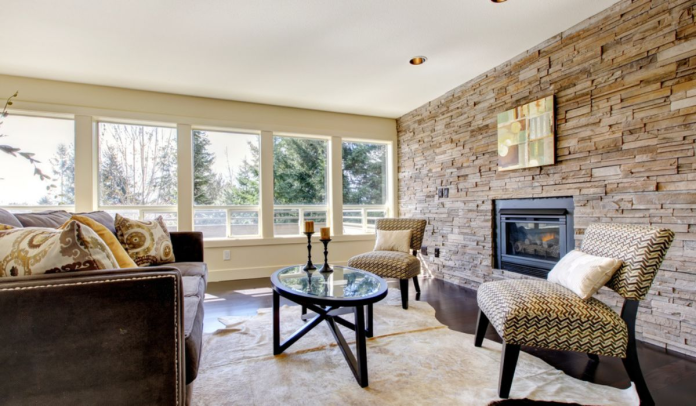 How can you transform a wall into a statement piece?
Do texture paint…
Apply a wallpaper…
Accessorize it…
But, here's what we suggest. Install wall cladding, and your job is done.
This is because interior wall cladding brings more character to a room through the application of various materials. Every material has unique attributes which make a surface appear more visually appealing. Hence, contemporary architects and interior designers are using wall cladding as an integral design element to amplify the aesthetics of a room at a minimal cost.

Source: Design Cafe
What is Interior Wall Cladding?
Wall paneling and cladding were traditionally used as a sound insulation technique between rooms. But with the changing times, cladding has become more of an aesthetic design element with limited functional purposes. 
In modern homes, you can discover cladded walls, especially in living rooms, used for the purpose of concealing electrical wires. Also, since the living room is the foremost area that one sees when entering a home, a beautifully cladded wall creates a good first impression.
6 Types of Interior Wall Cladding for Residential Interiors
Selecting the right wall cladding solution for residential interior design involves a number of creative and technical considerations. You have to consider the size of the room and the wall, the amount of light entering the space, and the purpose of the room to finalize the cladding material and color. Use the guide below to explore various interior wall cladding materials and styles for homes.
Stone 
Stone cladding on interior walls provides a rustic and sturdy look to the room. A thin layer of stone is placed on top of a finished wall surface to give the wall a stone-like aesthetic. Stones such as granite, sandstone, marble, and marble are popular choices for interior wall cladding. 
Source: Housing
You can select the color of the stone based on how warm or airy you want the room to appear. In case you want to make a room look brighter, use pastel-colored stones. But, if you want to make the room look warmer, you must select darker stones. They are popularly used in kitchen backsplashes because of their easy-to-clean and maintenance properties.
Brick
Cladding bricks on a wall provides a minimalistic contemporary finish to the room. The beauty of brick cladding lies in the fact that it can be painted to suit the overall design concept of the home. They provide a clean geometric texture to the wall and provide good insulation to the wall. Although considered an expensive investment, brick cladding is durable and requires less maintenance. 

Source: Pinterest
You can use brick cladding on walls in combination with white painted walls, monochromatic furniture, and bright green indoor plants. Brick-cladded walls are often designed opposite the entrance door for making an impressionable appearance.
Concrete 
Concrete wall paneling is an excellent choice for industrial-style home interiors. They offer a rustic clean finish to the wall giving the home a modern look. You can go for concrete interior wall cladding in lounge areas. 

Source: Living Concrete
Their clutter-free appearance gives a calming vibe to the room making it perfect for spaces that require concentration and serenity. Walls in reading corners, work desks, and at-home offices can look great with concrete wall cladding.
Wood 
Using wood for interior wall cladding is a popular choice in urban homes. Wood is sourced from trees such as white pine, redwood, and cedar for the manufacturing of panels. Plywood is also largely used for creating interior wall cladding panels. The surface is finished in laminate or veneer depending upon the look and finish you want to achieve.

Source: Homenish
Fluted wooden panels have become a people's favorite because of the versatility in design that they provide. Projections and depressions in a fluted panel make for an interesting design element in the room and help in achieving aesthetics with minimal effort. 
Metal
If you want to provide a sheen and classy finish to a wall surface then metal wall cladding would be a suitable choice. Metals such as steel and aluminum are used for cladding walls in the living room and in the kitchen. They are cost-effective in comparison to other materials and require less maintenance. 
Source: IndiaMART
The durability of metal panels can be second to none. You can use metal for cladding in high-traffic areas of the home. However, we recommend you avoid sharp corners and highly patterned steel panels to make the wall finish look smooth and clean.
Cork
Cork is a sustainable material that is attracting attention because of its unique appearance. It is durable and resists cracks and abrasions. It is also a waterproof material that is easy to install and requires low maintenance. Along with wall cladding, cork is also used as flooring and false-ceiling finishes. 

Source: Pinterest
Interior wall cladding with cork looks similar to wooden cladding. It's an earthy material that is heavily textured with grains. Cork cladding on the wall provides warmth and a cozy vibe to a room which makes it suitable for bedrooms. You can accentuate the look further by complementing the cork-cladded wall with sleek metallic furniture, warm undertones, and minimalistic finishes. 
Selecting the Right Wall Cladding Material
You can decide on the wall cladding material based on the style of interior design the entire home is following. If you are opting for interior wall cladding, it is recommended that you do not heavily accessorize the wall. But, you can enhance the wall aesthetics by adding focus lights and pendant lights. You can also place some artwork on the wall that complements the colors of the cladding material. 
However, make sure that you order material samples on-site and check the suitability for the project. The ultimate consideration for selecting wall cladding material is to choose a material that resonates with the personality of the user and acts as a reflection of their taste. Personalize the design by making the user a part of the process and effectively utilize the cladding material. 
References: