Conventionally, amphitheaters have been an open air theater, freestanding, usually circular, steps leading down to a stage or arena. Amphitheaters, historically were designed for spectator events, such as gladiator fights in Early Rome. They were also used for other sports, public events and performances, like plays and music. Amphitheaters now, have become a new public forum and many cities around the world, are recognizing their potential to become future public spaces. However, to understand this, we need to look at Amphitheaters from an unconventional aspect. To broaden our perspective in this regard, let's take a look at some interesting examples of open air theaters around the world.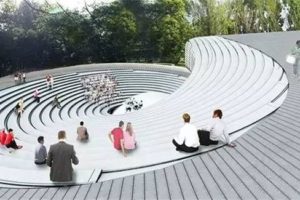 This concentric ring of steps, starting from the roof of the structure, is an ingenious example of a modern amphitheater. With steps which encourage public use, and the theater culminating in a stage, this space is perfect for hosting small events and also serves as a public forum the rest of the year. Some more examples of this same trend are below.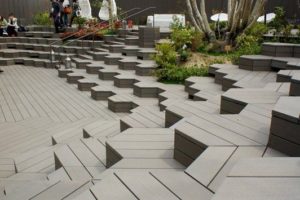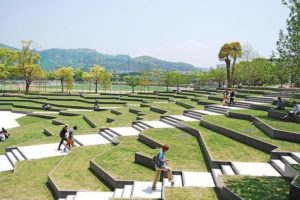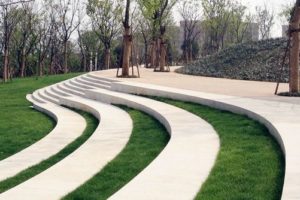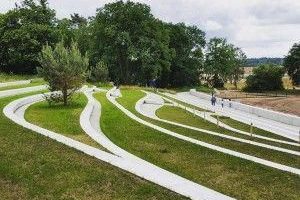 Breaking apart from the traditional circular seating, to a more flexible organic pattern, so as to serve multiple purposes, amphitheaters today, are taking a leap from their usual fixed planning. Combining landscapes, green turf and paving, these make more for a public zone than just a theater. Being an important part of landscape design, designers are delving more and more into this interactive form of landscape in public spaces.
An interesting form of amphitheater, where nature itself is a stage, is also becoming very common as a tool to encourage more public interaction, with each other and nature. The stimulating environment, that an amphitheater facing a natural element allures more active public life.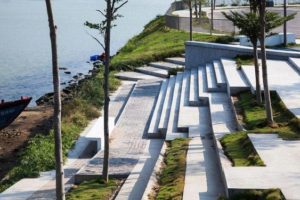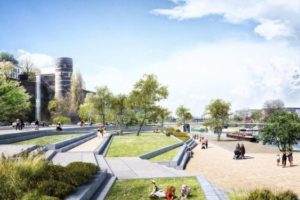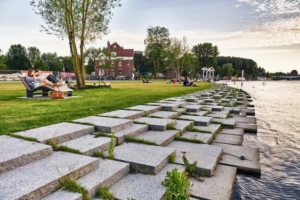 Modern public landscapes, such as malls, high street retail, IT parks and residential apartments, are also seeing Amphitheaters as a design element to bring people together. Multilevel seating, is a perfect setting for people to grab a quick lunch, to meet friends, hang out, hold markets and events, stroll or have picnics. These kind of outdoor activities have somehow been forgotten, which are being enthusiastically rekindled by designers who propose such spaces.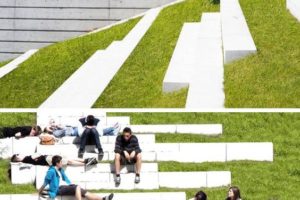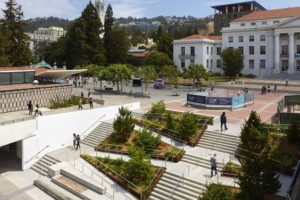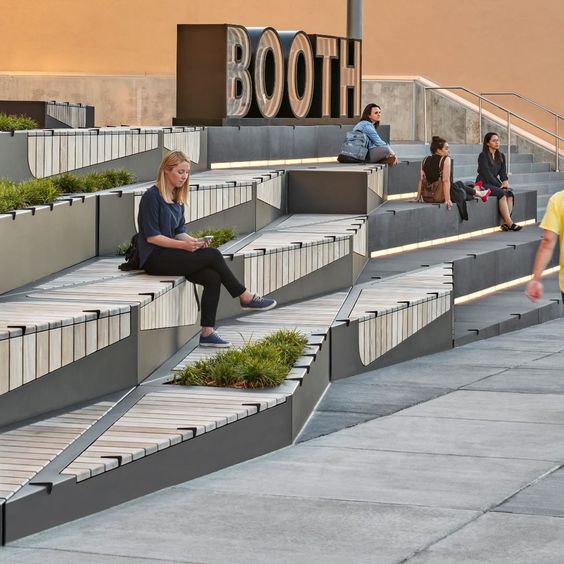 So be it, overlooking a river, or as a landscape feature, or as a urban public space element, amphitheaters are catching on. Even in interiors, stepped or multilevel seating are making their way. With famous offices like Google providing indoor amphitheater seating for a flexible work space for employees, or bars and clubs providing stepped seating to customers, amphitheaters are fast catching on. Looks like, it is a win – win, because the people love this growing trend as much as the designers! We will just have to wait and see, where this design trend goes, and how many more interesting innovations we see on this front in design!