This city is known by many names – IT Hub, Beer Capital of India, India's Silicon Valley, or the city of gardens. The city known for it's innovative architecture, it's nightlife and culture, the amazing weather and also the wildlife and greenery! Bangalore! The cosmopolitan city offers loads of potential to youngsters in terms of education, jobs and extra curricular activities. However, in recent times, Bangalore has been under the limelight for a whole other reason. It's deteriorating lakes. The situation has gotten so bad, that a 2017 article of 'The Guardian' claims the city will be uninhabitable in a few years owing to the illegal dumping of waste and untreated sewage in Bangalore lakes.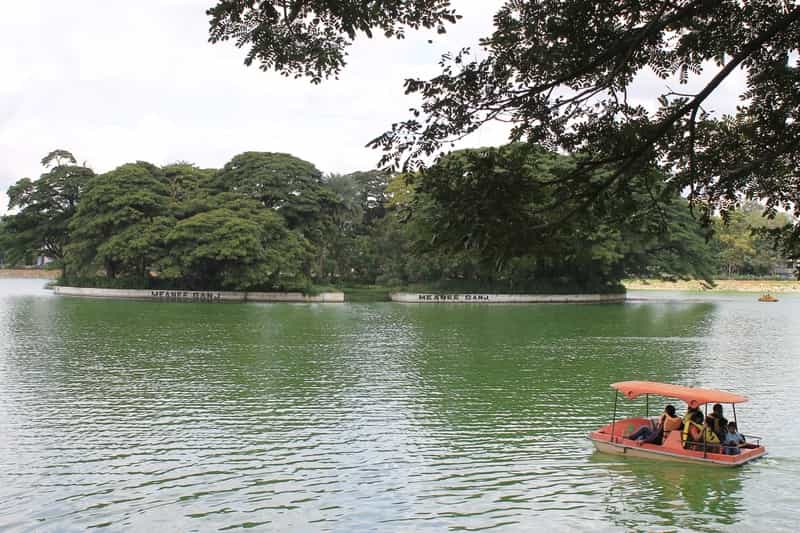 Ulsoor Lake – Before (A beautiful boating destination with clean waters)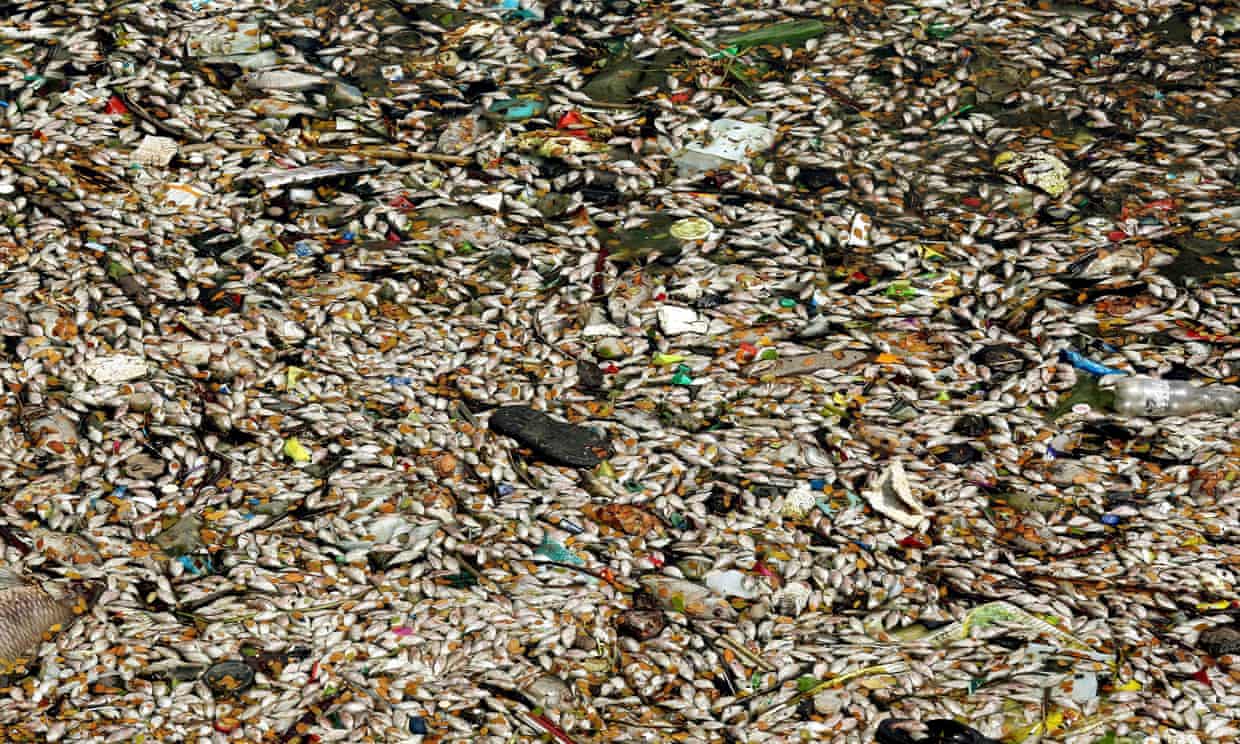 Ulsoor Lake – After (Dead Fish at the shore due to pollution in the lake) *P.C. The Guardian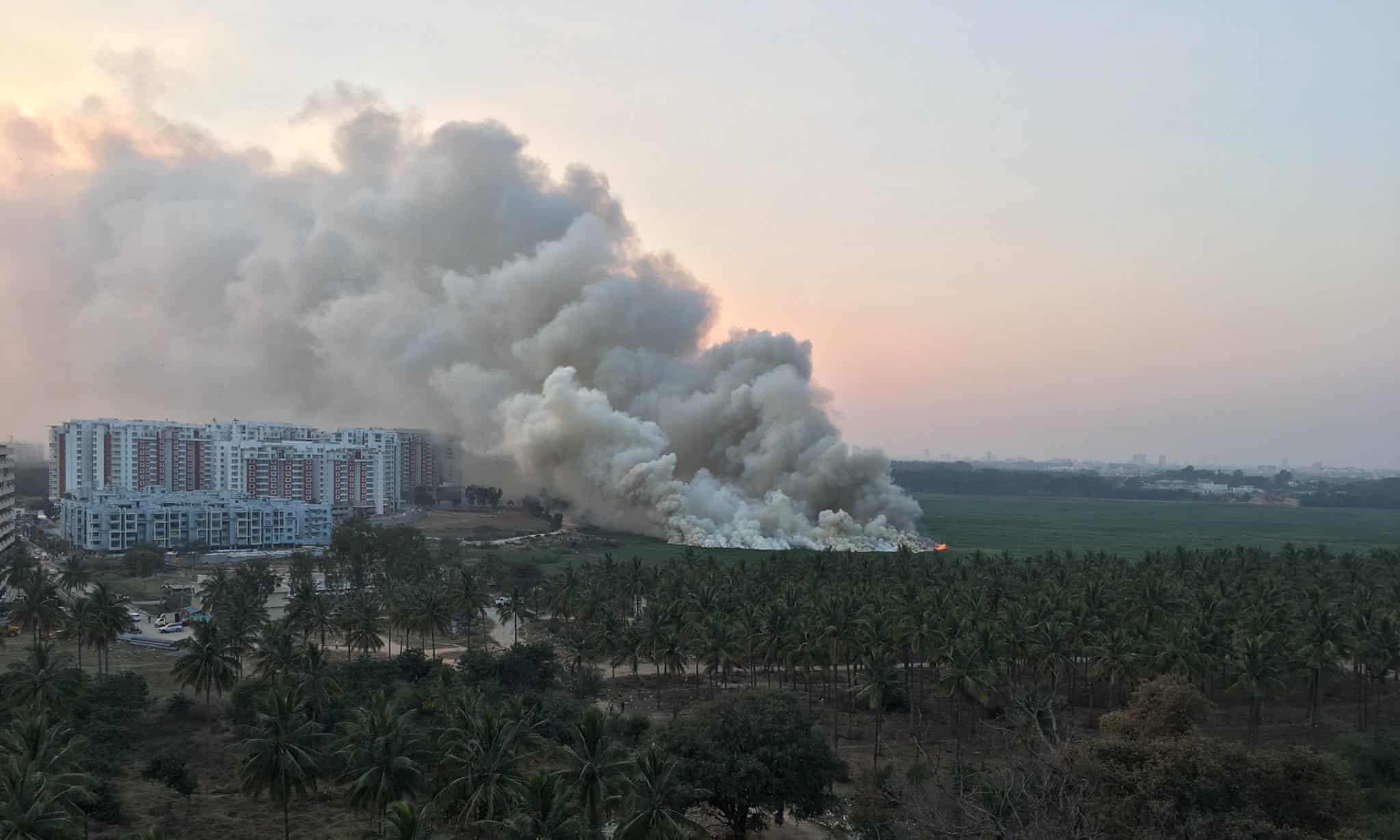 Bellandur Lake – Burning lake generating toxic froth and smoke due to waste dumping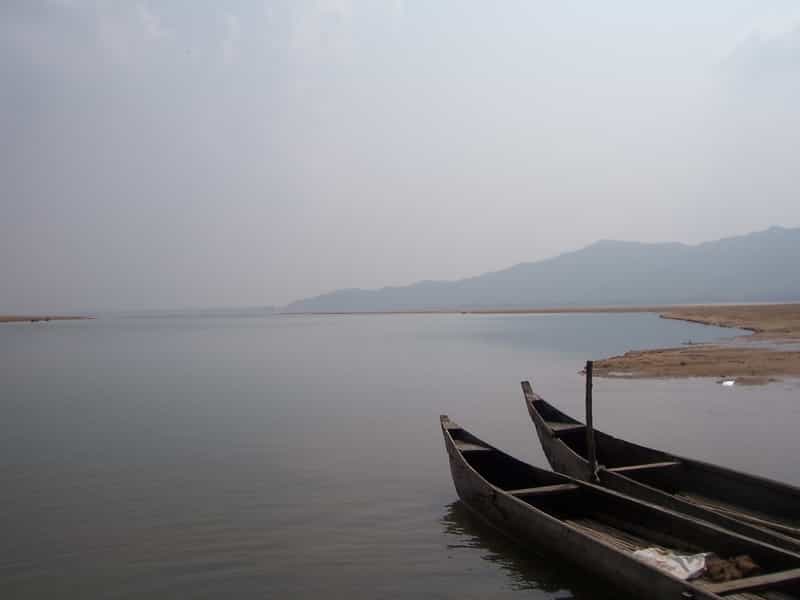 Nagavara Lake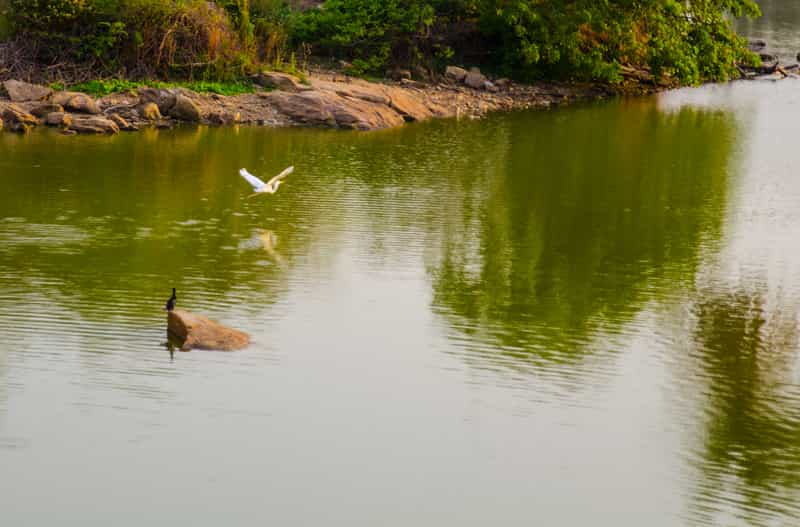 Lalbagh Lake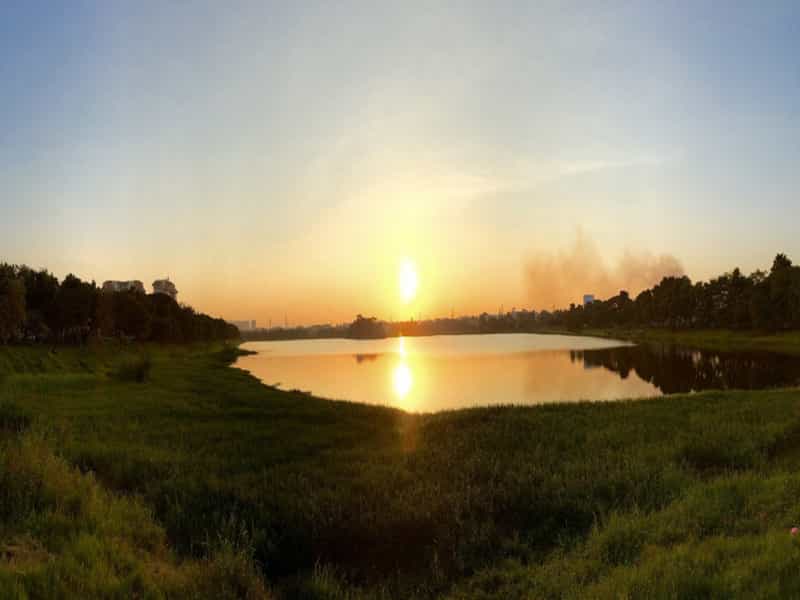 Agara Lake
What's saddening is that this isn't just the story of Bangalore, but almost every Indian city, where natural water bodies like rivers, lakes and reservoirs are being treated badly and contributes to deteriorating water quality and affects our environment. The once flourishing natural water sources are thus left scarce, polluted, dirty and reduced to stinky canals. So, what can we do as designers to reclaim these precious lakes, and prevent them from turning into a wasteland, moreover transform them into beautiful public spaces where our children can enjoy India's natural abundance? Let's look at some examples where waterfronts were redesigned as public spaces, for leisure activities and as a step to elevate the city's tourist, economic and outdoor potential.
Riverfront in Zhangjiang – China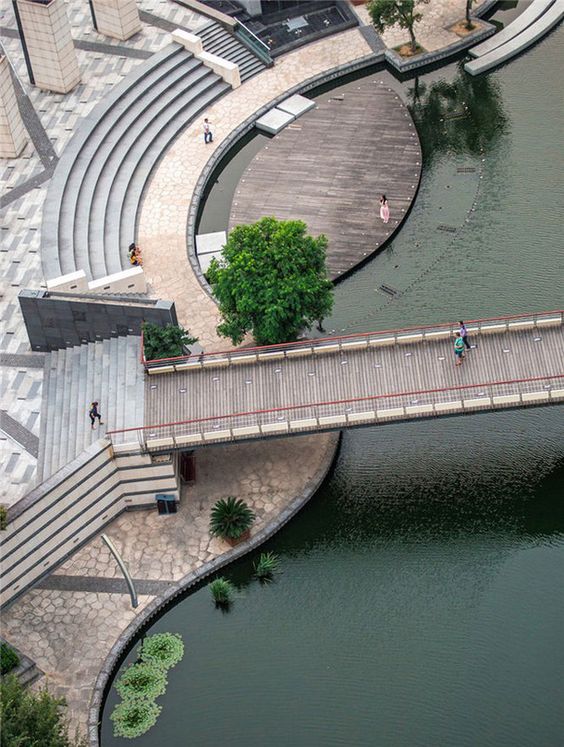 After serious pollution damage since 1990, the 12m wide and almost 2200m long river in Zhangjiang, which was facing major environmental threat was cleaned and redesigned by Botao Landscape Studio. Controlling further pollution and cleaning the water, while also undertaking a transformation of surrounding area were steps taken to prevent future damage and restore the natural ecosystem of the river.
2. Chicago River Walk – USA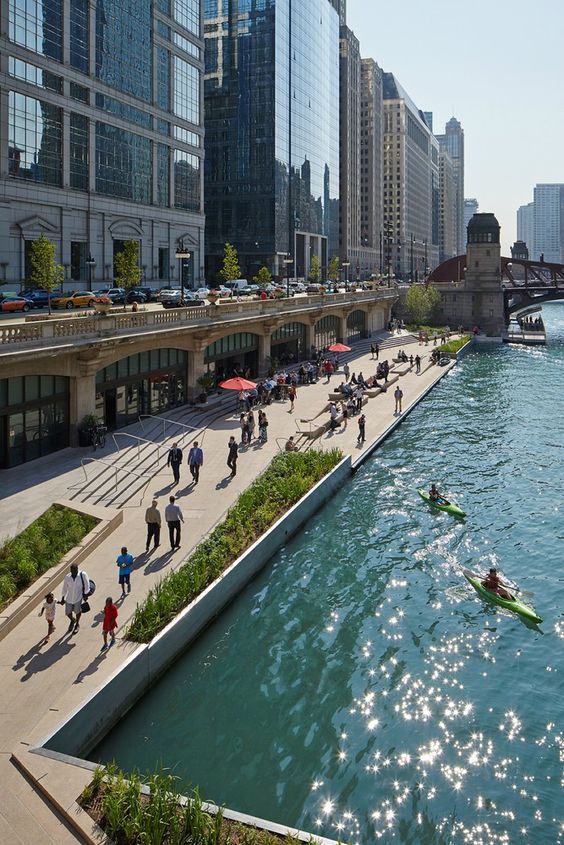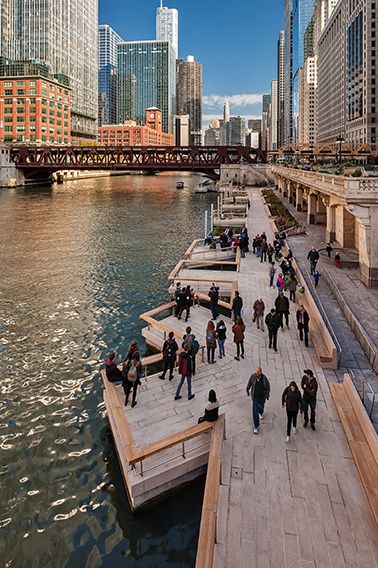 The Chicago Riverwalk expansion by Sasaki and Ross Barney Architects was a step toward creating new connections alongside the river for public use and a way of enriching urban life and introducing engaging activities along the river.
3. Cheonggyecheon – Seoul, South Korea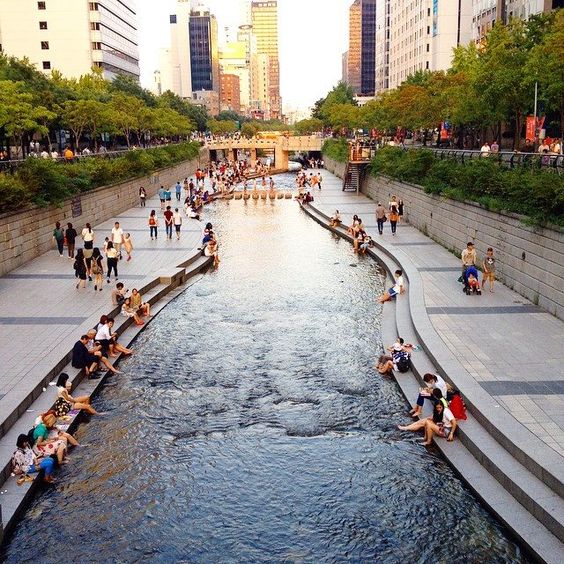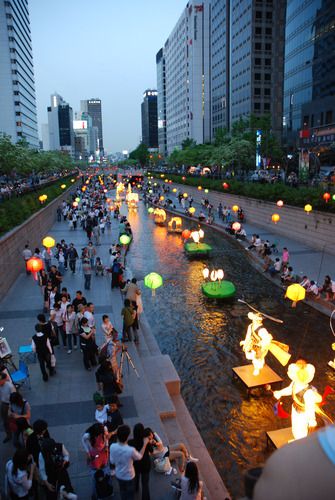 This modern public space in Seoul, South Korea stretches for 11 km. This massive urban renewal project Cheonggyecheon, was led by the government to restore the river which was covered by transportation infrastructure during the post war economic development. Now, it serves as a popular tourist and locals favourite destination for hanging out and connecting with nature.
4. Paprocany Lake Shore Redevelopment – Poland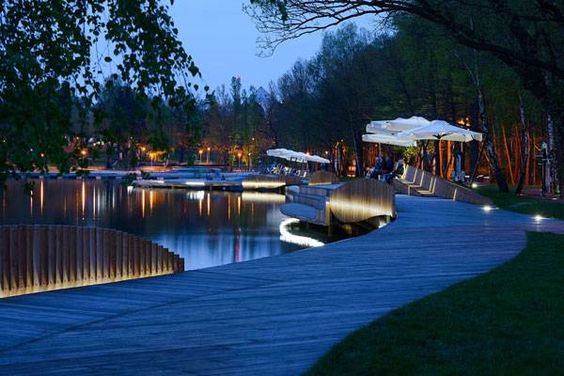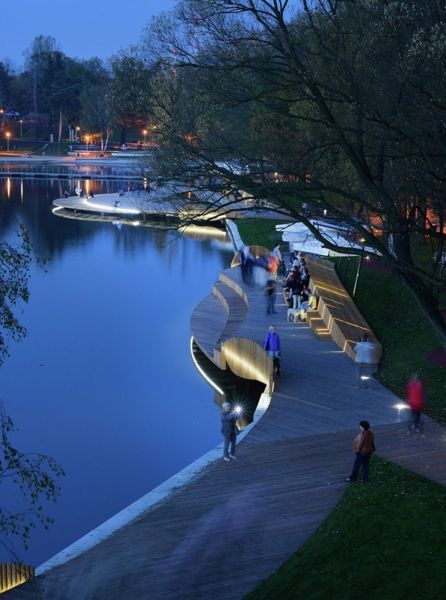 This beautiful recreation development of a lake shore area comprises of wooden decked walkways alongside the lake offering sunken seating and hammocks for public use illuminated with efficient LED lighting. Such developments not only bring people together but prevent negligence of the lakes, thus keeping pollution and environmental hazards at bay.
5. The Kalvebod Waves – Copenhagen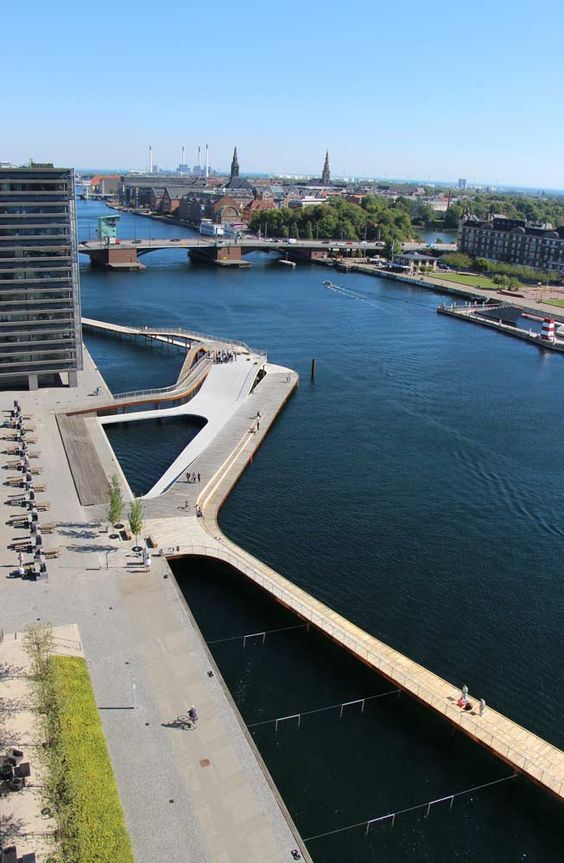 This modern footbridge by JDS and Urban Agency, transformed the industrial plagued harbor into a beautiful public zone. The urban strip which was earlier open to strong winds and devoid of any public life, is now alive, filled with locals and tourists who enjoy the serenity of the river and engage in leisure activities.
6. Smale Riverfront Park – Cincinnati, USA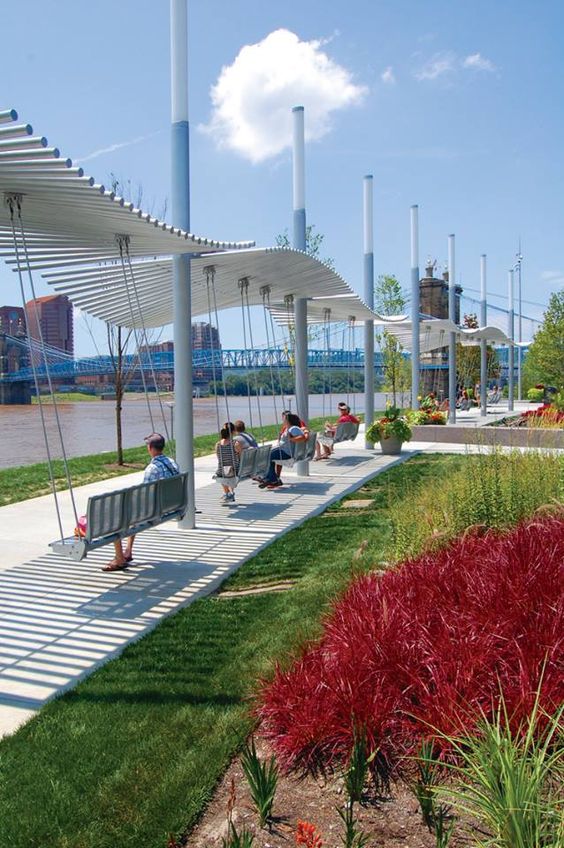 This multilevel park along the river in Cincinnati has become the popular gathering place in the city owing to it's attractive gardens, walking paths overlooking the river and innovative play spaces.
There are many more examples, around the world where water bodies have been treated with love, thereby creating beautiful public spaces which encourage people to respect natural environments and indulge in outdoor activities and public interaction.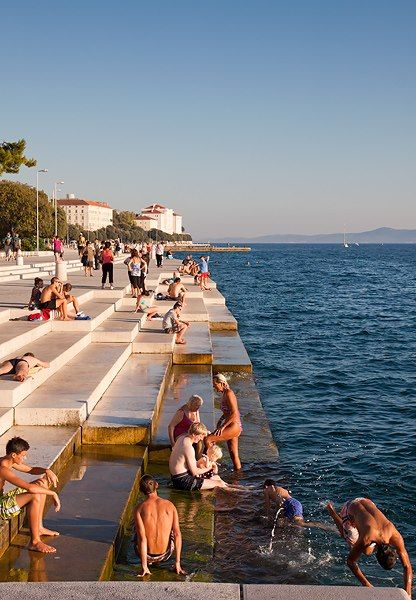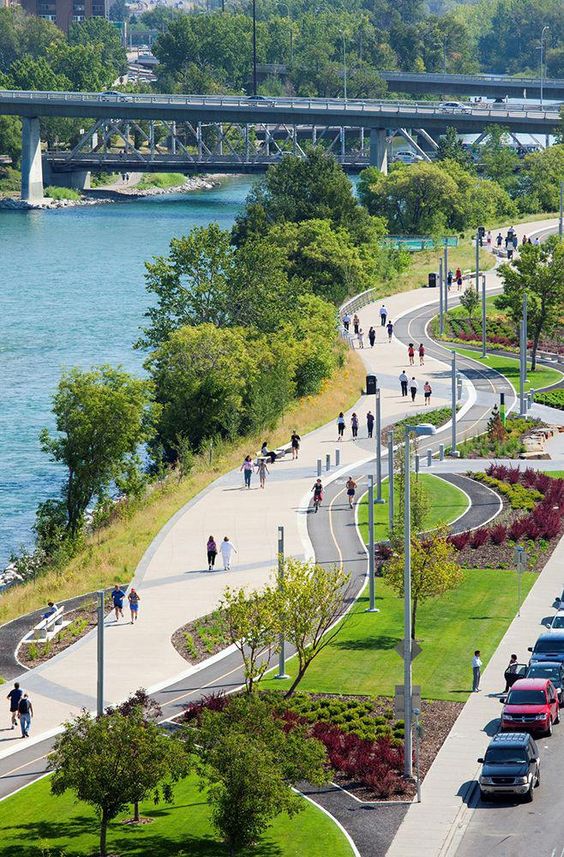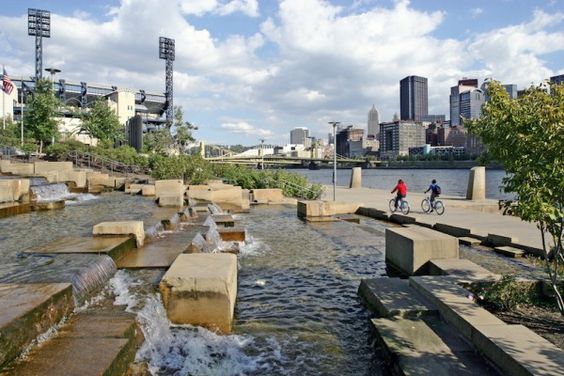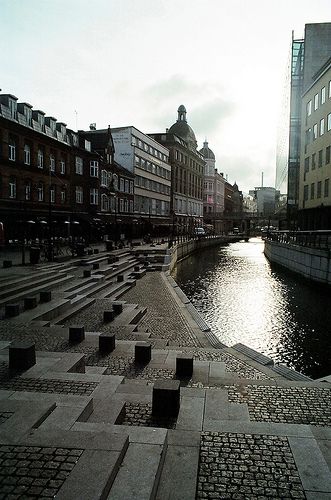 Prevention is better than cure. Instead of making new public leisure spaces like water parks and fake water bodies in front of hotels and resorts, we as a country need to rethink our use of the natural water bodies and take steps to prevent their damage. Revitalizing India's water fronts, be it rivers, lakes, waterfalls or reservoirs, has become very important to prevent environmental deterioration, pests and diseases. Moreover, India being the land which has celebrated natural reserves and beauty, wildlife, greenery and nature, we need to redevelop our water bodies and surrounding areas to boost public life and enrich urban fabrics.