Cafes and restaurants, irrespective of where they're situated in the world, always have something in common. They exude charm, create a relaxing ambience and call you in. Villa 55, the newest addition to Nagpur's social scene, triumphs all the three qualities. Designed in the modern contemporary style by Ar. Sonal Birdi, the restaurant boasts of three main spaces, a small informal café, an intermediate outdoor canopy seating replete with a pagoda, and an inner fine dining space.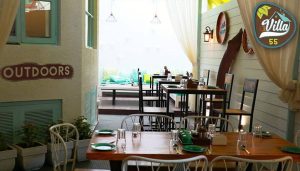 In terms of design, straight clean lines, ample use of pinewood, and the colors white and blue greet you at Villa 55. Taking inspiration from the eclectic themes of Goa, the character of the space is very chilled out and easy going. Quirky imagery and witty quotes bring life to the walls. The furniture is very informal, with bench style seating, high bar stools, accent chairs and lots of colorful cushions. Infusing the outdoors with the indoors, a lot of plants have been incorporated in the canopy. Existing trees on the site have been left undisturbed giving rise to a very organic canopy seating. The plants add to the appeal of the canopy and the waterfall lends soft music to the atmosphere.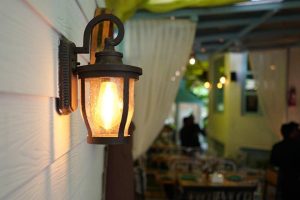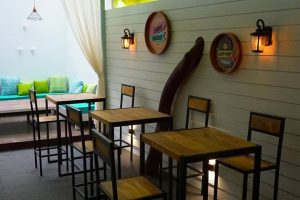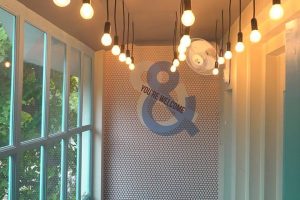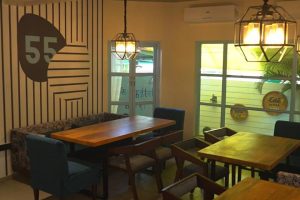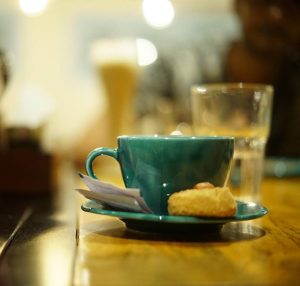 We were completely swept away by the striking interiors, and thus caught up with the designer, Ar. Sonal Birdi, an alumni of Priyadarshini Institute of Architecture and Design Studies, Nagpur, to find out more!
Here are some excerpts.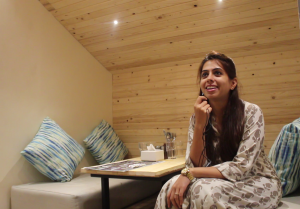 Q.One word to describe Villa 55?
A. Fresh.
Q. What is your favorite design trend.
A. Nautical and Bohemian.
Q. Least favourite design trend.
A. Dark Vintage.
Q. Favourite corner in Villa 55?
A. A small cute bench style seating in the semi-open canopy. The furniture and plants blend very well together. The cushions, wall imagery and lighting add warmth and charm to that corner making it extremely cosy.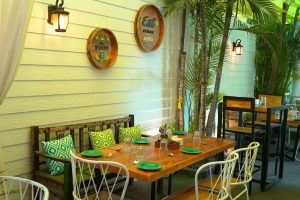 Q. How long does it take to design a place like this?
A. 1-15 days for design, development and layout planning. It takes 3 – 4 months to execute it during which designing is also going on simultaneously.
Q. Favorite designer of all time?
A. Shabnam Gupta.
Q. Favorite quality in a client?
A. Open mindedness and willingness to experiment.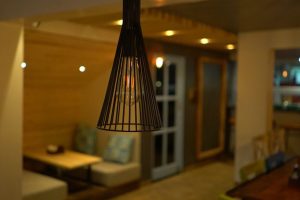 Q. Least favorite quality in a client?
A. Lack of clarity when it comes to their requirements and refusal to try new things.
Q. Favorite design styles for the following:
A. Homes – Warm and cosy ; Offices – Industrial ; Restaurants/cafes – Quirky ; Hotels/resorts – Royal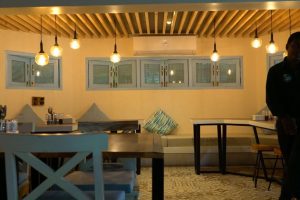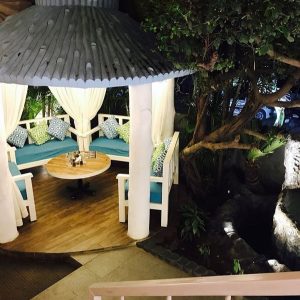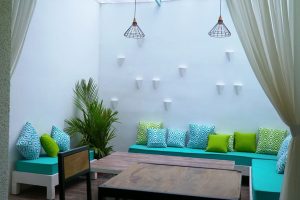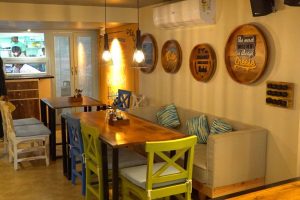 Q. What is the most difficult thing to achieve as an Interior Designer?
A. To make the client envisage and understand our design and vision for a space.
Q. What's the quirkiest part of Villa 55?
A. A scribbled art wall, with my favorite bad guy, Walter White and bulbs hanging at various levels.
Q. Rate the following according to their importance in interiors: color scheme, material selection, planning, aesthetics and décor, functionality and comfort, time management and budget.
A. 1. Planning 2. Functionality and comfort 3. Budget 4. Time management 5. Material Selection 6. Color scheme 7. Aesthetics and décor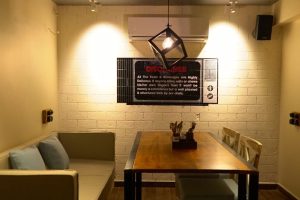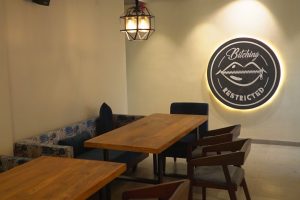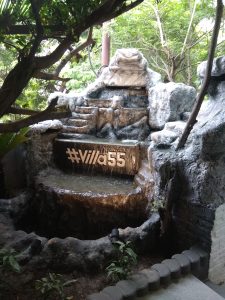 Q. Where is interior design in Nagpur heading?
A. People have started to recognize designers for their work, they are more willing to experiment these days. Youngsters are getting more opportunities as people have started to appreciate fresh and trendy designs.
Q. Why should people choose Interior Design? What makes design fun?
A. Design never entails a 9-5 desk job. Every day is a new challenge. It's a very dynamic job and there is no scope of boredom. For me, trying new things on different sites is a lot of fun. Being an interior designer means you are surrounded with beauty and choices. You have a chance to shape a space, and that is very fulfilling.
Q. A piece of advice for all clients
A. Trust your designer.
Q. A piece of advice for all designers?
A. Stick to your design.
Q. How do you chose your projects?
A. I chose my clients.
Q. A pattern, texture or design which annoys you the most?
A. Dark and loud colors used together which makes the space look very small.
Q. A great low budget hack to transform a space.
A. Exposed false ceiling is a great way to reduce costs. An old space can be enlivened by recycling an old piece of furniture or updating the wall imagery or adding colorful cushions.
Q. An advice you would like to give to college students.
A. Attend more workshops, visit more sites, participate in competitions and activities and read a lot of books!
Q. Why would you advise students to join Cindrebay?
A. Cindrebay, is one of the few institutes which are going out of their way to deliver practical learning experiences. They are on the forefront in conducting various events entirely for the benefit of their students. Fresh and intensely curated curriculum designed according to current market trends and staff dedicated to make learning fun for students are some of the reasons I would highly endorse Cindrebay School of Fashion and Interior Design.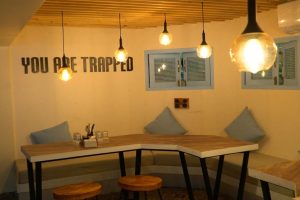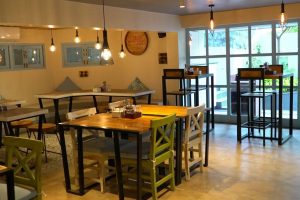 Equipped with an insight of what would please Nagpur's taste buds and a great sense of music, the owner of Villa 55, Mr. Nikhil Nayak is garnering a lot of applause for his successful venture. Someone who believes in creating the right vibe to allure customers, he has made sure that there is never a dull evening at Villa. He quotes, "Villa 55 is a novel concept in Nagpur, where we are catering to all age groups , young and old alike. The character of the place is such that it can be enjoyed by everyone, a person reading a book would be as comfortable as a person throwing a party. The three sections of the cafe, combined with a wide variety of cuisines is perfect for all occasions. People who come to Villa, are generally looking to escape the noise and hustle bustle of Nagpur, and the pleasant ambience here, with plants and greenery, the soft hum of the waterfall, creative art and lighting transports you to another dimension."
So, if you are one of those who loves good food, good vibes and great design, book your table at Villa 55 now!