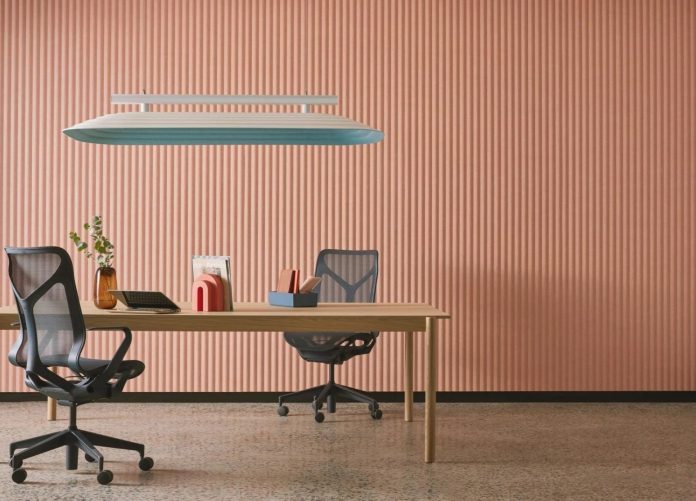 In today's fast-paced world, the importance of a conducive and productive workspace cannot be understated. As the workforce continues to embrace open-plan offices and collaborative environments, acoustic comfort becomes a critical factor in maintaining employee well-being and productivity. Integrating sustainable acoustic products in the workplace not only enhances the overall design but also fosters a healthier, more environmentally responsible workspace.
The Impact of Acoustics on Workplace Productivity
Before delving into sustainable acoustic solutions, let us first understand the significance of acoustics in the workplace. Noise pollution is a growing concern in modern office settings, and it adversely affects employee productivity, concentration, and overall well-being. Constant exposure to high levels of noise can lead to stress, reduced focus, and increased errors, ultimately hampering the quality of work.
Research has shown that employees working in noisy environments experience higher stress levels, leading to decreased job satisfaction and an increased likelihood of burnout. In contrast, a well-designed acoustic environment promotes creativity, communication, and overall satisfaction among employees.
Sustainable Acoustic Solutions for the Workplace
To address the challenges of noise pollution and promote a healthier workspace, designers, and architects have turned their attention to sustainable acoustic products. These innovative solutions not only dampen noise but are also eco-friendly, aligning with the principles of sustainability and corporate social responsibility.
Acoustic Wall Panels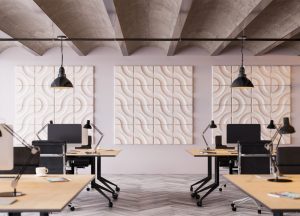 One of the most effective ways to control noise in the workplace is by installing acoustic wall panels. These panels come in various materials such as recycled PET felt, natural fibers, and eco-friendly fabrics. They not only absorb sound but also add a touch of aesthetic elegance to the office interiors. Additionally, acoustic wall panels are easy to install and can be customized to suit the specific design requirements of any workspace.
Green Living Walls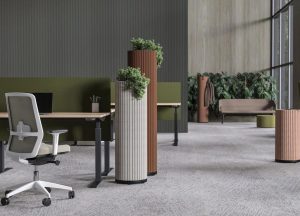 Combining the benefits of acoustics and biophilic design, green living walls have become a popular choice for sustainable workspaces. These vertical gardens not only improve indoor air quality but also act as effective noise absorbers. The dense foliage and plant materials help to reduce reverberations, creating a more serene and pleasant work environment.
Recycled Acoustic Tiles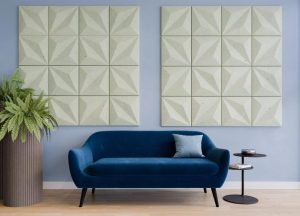 Utilizing recycled materials is an essential aspect of sustainable design. Recycled acoustic tiles made from reclaimed wood, cork, or rubber are an excellent choice for eco-conscious workplaces. These tiles not only absorb sound but also provide thermal insulation, contributing to energy efficiency.
Sustainable Furniture and Partition Systems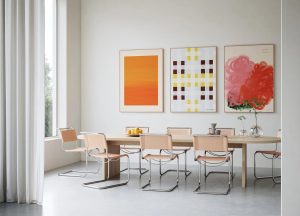 Incorporating sustainable furniture and partition systems in office spaces is a significant step towards creating a greener workplace. Furniture made from recycled materials, such as plastic or reclaimed wood, not only reduces environmental impact but also helps in noise reduction. Additionally, modular partition systems designed with acoustic properties can create privacy and minimize disturbances in open-plan layouts.
Sound Masking Technology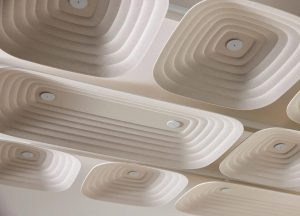 Sound masking systems emit low-level background noise, which is specifically engineered to mask unwanted sounds in the office. By introducing a consistent and subtle background sound, conversations and noises are less noticeable, enhancing privacy and reducing distractions. These systems are energy-efficient and can be tailored to the unique needs of the workspace.
As businesses continue to prioritize employee well-being and environmental consciousness, sustainable acoustic products are gaining traction as a critical aspect of workspace design. From embracing biophilic acoustics to incorporating eco-friendly materials and innovative designs, these solutions promise a harmonious and productive work environment while minimizing the ecological footprint.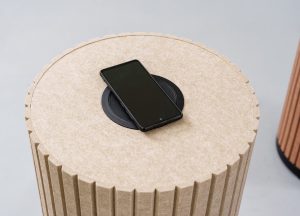 Investing in sustainable acoustic solutions not only benefits the employees but also demonstrates the organization's commitment to sustainable practices. Let us strive to create workspaces that inspire, nurture, and resonate with the principles of sustainability for a brighter, more productive future.
Reference Link:
https://designwanted.com/sustainable-acoustic-products-for-your-workspace/