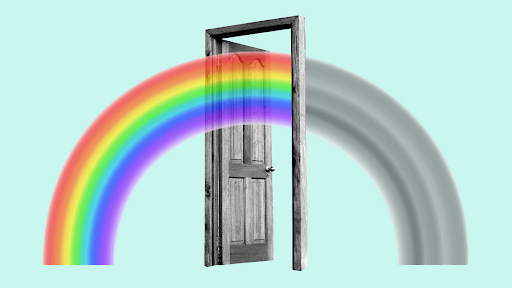 Architecture has been a field where change has been rather slow. It took almost an era for Romans to finally change the Greek's minds about their columns and introduce the Corinthian order, isn't it?
Much of the modernist architecture was also a derivation of the aftermath of a virus or a disease. This era was hugely contributed by stalwarts like Alvar Aalto, Mies Van Der Rohe, and many more. Tuberculosis primarily shaped modernism, and now COVID-19's collective experience has played a pivotal role in shaping the new age.
The era of quarantine, saw us distancing ourselves over taped lines and plexiglass walls. Our urbanscape transformed where wide-open spaces were best avoided. Closed spaces and indoor routines became the norm.
The Great Resignation showcased Architecture in a different light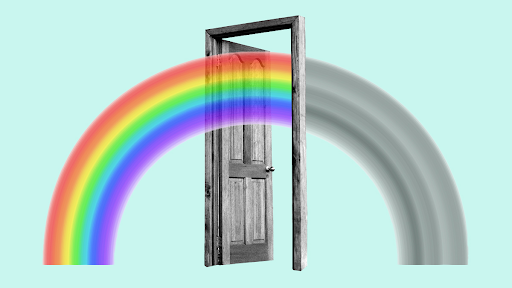 The pandemic also saw a growth in the attrition rate, where a mass amount of employees left their jobs due to toxic work culture. Many were even afraid to be affected by the virus and thus, preferred remote jobs or workplaces that guaranteed their safety.
The mindset in looking at our outdoors started taking a fearful turn, where people were skeptical to step out. From multiplexes to OTT, from physical meetings to Zoom calls, from playground to VR; every facet was rethought and remodeled.
The Virus isn't just a crisis, it is also a design problem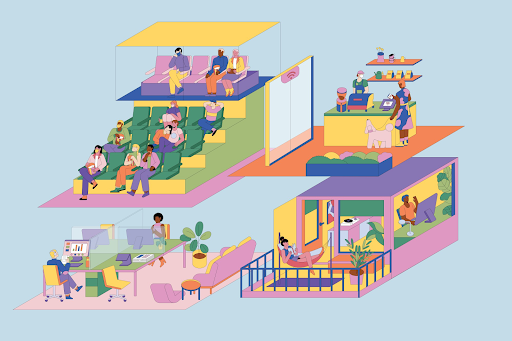 Pandemic entered in with a casual approach and ended up causing a paradigm shift.
Our mindsets changed towards looking at our homes and workplaces. And it all happened so fast, that there was no time to have an intuitive approach to architecture. It was almost like a cause-and-effect moment. It took an entire pandemic for the eclectic Wall Street in Newyork an age-old finance district, to disperse and go digital in a Blockchain world. Now the empty office buildings at Wall Street have transformed into a housing and retail sector.
The world post-pandemic, the 'new normal' as we call it, brings a new gleam of hope for design. It is encouraging architects to make the human-centric design the new normal. This has made the virus shift from just a crisis, to a design problem, where a changing world needs an equally viable architecture.
Asking the question, where the architects come into this picture and why do they matter the most has over two reasons. One, they bring in an intrinsic value as creators of a safe, healthy, and well-designed environment. Second, is their relative role in society particularly during a public health crisis.
So, how can architecture aid society? What are the changes seen in different typologies of architecture after the pandemic? And, most of all, what does it mean to be an architect in a post-pandemic world?

Education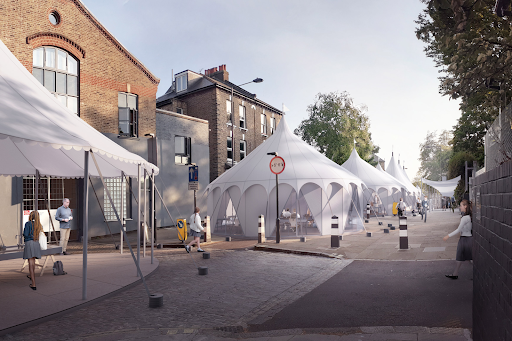 With a large number of schools being shut and reopened after a long while, architects have a huge responsibility when it comes to handling a design problem for the younger user group. Many architectural designers are rethinking their way of looking at school and educational design where safety and wellness are at the center. The London-based studio Curl la Tourelle Head Architecture is working on a socially distanced tent design for pop-up schools.
Meanwhile, in terms of De-Schooling in Architecture, many thought leaders in the field are asking questions like, do we need to change our architecture schools? How can we make them more collaborative and so on…

Community and Events
A ton of businesses like restaurants, hotels, bars, and cafes had to close due to an alarming rate of the virus. Designers started realizing the limiting potential of public space in occurrences of a global crisis. In the mindset of a lockdown, people craved the outdoors. Architects and designers today are actively seeking solutions that bridge the gap between the indoors and outdoors.
Global architectural communities are devising discussions and panel sessions in the form of webinars, zoom meets, digital festivals, and much more; offering plenty of brain food to scrutinize the earlier approach and position a new one at the global level.
Cities like Copenhagen and Vienna are actively designing urban design interventions that encourage playful outdoors with safety at the center. Many parks in Newyork are being designed with socially distanced norms that are derived from creative thinking.
Even in Mumbai, Bandra Collective— a pro bono group of architects proposed a social initiative during the pandemic to retain the countries active street culture.

Housing
Quarantine made us intimately acquainted with our homes. While we loved being indoors, it also brought out the introspective side in us, where the flaws in our homes came into our attention more distinctively. From the dirt on the floor, to the slightly hinged corner or a shaky leg of a table; we observed it all. The confined space around us became a deep form of research.
And for an architect in quarantine, this was a soul-searching exercise. They started rethinking the basic module in which our homes were designed. Architects are now designing spaces where study or workspace has become primary. They are optimizing outdoor living through balconies and wider openings. Walls are breaking down and an open plan coming back in vogue. Multi-use spaces and furniture elements are getting a positive response.
The environmental consciousness is also taking architecture towards a green route with communal parks, interactive podiums, natural facades, generous apartment sizes, internal adaptability, and much more…
Workspace
With a large part of multinational companies and organizations moving towards a hybrid culture of working. The cubicle culture is breaking down and a cafe-like ambiance is the 'new normal' trend.
In times of a hybrid culture, designers are trying to bring in spaces that thrive on conversations; shifting the 'getting-work-done' mindset in an office space. Post-pandemic people are craving for social interactions even from a workplace, this is shifting the overall identity of an office to encourage networking and growth.
Organizations like WeWork, are creating co-working spaces with interactive seating, ample natural light, cafe-like design programs, and open spaces. The lack of transparency as a design element is making the intangible environment of an office space better in the post-pandemic world.

Even, Interplanetary Construction
The idea of automation and computational methods was always there. However, the pandemic aggravated our dependency on it, considering it is a faster yet more precise way of designing and executing buildings. Machines like drones, robots, digital twin systems, remote control technology, AR & VR systems are taking the center stage.
Architects are exploring this domain to future-proof their construction with the new-age tech. Pondering on climate change, architects are exploring possibilities of interplanetary construction on Mars and the Moon through autonomous robots. NASA with its Habitat Challenge is encouraging newer perspectives to create abodes on the Martian and Lunar surface with cutting-edge technology in a post-pandemic world.
The Future of Architects from here on…

From a small-scale development to an entire township, architects have renewed their thinking in a post-pandemic world. The focus is more on well-being and a naturistic approach where they are delivering real estate that values communal living.
Global architects are encouraging the concept of a 20-minute neighborhood, where every facility from healthcare, retail, institutions to schools is at a close distance creating more mixed-use designs. Due to the Great Resignation, architects are also focusing on providing affordable and cost-effective solutions. Immersing in their problem-solving nature, architects are delving into bettering the environment on a global scale. And to add on, due to the reality check, the user group or consumer is now more aware of the role of an architect in society, what a great time to be one!
References:
https://www.aia.org/articles/6295249-why-architects-matter-in-a-post-pandemic-w
https://www.wallpaper.com/architecture/global-post-pandemic-architecture-responses
https://www.newyorker.com/culture/dept-of-design/how-the-coronavirus-will-reshape-architecture
https://blog.rsandh.com/how-covid-19-is-shaping-the-next-generation-of-architects.
https://www.nytimes.com/interactive/2020/06/09/magazine/architecture-covid.html
https://www.architectmagazine.com/aia-architect/aiaperspective/looking-ahead-to-the-new-normal_o
https://www.stirworld.com/see-features-the-b