Lately, incorporating a private gym or an indoor exercise or yoga room has become a trend in interior design in India. An exclusive space to exercise and keep fit has obvious health benefits but also allows the owner to have flexible timing to exercise. To take it one step further, indoor pools in residences are becoming quite the sought after element in interior design. Apart from the usual health benefits, having a pool inside the residence, spells luxury and elevates the spatial quality of the entire house. Having an indoor pool, allows year round swimming time and is perfect for small families and personal quality time.
In India's tropical climate, where the temperature is hot most of the year, a pool sounds like a good investment. However, an indoor pool comes with an added advantage. When the sun is too hot to step outside, an indoor pool can be a perfect refuge without burning your skin. Temperature of the water can also be regulated in the winters so as to be usable throughout the year. A lap pool for swimming enthusiasts, a dipping pool for young couples or a small kiddie pool for kids, the options are endless. Infinity pools are also a stunning option for people who want to cash on to the brilliant views of their home.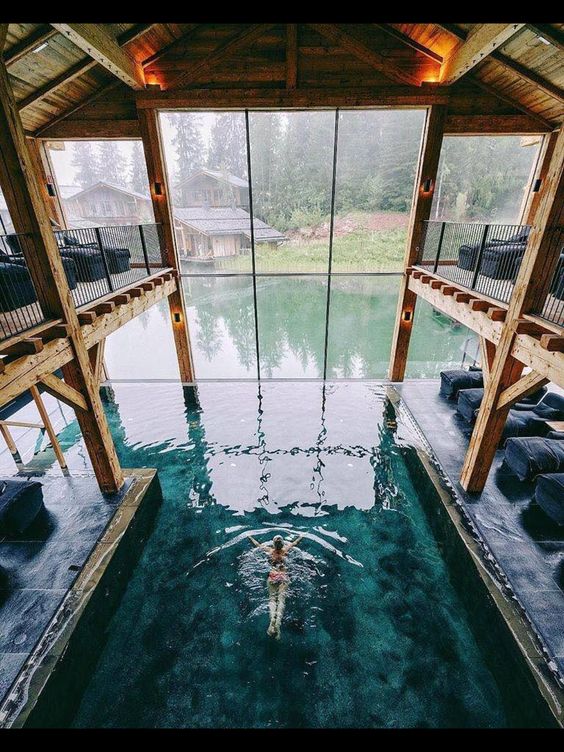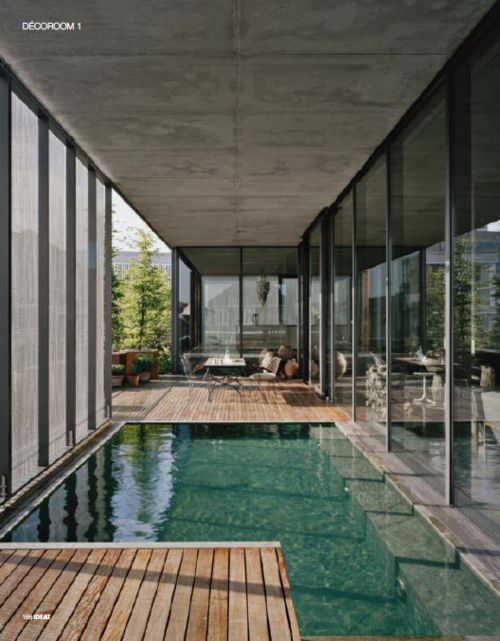 Take a cue from the hotels in Bali, where almost every room comes with its own private Jacuzzi or swimming pool and gives a taste of royal life to visitors. Imagine having that in your own residence throughout the year. Sounds amazing, but is it doable? Does having an indoor pool mean spending millions? One would think to have a royal life, you need to have a treasury, but in these times it is not true. Installing a small indoor pool doesn't cost a bomb, however there are initial costs and maintenance sums to be discussed.
The best thing about a water body, is that it keeps the surrounding very cool. Think of a swimming pool as a way to bring down temperatures in your home. Apart from climatic benefits, a water body is an element which suits any theme or decor. A swimming pool would look equally good in a classic British interior styled house, as it would in a completely modern setting. Water is a very versatile element, and using it in any form in an interior space, a small fountain, waterfall, pond, reflecting pond, or pool, it would complement and elevate the rest of the space.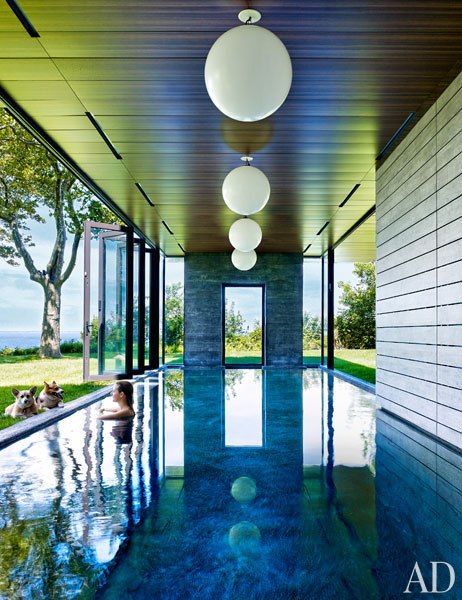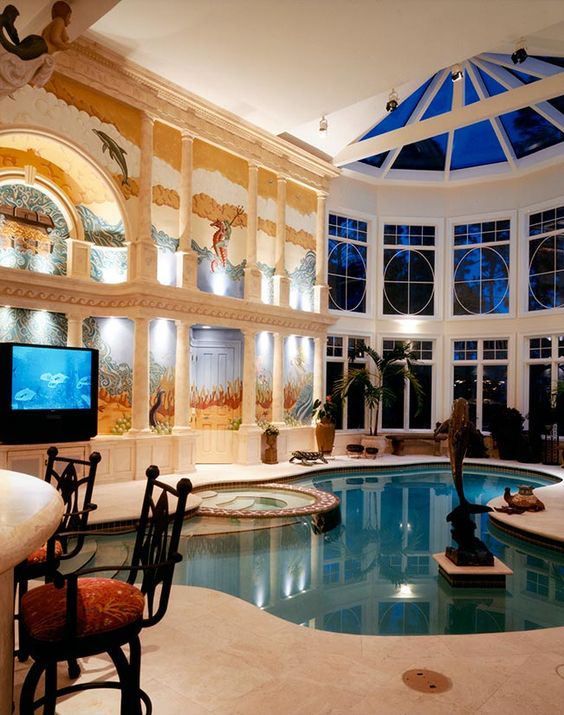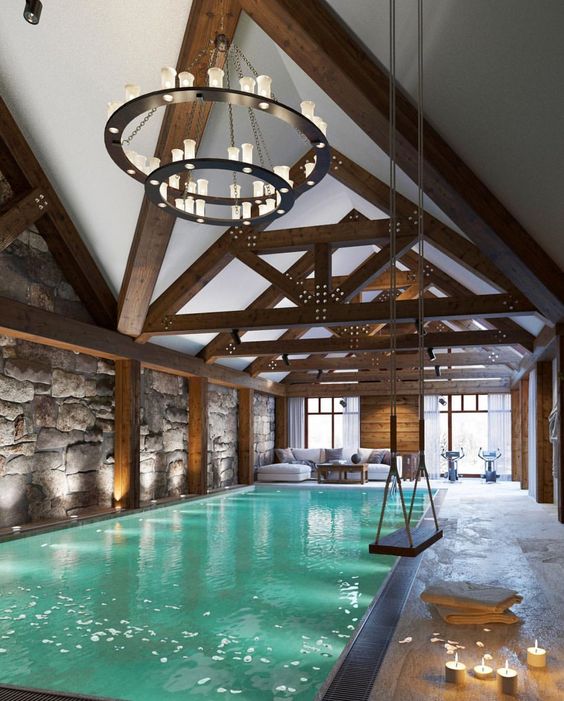 When investing in a water body inside your home, there are several things to be considered. The shape of the pool, the materials used in the tiling and decking of the pool, the ventilation of the space which is of utmost importance and the cleaning systems to maintain the pool. The quality of construction shouldn't be overlooked even if it is a small pool so as to prevent problems with leaking, moisture clogging and seepage. The space should be well ventilated, with natural as well as mechanical systems. Any indoor space with a water body, might tend to get humid and therefore big windows looking out to a garden or a terrace, or skylights is a good option. Practical design to ensure your indoor pool is not just beautiful but also durable and long lasting is primary. Materials which can withstand humidity, like ceramic, high-gloss paint, enamel, glass, acrylic, etc. are recommended for surfaces surrounding the pool such as walls, windows, furniture etc.
The aesthetic aspect of the pool is also crucial. To make it a space you will fall in love with, consider experimenting with the style of the pool, the shape and other elements. Why not have a small slide for the kids, a fountain at the end, a glass parapet for uninterrupted views. How about letting the water body flow in the entirety of the house rather than restricting it to one room? Adding planters and greenery for a serene feel? With an indoor pool, private pool parties are inevitable. Therefore, the space should be comfortable and fun, thus pool side furniture, lighting, maybe a bar are also ideas one can think about.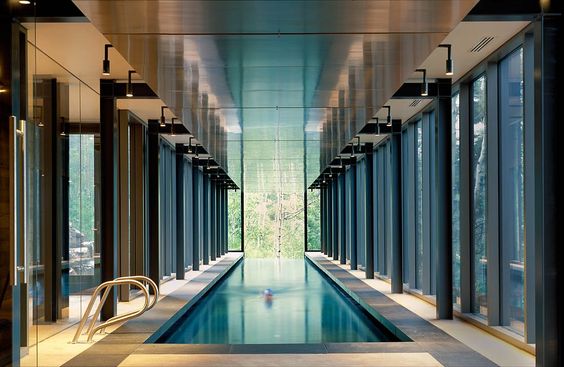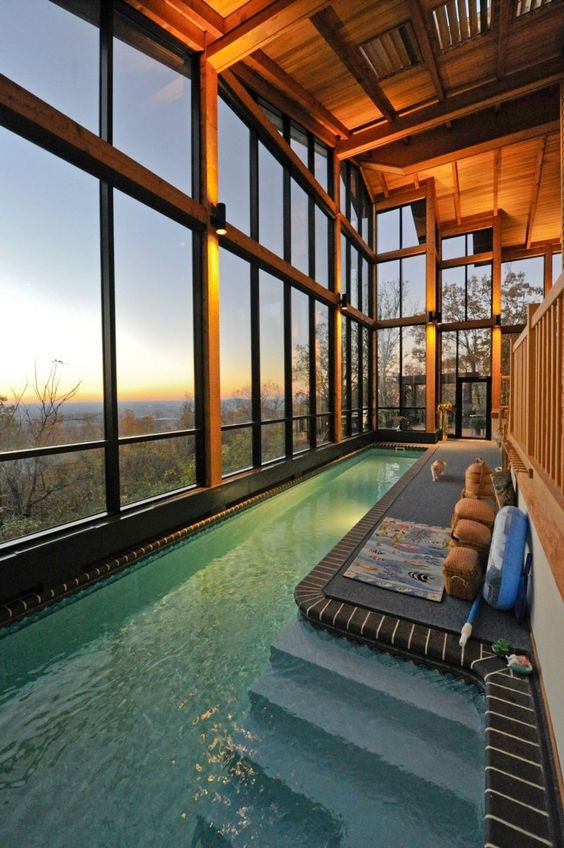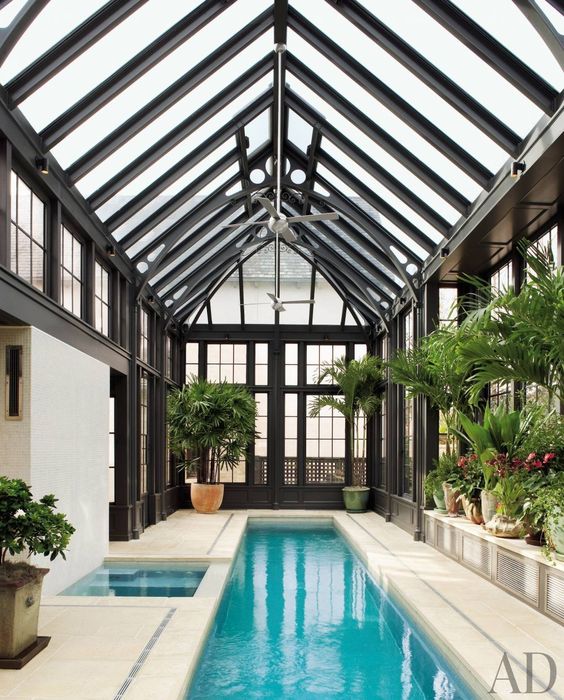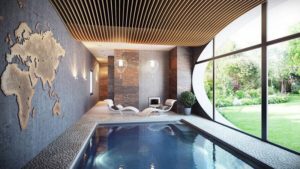 Consulting an experienced architect and interior designer for this is absolutely necessary to ensure no hurdles in the process and to give you the best advise of how to create your luxurious living indoor pool.