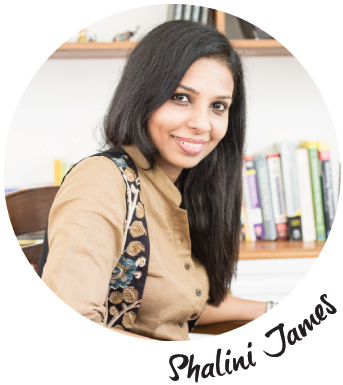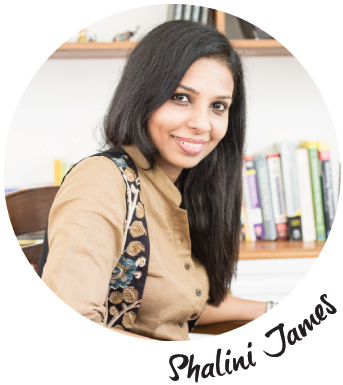 By her own admission, she is a raconteur who believes in using Indian cultural motifs, incorporating them into textiles and converting them into stories embedded in fashion. Shalini James is undoubtedly one of the best-known faces of Indian fashion today. Her fierce Indianness oozes out of everything she touches. Her theme for Amazon India Fashion week 2016 has been 'Indian by choice'. It was influenced by an array of things including the Civil Disobedience Movement, the culmination of textiles like Ikat and Kalamkari, and the sheer vibrancy of Indian colours. Similarly, her brand Mantra celebrates courageous and passionately independent women. In an interview with Cindrebay, Shalini speaks about her fashion influences, her interesting childhood, and what makes ethnic wear 'cool'.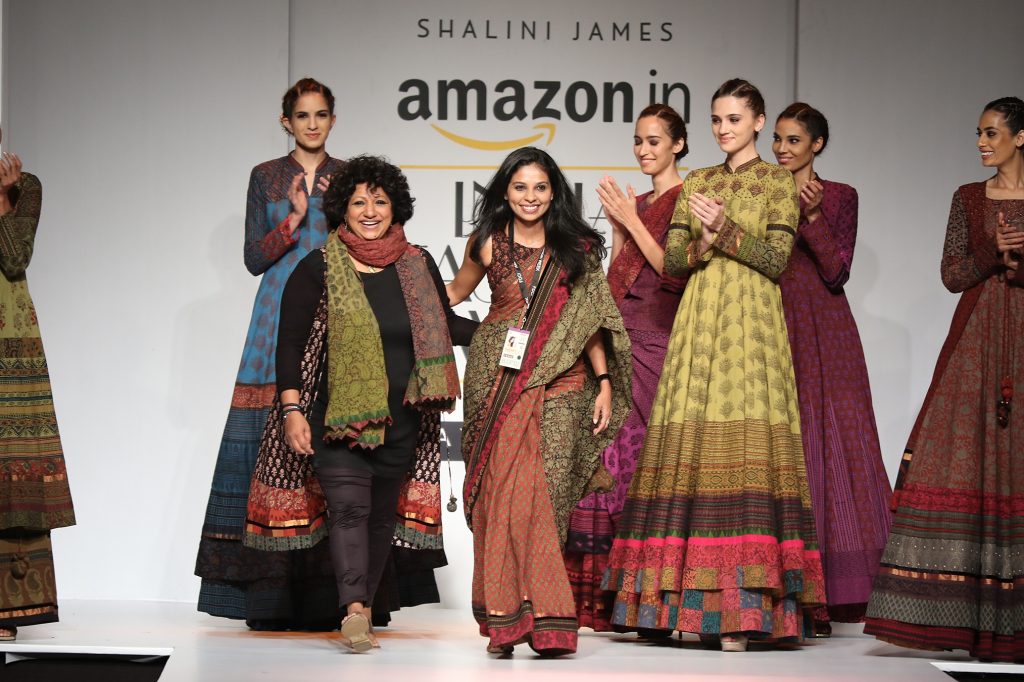 Before we move onto fashion and Mantra, please tell us something about your childhood?
I was born in Thiruvananthapuram, the capital of Kerala. I've changed school 12 times in 12 years! My father was an IA&AS officer and had a transferable job. Moving from school to school every once in a while, sometimes in the middle of semesters, adapting to new environments quickly, warming up to new friends, holding on to old ones via letters was all part of growing up.
Did you develop an interest in fashion early on in your life? Or was it something that developed over time? And, who were your fashion influences?
I'd grown up amidst textiles and crafts – my mother had a textile and apparel business and I used to potter around at her factory. When I was 12, my mother started a design studio at home. Our garage became a makeshift embroidery unit and the house had textiles coming out of its ears! All of us were constantly bumping into rolls of fabrics or stepping over packets of sequins. There was no escaping the onslaught of this influence.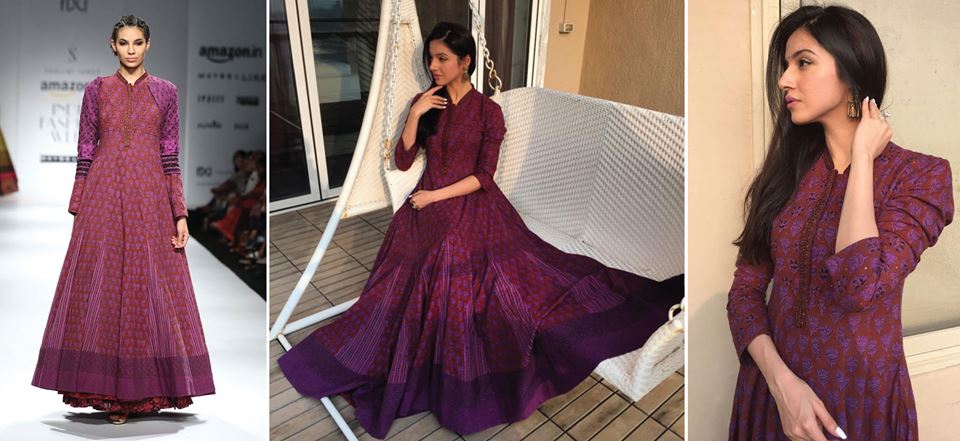 The design unit soon grew out of our home into a much larger, organised set-up of about 60 karigars– embroidery artisans, tailors and pattern makers. When I was 16, during a school break, my mother offered me a job – a proper job with a salary. And, I spent my weekends and my vacations at the unit. We were creating ethnic wear – saris and salwar-kurta ensembles. There was a lot of fine aari and zardozi embroidery, block prints and handloom weaves. I used to sketch embroidery designs, tweak patterns, match trims and before I realized it, I was neck-deep in the art of designing clothes. By the time I joined NIFT, I was armed with a working knowledge of the industry. Before NIFT, I'd graduated in English Literature. Business studies came much later, after which I was firmly entrenched in the business of fashion.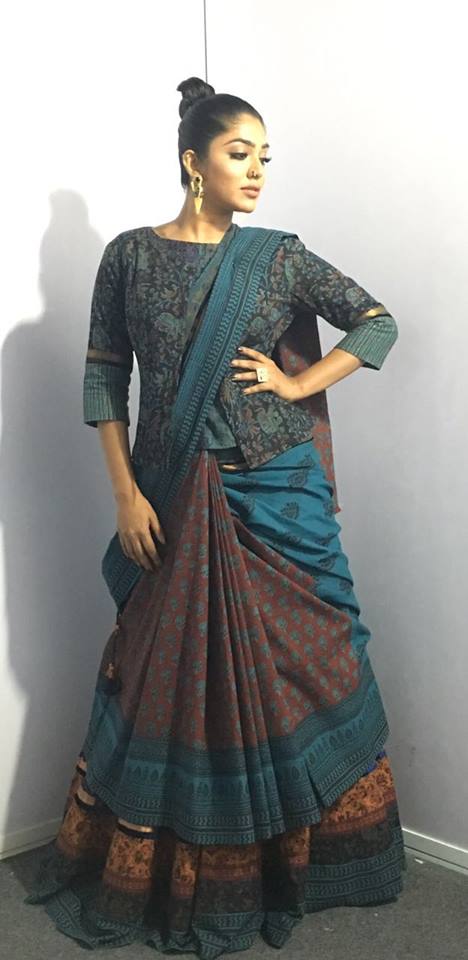 Launch of my label: My education by now was a cocktail of sorts but I was certain that fashion was my calling. In August 2002, I moved to Cochin. By December, I'd located a space to set up my studio. In March 2003, I announced the launch of my label, 'Mantra' from the living room of a house in suburban Cochin.
What prompted you to start Mantra?
I had a two-year-old in hand when I started the label, Mantra in Cochin in early 2003. The preceding years had been uneventful, career-wise, and I was raring to go. While I was studying at NIFT (1995-98), I'd set up a small unit of tailors and embroidery artisans and managed it in my spare time. Due to time constraints, I had to have a business model that didn't have much to do with meeting clients on a regular basis. The concept of ready-to-wear garments appealed to me.
Even though I'd started developing it then, it was much later in Cochin, after many rounds of research, trial and error, that I formulated a working model of a prêt line in ethnic wear. It was new to Kerala. Bringing six point sizing, impeccable quality, seasonal style changes and consistently great fits together in one package was a big challenge, but over the years we perfected the formula.
What has been the guiding principle behind Mantra?
My work has always been a potpourri of all things Indian – textiles, crafts, silhouettes etc. I see myself as a sort of raconteur, picking up cultural vignettes or stories from the past that I translate into the medium of fashion.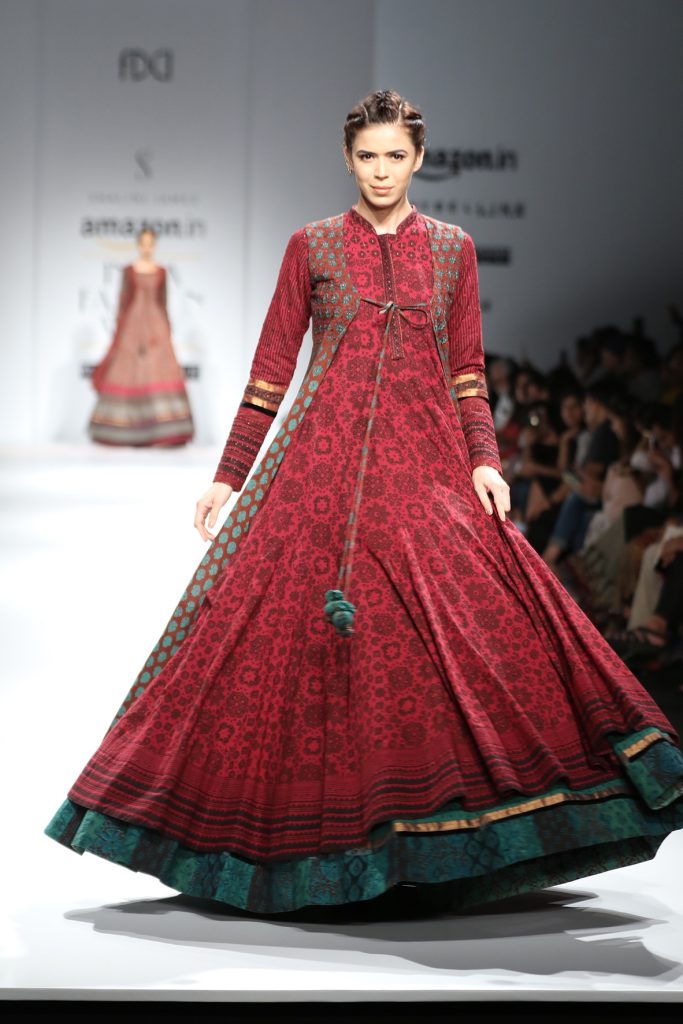 I did a series of three collections titled, 'Indian by choice'. Textile crafts of one region were juxtaposed with those of another- bagru with kalamkari, pochampalli with mangalgiri – to create a visually intense collage. This was followed by a collection called 'Song of the South', inspired by the cotton textiles of Tamilnadu-kandaangi saris of Chettinad and chungidi saris of Madurai. I like to focus on relatively unknown textiles which have not been picked up in earnest by the fashion industry. I enjoy taking up crafts that are commonplace and elevating their status with a unique design interpretation. This season, for SS'17, I worked with the cotton textiles of Varanasi for 'Jahanara'.
According to you, who is the quintessential Mantra woman?
The quintessential Mantra woman, whether 16 or 60, a jet-setting career woman or a talented home-maker, is someone who knows her mind, is confident of her choices and stays closely connected to her Indian ethos.
Till a few years ago, western concept of formalwear for women always took precedence over Indian ethnic wear. Ethnic wear was not considered "cool" enough. However, there has been a marked change in this attitude with ethnic wear becoming more and more acceptable as formal wear. To what do you attribute this change?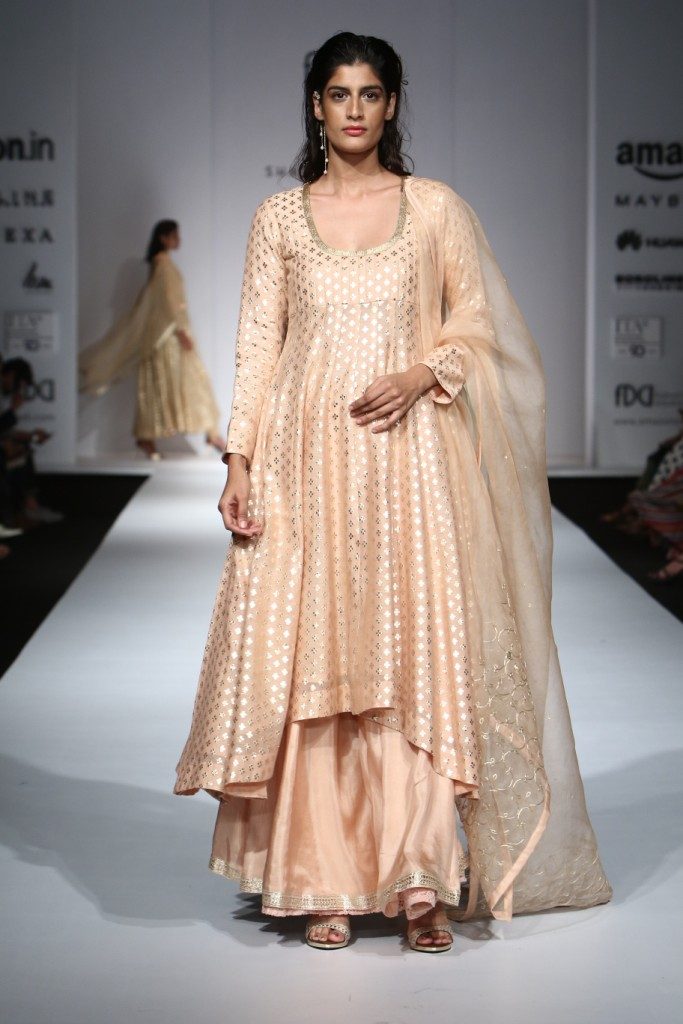 I attribute this change to the concerted efforts put in by the members of the fashion industry over a period of many years in reviving textile crafts, making them contemporary with relevant inputs and thereby making ethnic wear 'cool'.
Designers who experimented with ethnic wear like Sabyasachi, Sandeep Khosla and Abu Jani or even Shaina NC, made ethnic wear too fancy and out of reach of the common middle-class Indian woman. Would you say that this led to a less choice of garments for the average woman office goer to choose from?
Not really. Most of the above-mentioned designers cater to the bridal market where their value-additions do get the price they command. The office-goer is more interested in prêt lines.
The fierce Indianness in your designs- be it the vibrant colours, the ample use of cotton, the inherent Indian craftsmanship- is undeniable. In 2013, your designs for Lakme Fashion week was also called Indian by choice. Was this a conscious effort to counter the growing relevance of a western understanding of fashion? If not, then what was your thinking behind Indian by choice?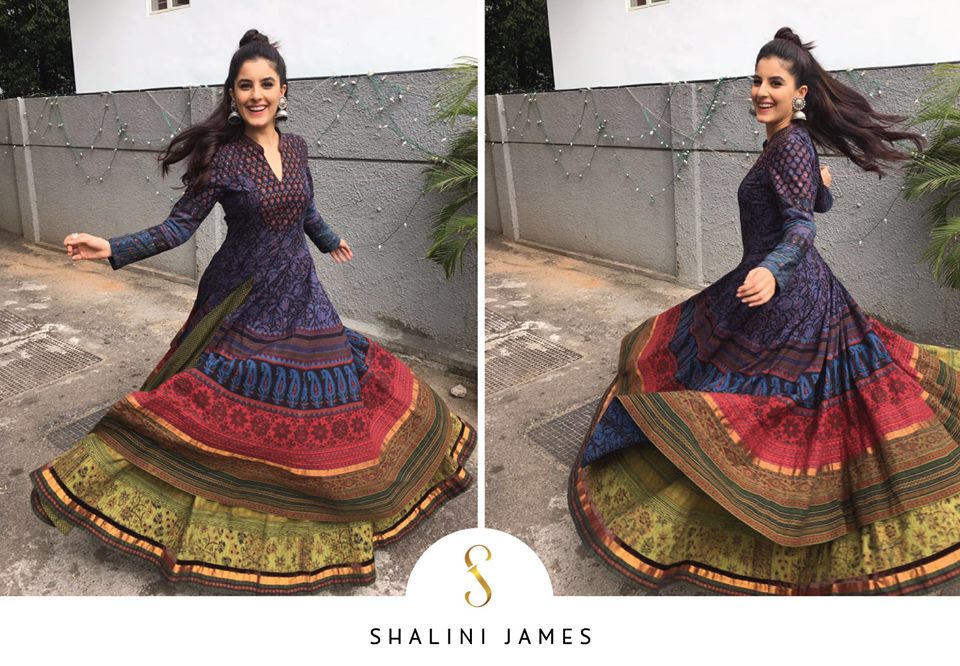 'Indian by choice' in 2014 was a line of clothing inspired by the civil disobedience movement. The collection comprised loose, boxy kurtas, rolled up sleeves and cool, airy dhotis and patialas. With a jacket thrown in, the look was representative of a fashion attitude that was laid back relaxed and even mildly dismissive of earlier fashion dictates to 'fit into' a predetermined size. For SS 15, 'Indian by choice' was a collage of textiles –ikat, kalamkari, mashru, bagru and other textile crafts. For SS 16 which was showcased at the AIFW in New Delhi, 'Indian by choice' was a riot of Indian colours in protest against western imperialism in colour names. Textile crafts of one region were juxtaposed with those of another- bagru with kalamkari, pochampalli with mangalgiri – to create a visually intense collage.
As a designer where do you think your strengths lies?
The intensity in detailing and the artistry in juxtaposing various textiles, crafts and colours in one garment are integral facets of my work which I presume render it unique and if it does, therein lies my strength.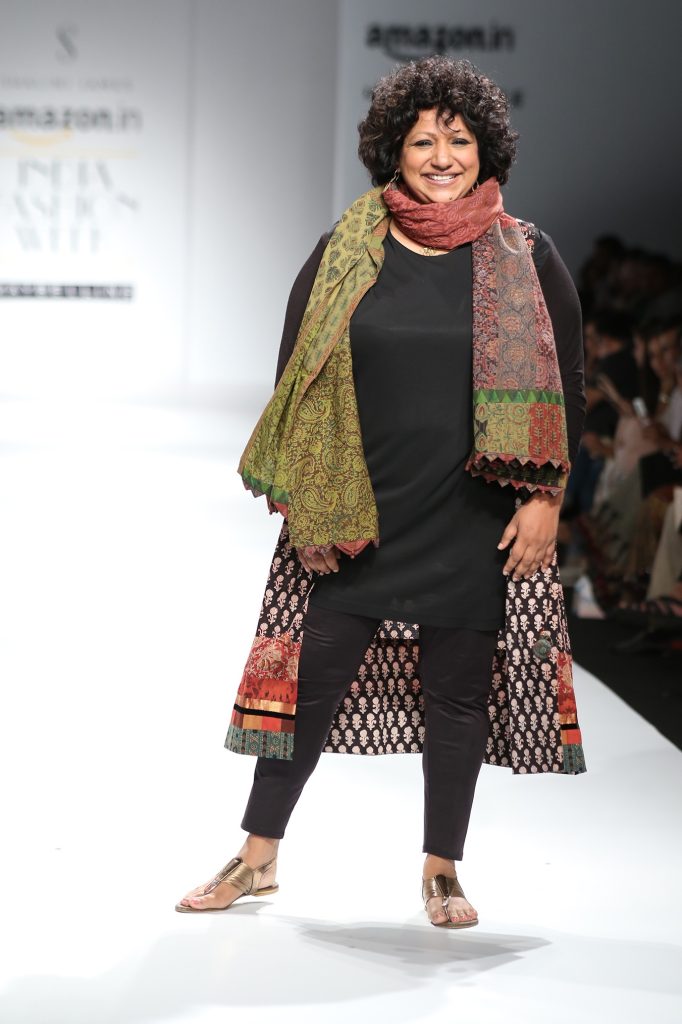 How do you go about the designing process? How do you source the materials? Are sustainability and the use of eco-friendly materials important requirements while creating the Mantra clothes?
The designing process starts with design and development of textiles. This entails travel to many textile hubs spread across the country, liaising with weavers and printers, engaging in design dialogue with these master craftsmen etc. Once the textiles reach my factory, the garment-making process starts; spec drawing, sampling, embroidery, cutting, sewing, finishing, ironing, etc. All of this takes place in-house. There is almost always a hand-made element in all my designs. 90% of all the fabrics we use are either handlooms or hand-block printed.
According to you, how much has the Indian fashion scene evolved over the last decade? Also, where do you think we stand vis a vis the International fashion scene?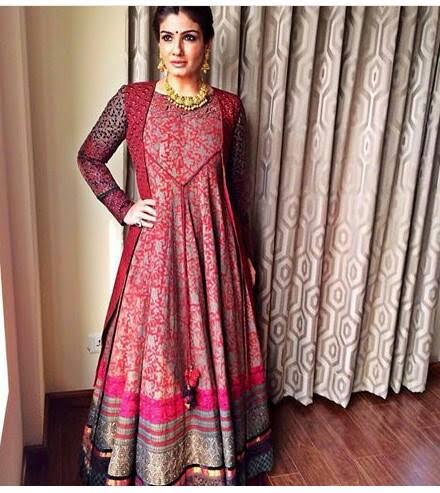 India is a reservoir of textiles and textile crafts. This amazing resource serves as an inspiration to the players in the fashion industry and shapes and nurtures the fashion trends in the country. In the last decade, more and more designers have come forward to add value to these crafts with their creative inputs and keep them relevant. I have worked with Indian textiles and crafts for more than 20 years now, but it still seems to be an endless resource that can inspire me for many more years to come. Many designers build on this resource and take it outside the ethnic context. The possibilities are limitless. Indian design and fashion have a distinct identity which holds its own even in a global context.
Do you feel that many Indian designers shy away from designing more ethnic wear fearing that they will lose out on international clients?
I don't think so, and there are two reasons for this. One- the lines between Indian and western wear are getting blurred. To cite an example, we have kurta- inspired shirts and shirt-inspired kurtas today. Do we define them as western or Indian fashion? And, do we really need such water-tight compartments in fashion? Today, as a designer in India, I'm at liberty to use influences and inspiration from anywhere in the world in my designs.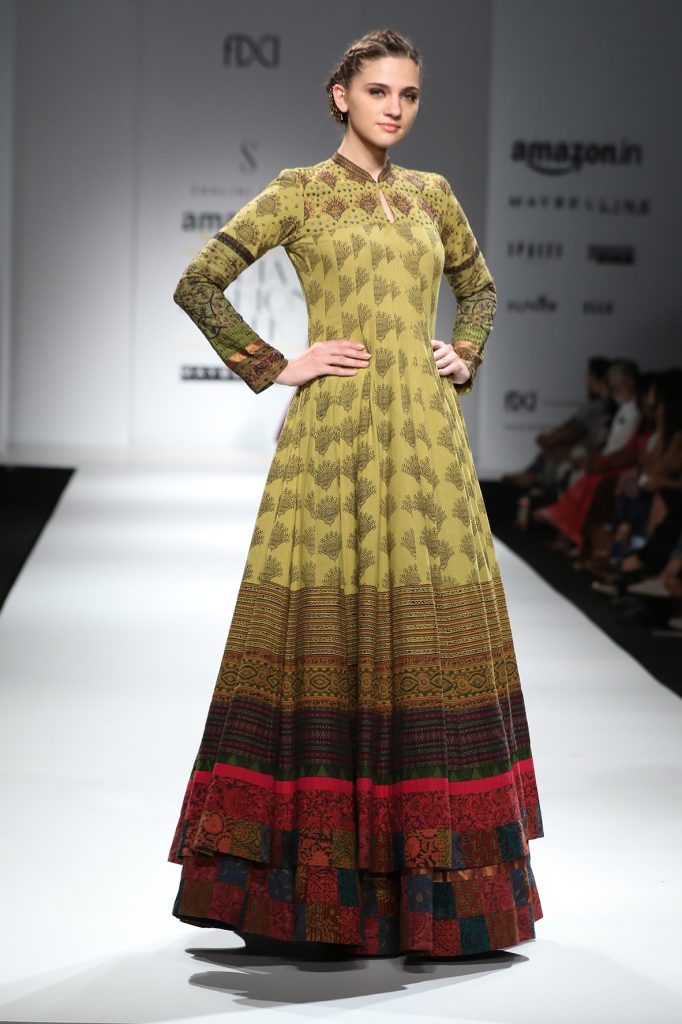 Two- as the market becomes more homogenised, we have international clients looking for ethnic wear just as many domestic clients look for western wear. I think these are positive trends and it only serves to expand the skill-set and repertoire of Indian designers.
Do you think Bollywood had a role to play in getting more people interested in ethnic fashion?
Yes, definitely. The movie industry has a very strong voice and whenever it speaks in favour of ethnic wear, it has a widespread impact on its viewers.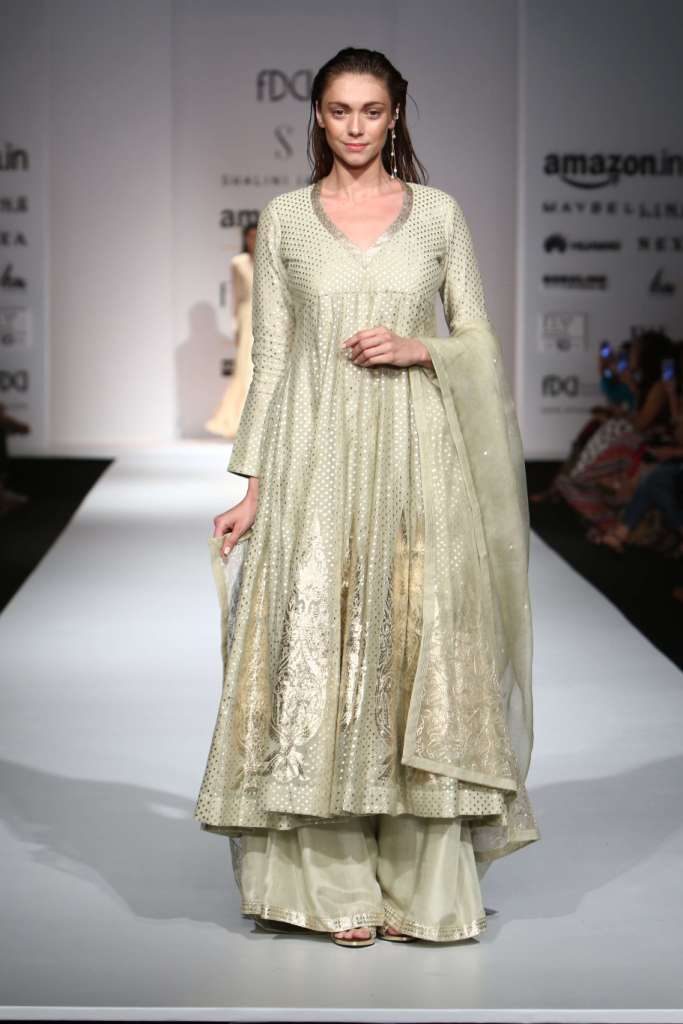 Finally, what advice would you give to upcoming designers?
New entrants to this field must focus on discovering their own strengths and constantly updating their knowledge base with continuous learning, research and experimentation. Having an original voice is imperative if you want to make a lasting impact in this industry.
Pic source: Mantra