Saunas have been popular for quite some time now, 2000 years to be exact! Especially in cold countries, Saunas are a part of the everyday lifestyle. Invented in Finland, the 'Sauna' started out as just an underground room to keep warm and it was later improved to be a a proper structure of wood. Owing to the various health benefits of saunas and steam rooms, these were adapted in almost every part of World and in the last couple of years there's been a significant rise in it's popularity. Let's take a journey through some of the most incredible saunas around the World!
1. Grotto Sauna, Bernyk Island | Canada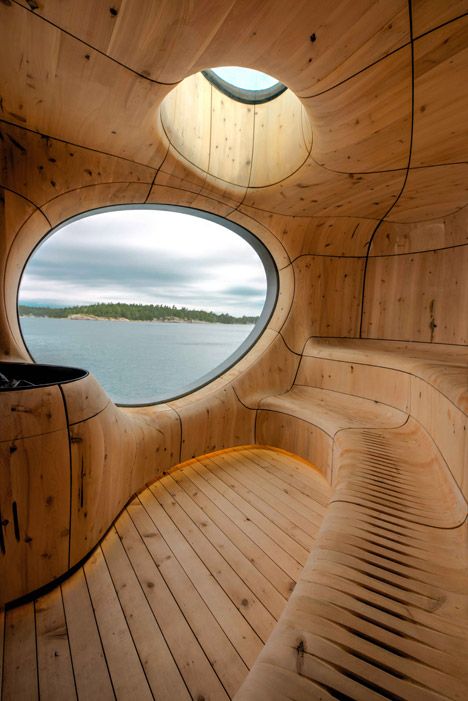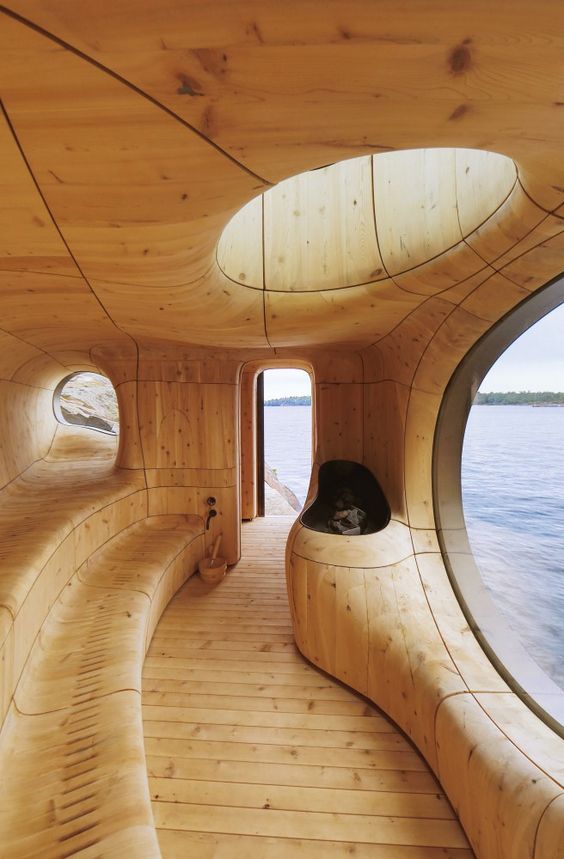 2. Solar Egg by Bigert & Bergström | Sweden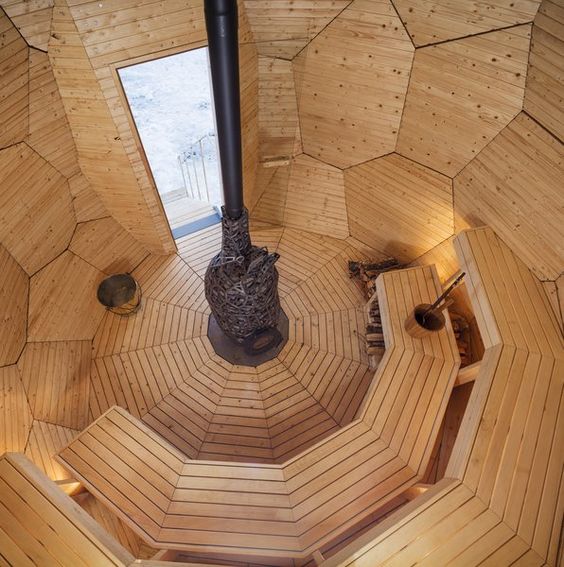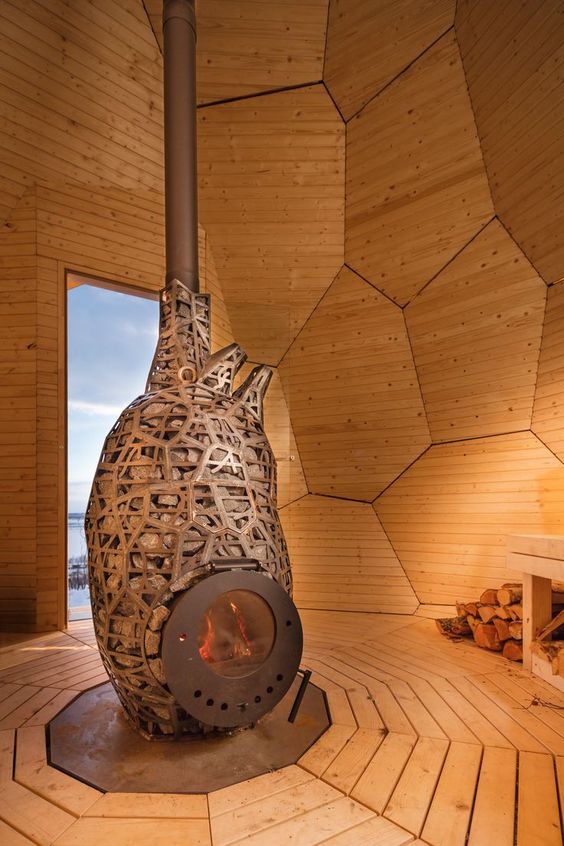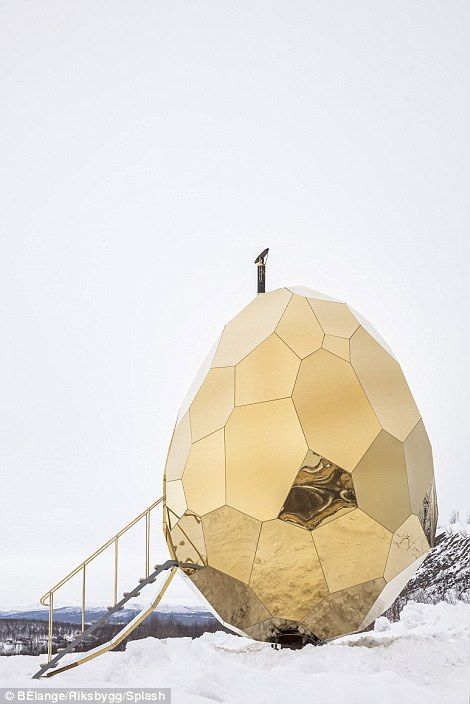 3. Waterfront Sauna by Avanto Architects | Helsinki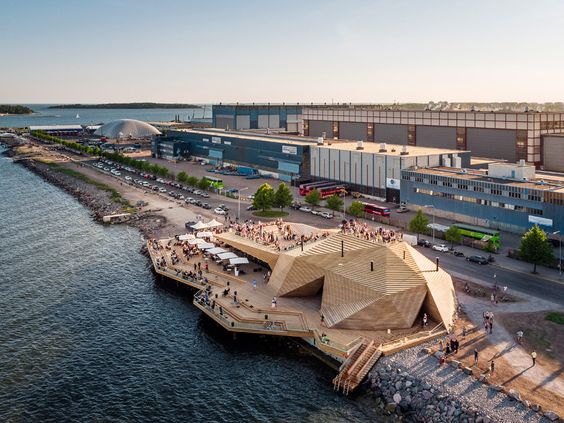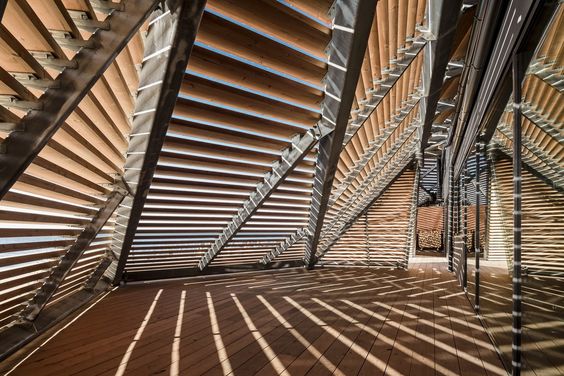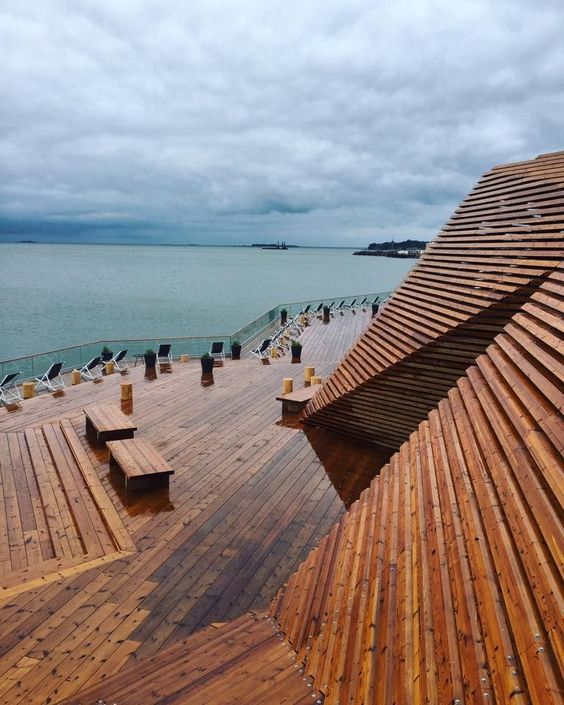 4. WA Sauna by goCstudio
5. Private Sauna by Stinessen Arkitektur | Norway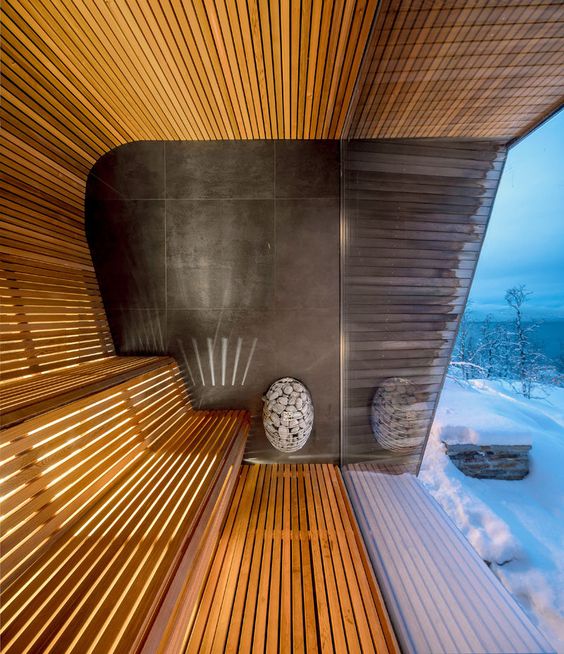 6. Parkhotel Jordanbad Sauna Village Wall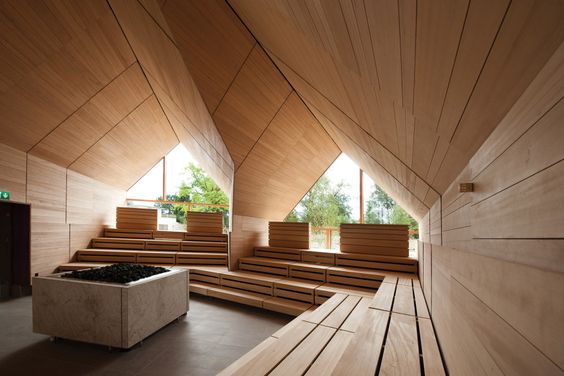 7. Panorama Sauna by Alpenschlössl & Linderhof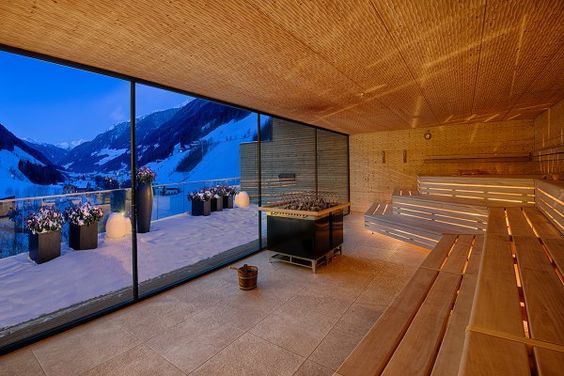 8. Jordanbad Sauna Village, Biberach | Germany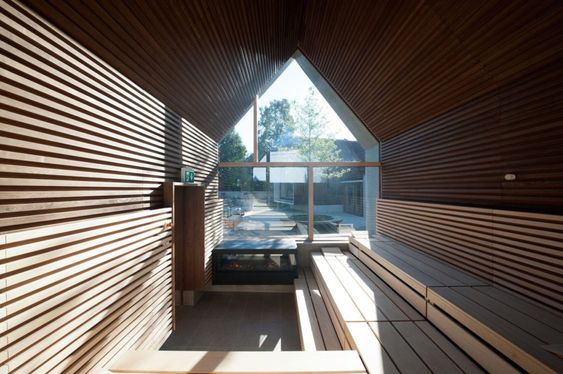 Saunas are fast becoming a booming business, especially in colder regions as well as major tourist destinations. People flock from all over the World to experience these beautiful saunas and revel in them. Not just health benefits, but saunas also provides relaxing sensations and are usually advised after massages, spa and even regular days. In Scandinavian countries and further north, saunas are also popular for the heat (obviously), but also the trance like meditative state it transports people in. They are also great stress relievers and help soothe nerves and the soul.
Steam rooms are built in many iterations and designers have been experimenting with the conventional ideas of Sauna construction to come up with the modern and awe srtiking examples we saw above. However, there are other, let's say more modest Sauna designs, which people incorporate even in their homes. Having a sauna and steam room, built in the house, just like a private gym or a home office is the new ongoing trend in India. Interior designers get dozens of requests from clients, to create extravagant saunas in the comfort of their homes and the results are stunning! Let's find out!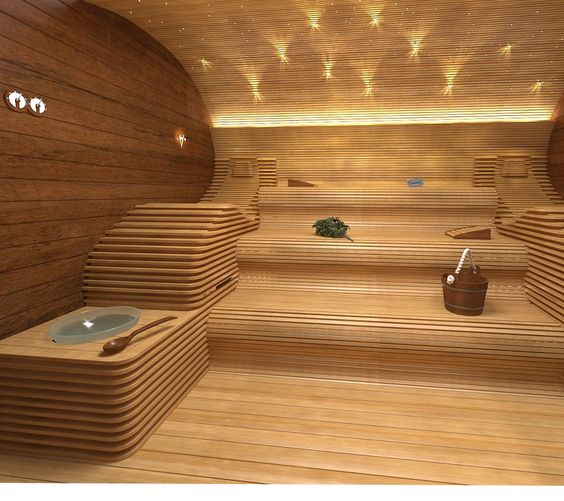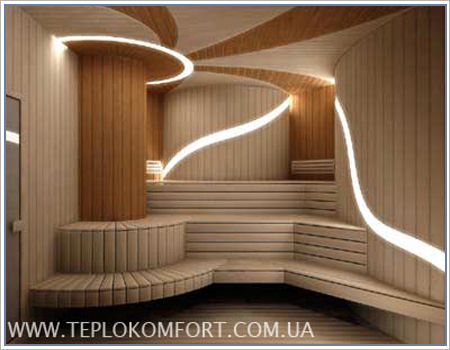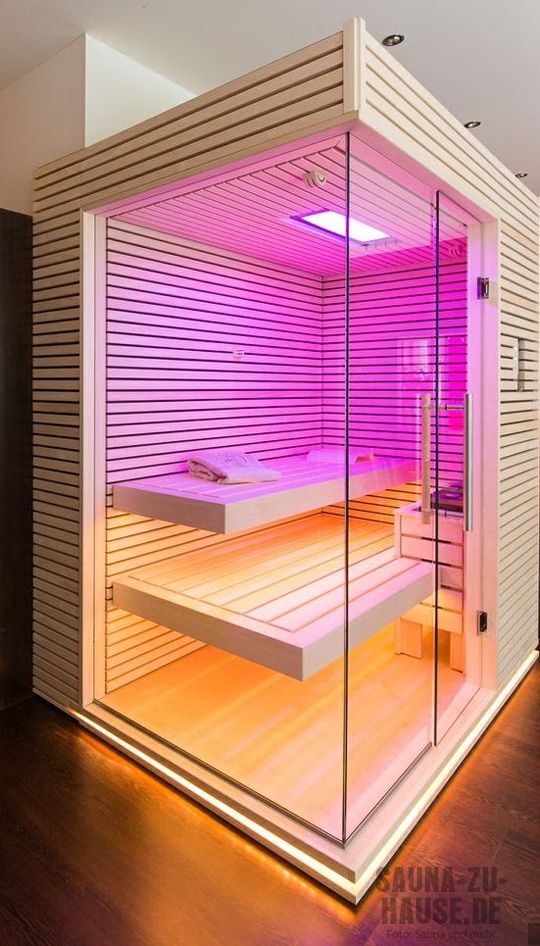 Since saunas rely heavily on heating and generating steam inside a room, special care needs to be taken to design this space. This is why, hiring an Interior Designer, even a specialist perhaps is highly recommended! Designers make sure the steam room is functional and efficient yet beautiful. Saunas have certain size restrictions and work well only with thorough proportions and dimensions. That is to say the ratio of walls to ceiling, length x breadth x height is of utmost importance. Expert attention is also needed to design the services like heating, ventilation, water supply and drainage, lighting, waterproofing etc.
The key things to remember in Sauna design are the floor area and the ceiling height as the temperature capacity of the room depends on it. The sauna needs to properly and strategically ventilated, so as to let excess heat out, however trap the required steam inside. Moisture control through vapor barriers and floor drains is also of utmost importance. Spacing, location and heights of the benches inside the sauna are crucial to maximise person capacity and minimize wastage of floor space which in turn makes a sauna more efficient. This is why saunas usually have multi tier benches or seating. Ofcourse, the material used both inside and outside the sauna plays a very important part in the scheme. The seating boards are built using Abachi or Cedar wood. Walls are typically lined with Nordic White Spruce, Hemlock or Cedar wood. In order to maintain the pressure and owing to the stylish and durable nature of glass, doors in saunas are usually glass or wood. Glass is resistant to high heat levels as well as wet and dry steam fluctuations which also serves the purpose well.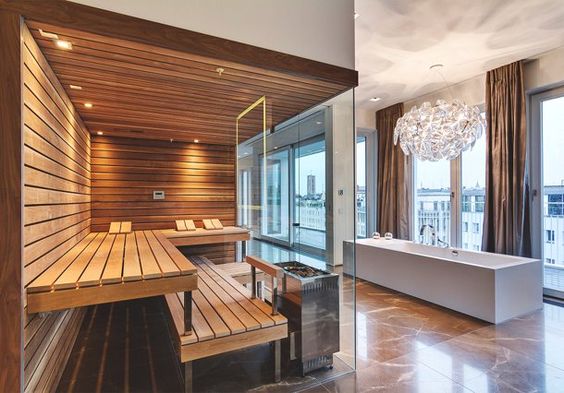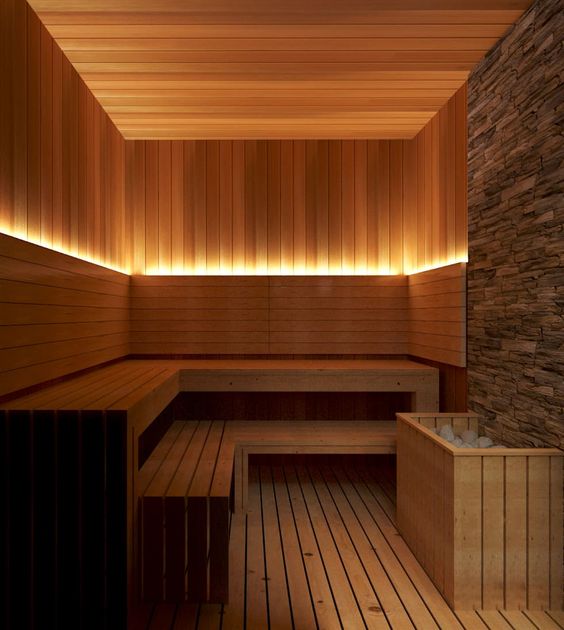 Hope you gained some insight in modern day steam rooms and some Interior Design inspiration for your next project! Here are some useful links for further information on Saunas!
About Saunas : Wikipedia
How to build a Sauna: WikiHow
Sauna design guide: Helo Commercial