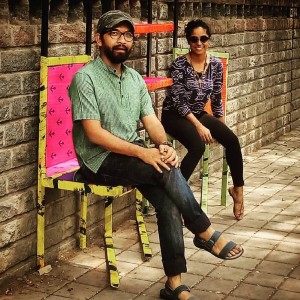 There's an old saying, the sea doesn't like to be restrained. It might as well be written for architect and urban designer Anabelle Viegas D'mello's work. Brought up in the small coastal town of Karwar, the influence of the temperamental coastal life is clearly reflected in her designs that are, at once, experimental and minimalistic.  In a tête-à-tête with Cindrebay, the up and coming designer speaks about her childhood, inspirations, and aspirations. In the articulation of her ideas and dreams, she seems just like the sea she was born next to; unrestrained.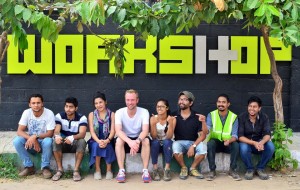 Growing up a sea girl
Anna, as she is called by those who know her, was born in the picturesque state of Goa, and was brought up in the quaint little seaside town of Karwar. The closeness to the sea and a life away from chaotic cities gave Anna  a childhood of "wonder, simplicity, and adventure." "Not being from a city and not having too many external influences, time seemed to warp into this never ending sea of fun, friends, and family. The town was cushioned between the Arabian Sea and the Western Ghats. The days passed by watching the sun rise over the hills and set into the ocean," she says.
Designing found Anna very early in life, at the age of 10, to be precise. "The decision to become a designer was a childhood fantasy. I remember one day when I was 10 I read a book on designing houses and saw the work of Ar. Charles Correa. That day I decided that I wanted to be an architect. In 2005, when I joined architecture school, I realised that the 10-year-old me had made the right decision," she says.
Anna went on to pursue her Masters' in Urban Design from the prestigious Bartlett School of Architecture, London. This stint helped give an international flavor to her ideas.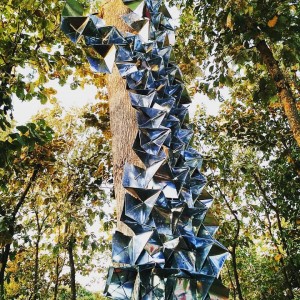 Experimental and Minimalistic
Anna's designs are experimental, minimalistic, and infused with story-telling and technical components. "I love clean and open designs. I am more of a minimalist and realist, so between the two agendas, I am drawn to spaces that are definitive in a style that aims to inspire a better living," she says.
"I love to tell stories, and so even through all the work we do, I believe the story is the hero. I believe that true design cannot be achieved in silos with just designers. To provide a more wholesome design one needs to work across scales and disciplines. Hence, my style of work is more experimental and influenced by the bigger picture," she explains. "We mix architecture with technology and electronics with experience. I believe in inspiring an audience, and only an engaged audience completes a design. Hence, I love to work across all scales – may it be installations to tell a story or the architecture of a residence telling a story of that family, or a master plan telling us the story of the land and what it has to offer," she adds,
Along with her husband, Craig, Anna has also started a unique project, Think Happy Everyday (THE) that aims to bring creators, thinkers, and implementers of ideas, under one roof.
"THE is a fusion of communication and design, Craig being a Creative Director, and me, the Architect and Urban Designer.  At THE, we are breaking barriers between the two most visible industries in the world, advertising, and architecture. And we have only just begun," she says.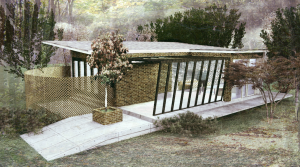 Explaining further, she adds, "THE is an ideology that works for people, places and products. We are a cross-disciplinary design agency with architects, creative directors, product designers, and engineers work together. We also run THE Workshop, a makers' space, mentor space and mind space for designers, thinkers and the curious. In the last year, we have built installations for Designuru, Mini Maker Faire, Under25 summit and a few others."
"However, our favourite was 'the architecture of giving' where a community built a Christmas tree that you could play music on. Every part of the tree had a purpose and every member contributed or participated in some way to make this tree which had over 300 saplings. Adding to that, the sensors in the PVC pipe organ lit up the tree. The installation represented the spirit of Christmas giving," says Anna.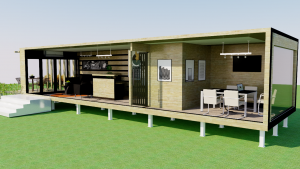 Anna is deeply  influenced by the works of architects, Ar. Neri Oxman, Prof. Achim Menges, and Michael Hansmayer to name a few. "I'm drawn to the nature and methodologies of design that they bring to the industry, evolving the systems of design thinking. This is something I aspire to do in the Indian context," she adds.
Anna's stint with the interior design world has also made her more adept at noticing changes taking place in the Indian designing landscape. "The way Indians are doing up their homes are changing. There are more global perspectives, more evolved buyers looking for greater differentiation in style, brand, and overall build. Apartments are now better thought through, more space efficient, has more daylighting, yet, there is so much that can be done," says Anna who loves traveling, carpentry, and strumming on her guitar to unwind.
Know more about THE