In the midst of a city that has become a juggernaut of sorts crushing the tradition of sustainability while thriving on mindless consumption of natural resources, there lies a house, almost like an oasis that not only preaches but also vociferously practices an ecological model of living.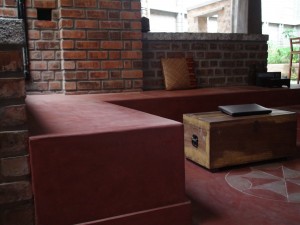 Meet Vishala Padmanabhan, former Chartered Accountant, whose stint with the corporate world taught her that a life of instant gratification is neither long lasting nor satisfying. "While growing up my grandmother always taught me to be extremely conscious of the things I consume. We have always been a very environmentally conscious family. But somehow I was unable to keep up with that organic life when I was in corporate. Also, I would see a lot of people falling sick thanks to their unhealthy lifestyle," Vishala says. That's when the 37-year-old decided that she needed to embrace a more ecological, and sustainable way of life.
Her house in Jayanagar reflects her 'live organic' way of thinking.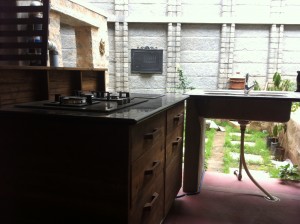 She bought a 50-year-old house in Jayanagar, and instead of redecorating it with gusto, decided to keep it simple. "We bought this house and found out that it was quite sturdy and there was no need to bring it down. Then the whole family sat together and decided the décor of the house, which would revolve around two words; sustainable and eco-friendly. To help us achieve an interior that echoed that mantra, we got well-known architect Shankar K on board," the mother of two explains.
The house and its interiors are definitely a cut above the rest. There is no furniture, only stones kept at varying heights to serve as sofas and tables. Cement, iron, and water usage have been restricted to a minimum. "We did make some additions, and that was mostly without the use of cement, iron, and water. The stones used were cut manually, we didn't use drillers, so as not to add to carbon consumption," explains Vishala. "We also have cane chairs, but that's about it. And stones are kept at varying heights, for us to sit," she adds. The family was insistent on using wirecut lay bricks, rather than the normal bricks.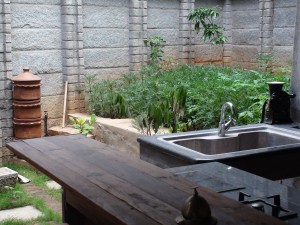 Their commitment to being eco-friendly is so high that they even chose to forgo having a garage in their house. "We were particular about not tampering with the garden that came with the house. There are a number of trees around the house. We decided to do away with a parking spot so that we could retain the guava and mango trees," she says.
Vishala's modular kitchen is made of wood that has taken from the old house!
The house also boasts of a compact rain water harvesting system. "Two tanks have been constructed, one collects the rain water and the other one is for Cauvery water. The plumbing system is designed in such a manner that the second tank gets operational only when all the rain water has been exhausted," Vishala, owner of an organic store, Buffalo Back, says.
Vishala's way of living is an exception but hope that it soon becomes the norm.