A red rectangular building block, the first ever building technique to have been mastered by humans – Brick has time and again proven that it is indeed one of the most reliable, durable and sustainable building material ever. These handmade, wire cut or machine made clay blocks are either furnace fired or kiln fired to achieve a distinct burnt red rectangular piece of 230x115x60 (or various other sizes) and stacked in various formations and bonds using cement or lime mortar to build spaces. Their rough or smooth texture and hue imparts an aesthetic soul to any building and provides strength and long life to the structure. In the millennia that brick has been used, there have been examples of many distinguished brick architecture, winning our hearts with their music in material as well as ingeniously designed brick vaults which have caught the fancy of many. There is no dearth of innovative use of bricks and a lot more potential remains to be channeled. Let's take a look at some of the bold instances of contemporary brick architecture which inspire us to reclaim bricks as a future building tool.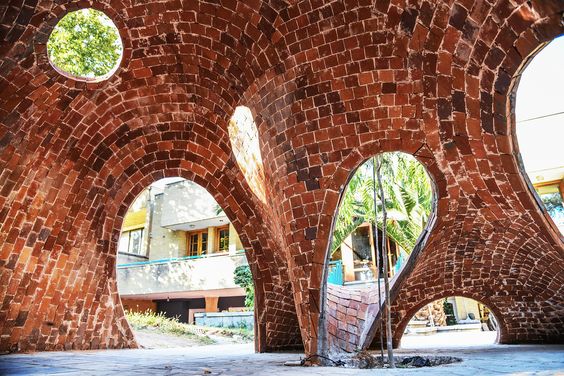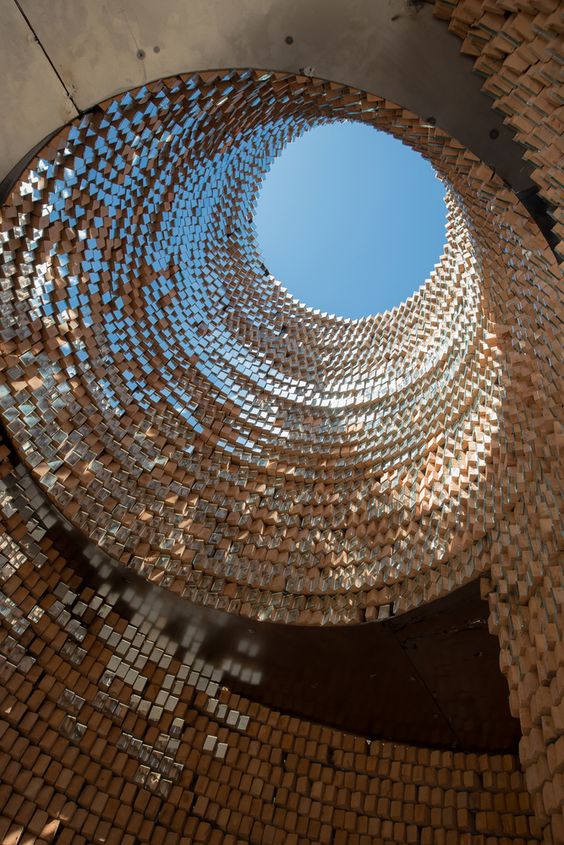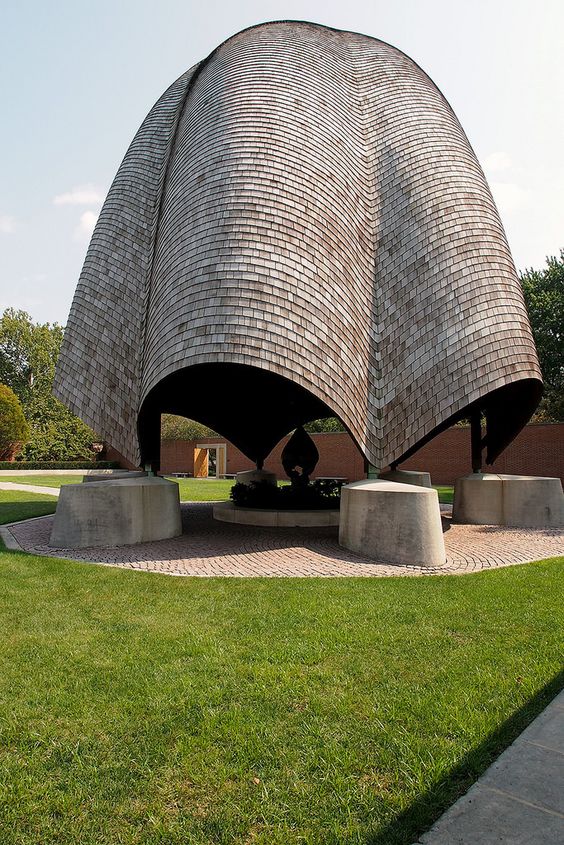 Types of Brick Bonds
(Reference : https://www.designrulz.com/brick-wall-ideas/ Post : 40 Spectacular Brick Wall Ideas You Can Use for Any House)
Flemish Bond is amongst the oldest in Europe.

This texture arranges in layers consisting of headers and stretchers in each level. The pattern substitutes in each layer with the header brick being centered between the stretcher above and below. It is large spread and looks great on patios and walkaways.

Basket wave interprets the waving of a basket. In case you want to explore its origins, browse some architecture albums depicting ancient Europe. The bricks 'stay' horizontally and vertically facing each other to create the impression of them weaving in and out of each other.
Running bond usually appears in residential areas. Moreover, most of the specialists consider this model is friendly with the environment because it requires minimal cutting and does not leave waste behind. It looks marvellous in outdoor patios and it offers a lot of strength.
Stack bond is a very simple paving pattern. Side by side, the bricks create a strong visual line in the ground plain. It is usually used for walkaways because it has a strong connection and supports more heavy traffic by comparison to other patterns.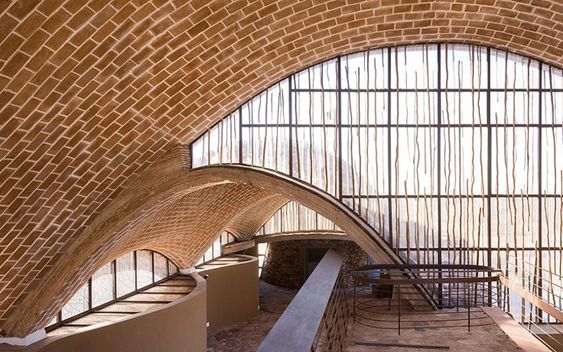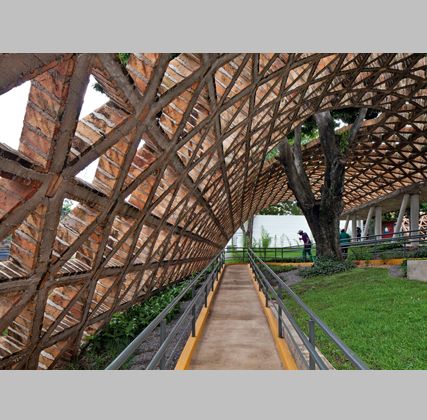 Types of Brick Vaults:
Simple Brick Vault : The construction of brick vaults follows a similar technique as used in the brick arches where bricks are bonded lengthwise of the vault, with a header course every five or seven courses. The binding material or re-inforcement used in at many times, cement, to join and further stabilize the vault. Romans came up with the innovative idea of constructing composite brick and concrete or so called masonry arches which were erected using a light centre wooden rib and were referred to as armatures which was later taken off, like shuttering as the brick arches supported themselves.
Catalan Vault : Also referred to as the tile vault or the Catalan Arch, this vault building technique, still prevalent in some parts of Spain and Mexico, is a type of low brickwork arch, which forms a dome or vaulted ceiling, strong enough to support a floor above. It is constructed by laying a first layer of bricks lengthwise, in the air, without using any kind of shuttering or support and has a much gentler curve than most other brick vaults. This is possible without formwork, owing to the workman's skill, the gentle angle on which the vault glides and also the special quick drying mortar which helps the brick literally stick to each other and is then packed slowly with other bricks, gradually becoming stronger to sustain it's own weight.
Dome : A dome could be in effect a category on it's own but it's inclusion in vaults is also justified as the most basic difference in essence in a dome or vault is that the latter is essentially an arch which is extruded into the third dimension whereas the former is an arch revolved around its own vertical axis. Both can be achieved beautifully in brick, and are lightweight sturdy structures capable of taking heavy loads and wind pressures.
Pitched Barrel Vaults : As the name suggests, the bricks are installed vertically and not radially are inclined at a steeper angle than a regular vault which allows their construction to be completed without the use of any kind of centering. Pitched vaults are the most common typology to be used even in contemporary interiors as they lend height and beauty indoors and open up a space more effectively.
Barrel Vault : A barrel vault is the simplest form of a vault and resembles a barrel or tunnel cut lengthwise in half. The effect is that of a structure composed of continuous semicircular or pointed sections.
Groin Vaults : When two semicircular barrel vaults of the same diameter cross one another their intersection (a true ellipse) is known as a groin, down which the thrust of the vault is carried to the cross walls; if a series of two or more barrel vaults intersect one another, the weight is carried on to the piers at their intersection and the thrust is transmitted to the outer cross walls, making them a thin lightweight structure capable of carrying intense loads and extremely economical.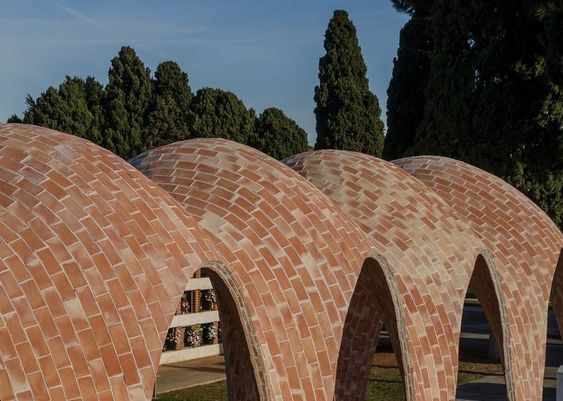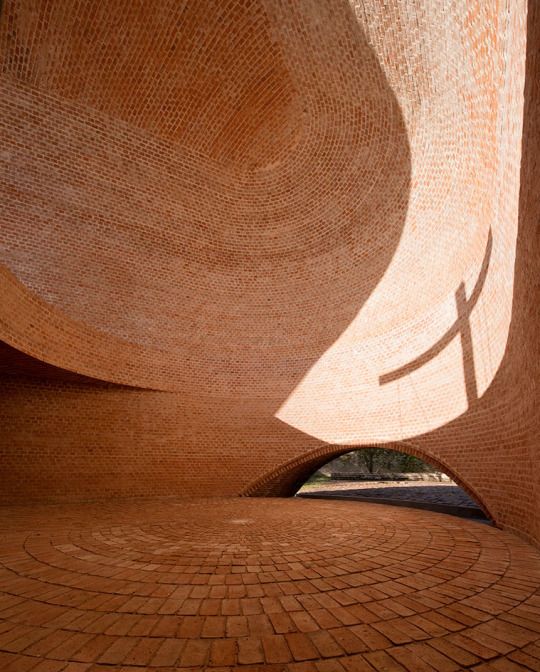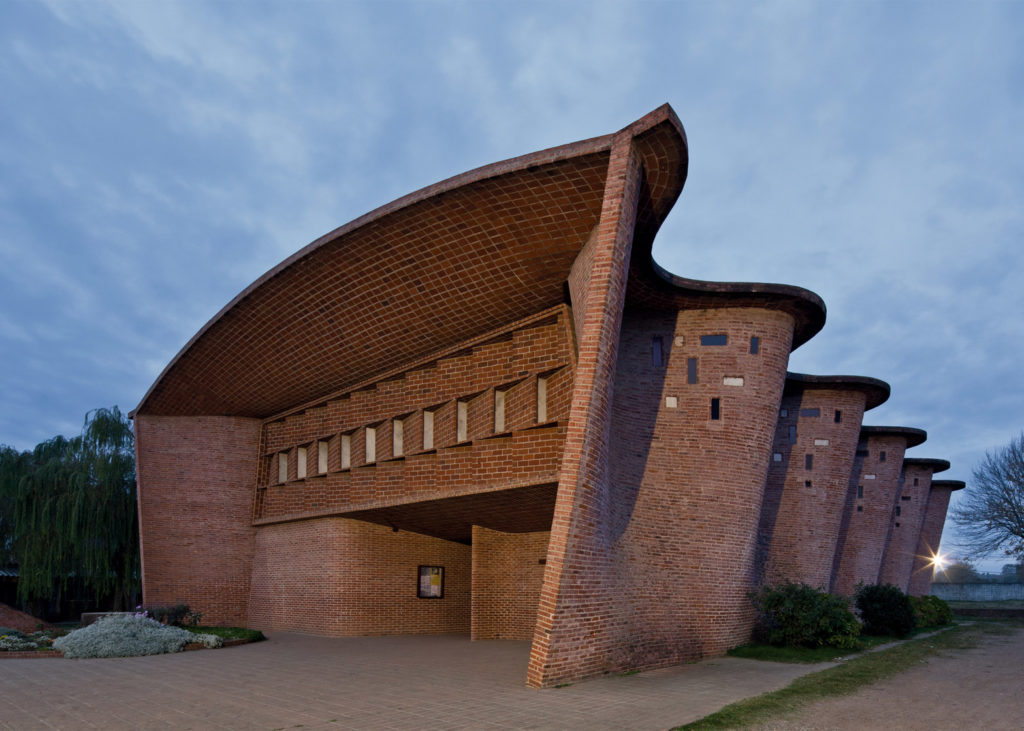 However, in recent times, brick has been facing defeat at the hands of more modern materials like cement, steel and glass, and it's use in the building industry is somewhat eroding. Nowadays, talk of sustainable and ecological building practices is on the rise, and what better resource to exploit than bricks, a material which embodies substantially less energy than cement or steel? Another source to obtain bricks, are the already constructed old and abandoned brick buildings, ready to be demolished to make space for something new? However, why waste the existing and re-usable bricks only to end up in landfills and seas of waste? These bricks can be reclaimed, to grant new life and become new spaces, with a rich history of their own and as a rich patina to new sparkling infrastructure.