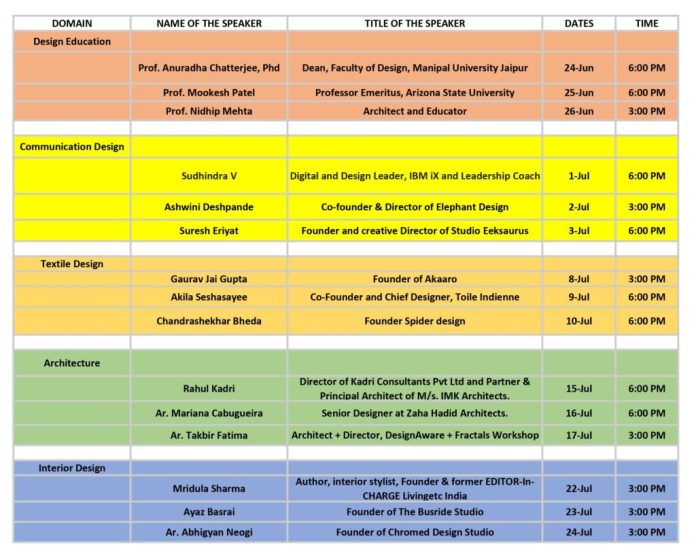 "Gaining knowledge is the first step to wisdom. Sharing knowledge is the first step to humanity" – Anonymous
The true spirit of Cindrebay School of Design
Our onus as Cindrebay School of Design has always been to share the knowledge, wisdom, & expertise that we gain in our journey with the entirety of the design community, especially the bright young minds. And nothing gives us more happiness than bringing forth the best of the best design industry stalwarts to bestow their learnings and share their stories of struggle, creativity and growth with our students.
This year, as we complete 15 glorious years as a premier design education institute, we would like to take this opportunity in celebrating the spirit of design & innovation through a series of talks by creative gurus across the map of India.
Come 24th June, we kickstart a month-long event, in collaboration with ADI (Associations of Designers of India) marked by insightful and thought-provoking discussions and discourses by eminent design leaders from architecture, interior design, fashion design, & more to commemorate our founding principle – learning through sharing of knowledge.
From humble origins to a leading design institute
With modest beginnings in June, 2006 from a small town boutique design institute in Calicut, today Cindrebay can boast of presence in 9 major Indian cities with 14 branches, each one a testament to our undying passion for kindling the flame of knowledge.
Today we stand proudly with a decade-and-a-half long legacy created by our stellar students, dedicated and experienced faculty, and not to mention our devoted staff, working tirelessly towards the pursuit of excellence.
What do these 15 years mean to us?
It means helping more than 13,000 students realize their full creative potential and career aspirations through our comprehensive counselling, well-researched curriculum, and a panel of highly qualified faculty.
It means empowering students to be bold enough to be themselves and explore their true calling and passions through our wide range of accredited programs that adds both freedom and stability to their career graphs.
It means building an ever growing expansive community of dynamic young learners, seasoned design leaders & professionals, along with dedicated teaching faculty – all focused towards exploring the limitless potential of design.
And last but not least, it also means bringing systemic changes within our society by utilizing our collective intellectual force to work towards a more sustainable, eco-conscious, and compassionate ecosystem.
And since these values matter to us more than anything else, we would like to mark this significant milestone through a series of 15 design talks by 15 imminent design leaders on the topic that is at the heart of our continued learning journey – Design.
What's your Point Of View?
We live in an age of information overload.
Every second we are bombarded with tons and tons of information and in this day and age the bigger skill is not to have amassed a lot of information. The bigger skill is the ability to filter truth from the noise, substance from shallowness, and reality from fiction.
No institute or curriculum offers you courses on how to acquire this skill.
And we do understand that for our students to build the ability to positively impact the world and bring changes from the grassroots, they need to develop their own, original & unbiased perspective aka POV or Point Of View.
And there is no better way to learn this skill than from the collective inspirational stories & experiences of people who have cracked the code to a more meaningful and fulfilling professional life within the domain of design.
And that's why we feel the best way to celebrate our 15th anniversary is by bringing together the collective wisdom and expertise of 15 industry stalwarts talking about creativity, innovation, and design-led transformations, sharing their knowledge with our students and helping them build their own unique Point Of View.
Who can attend this event?
We extend this invitation to every design student, professional, and enthusiast out there who is eager to gain more practical knowledge and insights from people who have made it big. This will be a month-long event with 3 Design PoV talks per week (Thurs-Fri-Sat) starting from 24th June, 2021, with one talk per day.

(You can find the complete schedule posted at the end of this article)
And no these will not just include talks by design leaders.
These will include active discussions, interactions, and exchange of ideas & thoughts between the speakers and the audience. So, if you have any questions, doubts, or maybe an original idea that you want expert advice on, this is YOUR chance!
Esteemed panel of speakers for the event
Words cannot describe our elation in being able to partner with leading design industry experts from all corners of the nation and unleashing this knowledge-packed experience for all our students.
We are super proud and excited to announce our complete list of highly revered speakers for the Design PoV event in collaboration with ADI (Associations of Designers of India) spanning a month (24th June 2021 – 24th July 2021) to you all.
Without further ado, here they are!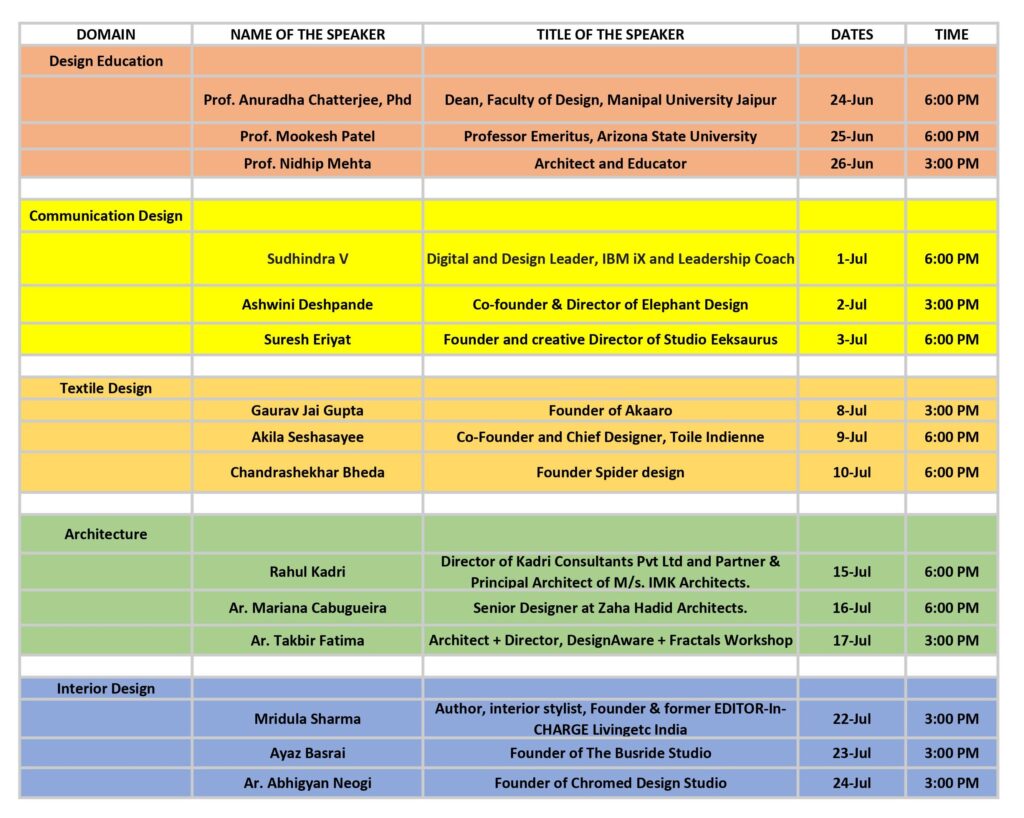 What are you waiting for?
For an action-packed month of real-life stories, experiences, and learnings from design leaders, founders, and educators, join us for the Design PoV talks from 24th June 2021 to 24th July 2021.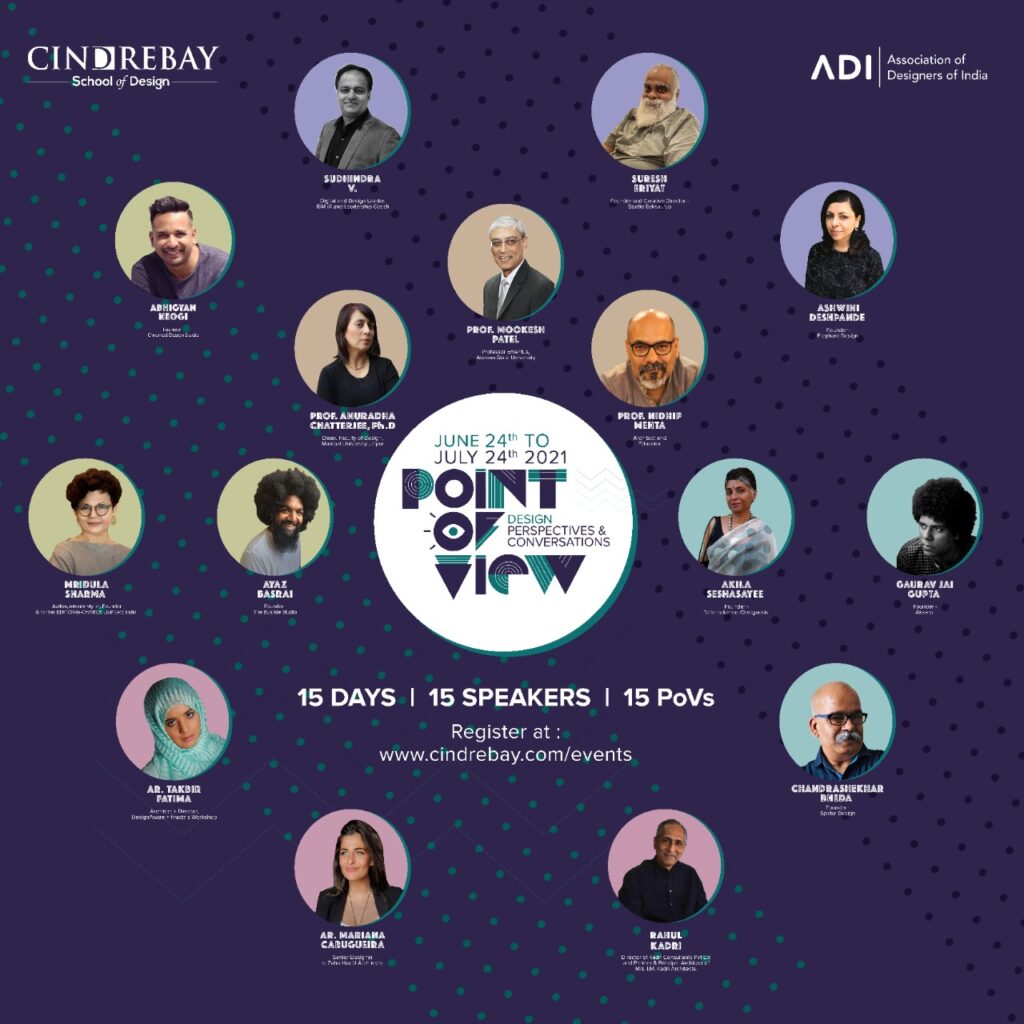 To register for the event, head to the link – http://www.cindrebay.com/events
Mark your calendars!
And follow us on social media for exclusive updates on the event and more!
Find us on social media here
Instagram – https://www.instagram.com/cindrebay/
LinkedIn – https://www.linkedin.com/school/9552658/
FaceBook – https://www.facebook.com/cindrebay

See you all on the 24th!