Anuradha Chatterjee is an Indian-born Australian feminist academic practitioner in architecture and design based in Australia and India. She is the Dean of the Faculty of Design, Manipal University Jaipur. A renowned author with several publications in the arena of architecture, art, and design, Professor Chatterjee is the one of the esteemed speakers gracing our podium for sharing her unlimited knowledge and expertise with our students.
Her stellar academic background includes Dip. Arch from TVB School of Habitat Studies (1998), Master of Architecture (History and Theory of Architecture, 2000), and PhD in Built Environment (2008) from the University of New South Wales.
Dr. Anuradha Chatterjee has been deeply involved with the academic sphere development as she has held leadership positions in several top academic institutions both in India and abroad. With more than 20 years of experience in handling various top level positions in premier architecture and design institutions such as University of New South Wales, University of Sydney,Xi'an Jiaotong-Liverpool University, Srishti Institute of Art Design and Technology, and more, Dr. Chatterjee's rich experience falls within the critical intersection of the practical and theoretical know-how of architectural and design disciplines.
In addition to her brilliant career graph as an eminent academician, Anuradha Chatterjee has also served as the Regional Editor (Asia Pacific), Textile: Cloth and Culture; Companion to The Guild of St George.
Among many other countless feathers in her cap, Anuradha's achievements also include being Member of Editorial Board for Architecture, Cambridge Scholars Publishing; Senior Research Fellow (Honorary), Centre for Architecture Theory Criticism History at the University of Queensland; and Member of Board of Review for CEPT University's M Arch / MA in Architectural History and Theory Programme since 2019.
Dr Chatterjee's research interests are in architectural theories in history; feminist discourses, textile tectonic theories of architecture; potentialities of theories; generative processes in design; gender and academic leadership; and student learning cultures and critical studio pedagogies.
Be assured that come 24th June, 2021, Dr. Anuradha Chatterjee's discourse and interaction with the students will be replete with rich, in-depth, and diverse perspectives on architecture, art, and design and its close synchronization with elements of the past, the present and the future.
Her ruggedly feminist outlook, sturdy background in various facets of architecture & design, and an enviable academic leadership experience are going to be the defining moments of this entire event.
We are deeply touched and obliged by her presence in our event and would like to convey our deepest gratitude to her for gracing our Design POV event on 24th June, 2021, 6PM IST.
And we can hardly contain our excitement to hear Dr. Anuradha Chatterjee spellbind us with her profoundly insightful talks and interaction with students where they will get a golden opportunity to converse with the architecture and design guru herself.
We open our registration for students who would love to be a part of this month-long intellectually-stimulating event created especially for learners in the Architecture & Interior design, Fashion Design, & Film & Animation Design fields, as a part of Cindrebay's 15th anniversary.
Would you like to know more about Dr. Anuradha Chatterjee and her work? Head to her website at https://anuradhachatterjee.wixsite.com/architecture.
You can also get busy reading books authored by her
Surface and Deep Histories: Critiques, and Practices in Art, Architecture, and Design (Cambridge Scholars Publishing)
Built, Unbuilt, and Imagined Sydney (Copal Publishing)
John Ruskin and the Fabric of Architecture (Routledge)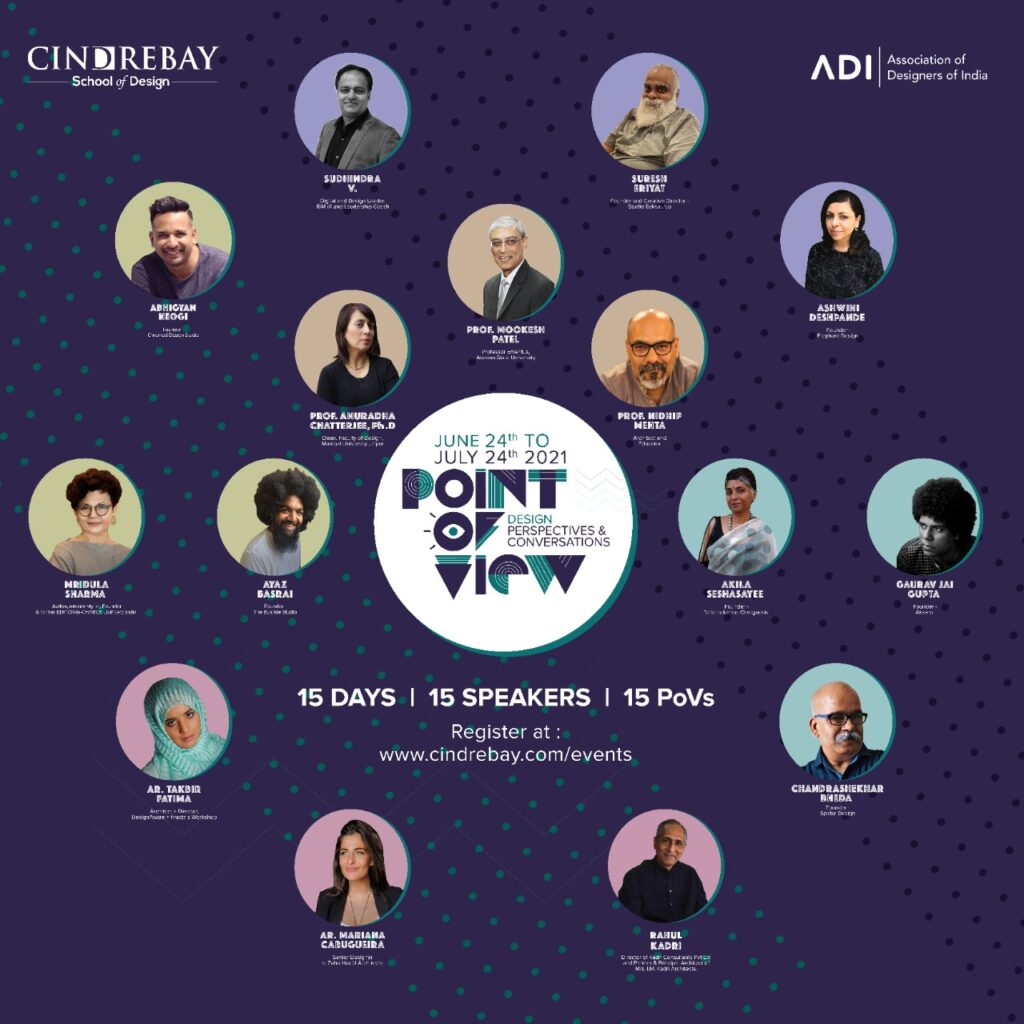 To register for the event visit www.cindrebay.com/events
Mark your calendars! And follow us on social media for exclusive updates on the event and more!
Find us on social media here
Instagram – https://www.instagram.com/cindrebay/
LinkedIn – https://www.linkedin.com/school/9552658/
FaceBook – https://www.facebook.com/cindrebay
See you all there!