Modern work ethics and evolving professions have carved a special niche for home offices in Residential Interiors. Work from home privileges, private practices, entrepreneurship or even freelancing or studying demand a small but special work space. Parallel professions are cropping up everywhere recently, like blogging, you tubing, make up artists, content creators, stylists etc. need a comfortable work environment even from home.
Call it a home office, a work den, a private work space, study room, or even just a desk in a regular bedroom, it can save you a lot of uncomfortable hours with your laptop on the bed and subsequently a lot of back pain. Working long hours in bad postures can lead to health issues and thus it is important to set up a small space, which is functional, creative and aesthetic, has good storage space and a well lit effective setting according to your requirements.
Let's go through some of my favorite examples for home offices and tips with how you can achieve the same in your home!
1. COZY WORK NICHE
Consider converting a small niche in your room into a work space. The niche can be through anything, a cupboard, a projecting column, a self created partition etc. Add a couple of shelves and a well fitted table top, maybe even a cabinet and you're set. If your work revolves around a laptop or computer, the window or any light source shouldn't be directly behind you or it will create reflection on your screen.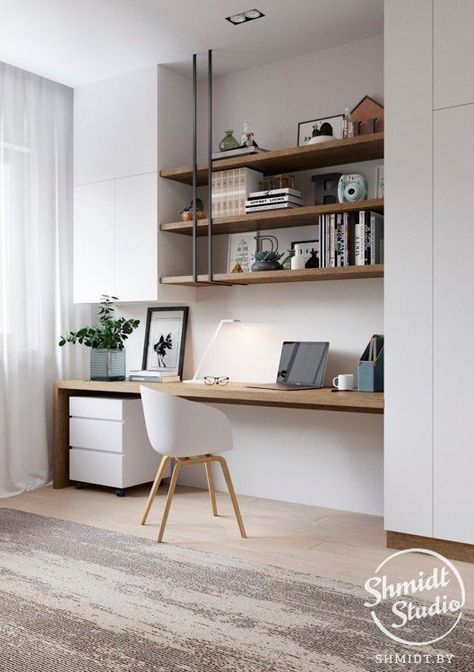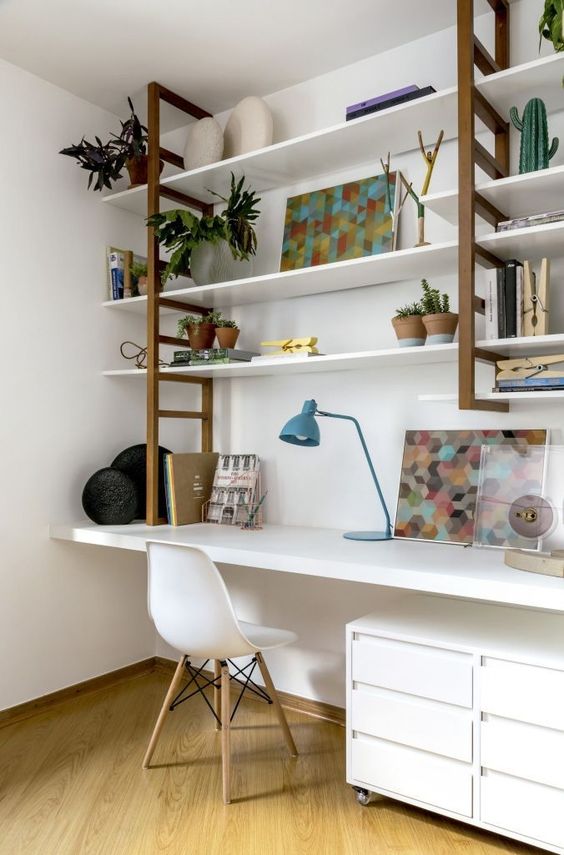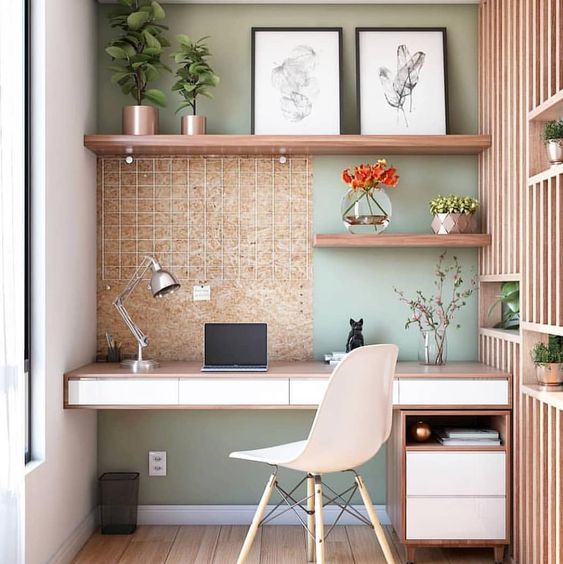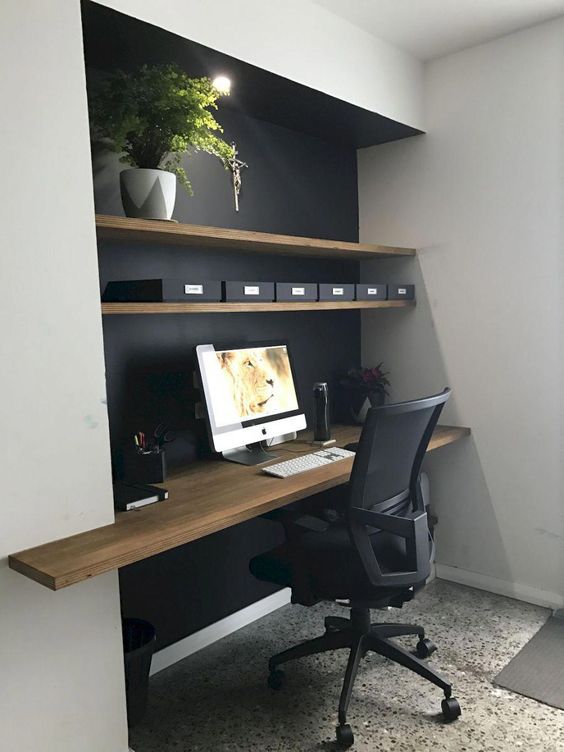 Some more examples of this type of work space can be seen below. The niche is created between two storage units, while this isn't ideal, they've lit up the space with two pendant lamps for a small writing table. The other example is a tiny laptop table nudged between the wall and the cupboard, with good access to storage, perfect for short late night presentation making.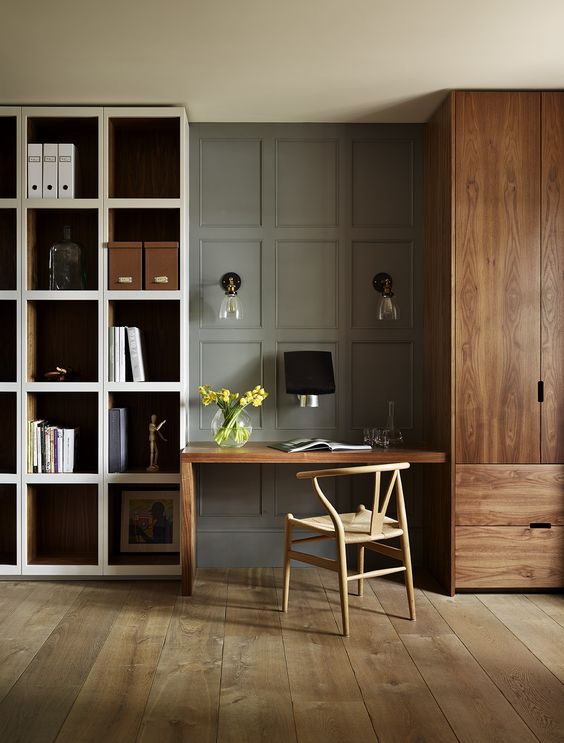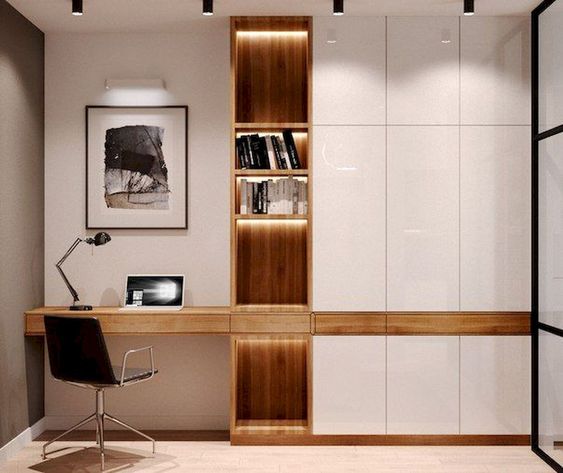 2. PRIVATE WORK DEN
A spare room in the house can be converted to a gorgeous private work den. In the examples seen below, a stylish table and chair setting, complimented with simple greens, some wall frames and storage are seen. This is a minimalist approach to a home office and can be styled according to one's needs. Ask yourself the questions, Will I be meeting people here?, How many plug points do I need, What does my work involve me doing mostly? You can then decide the orientation of your table, storage etc. Be sure to consider plug points, door and window location while deciding the orientation.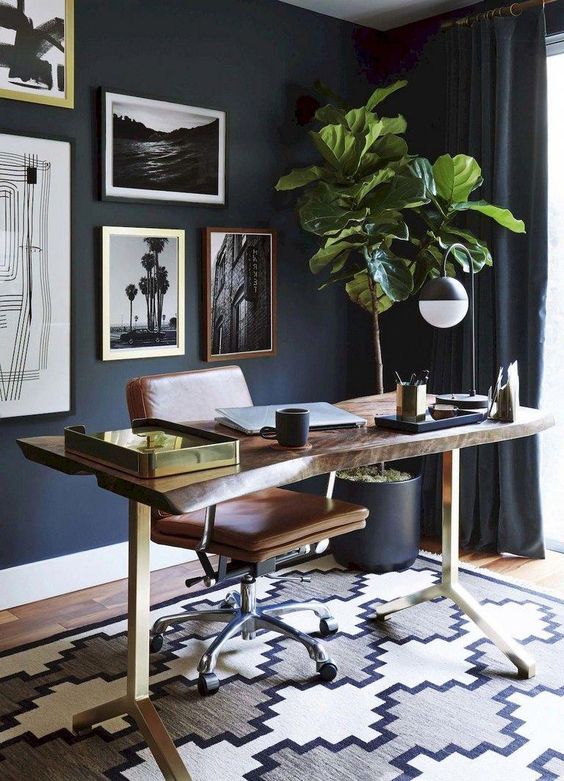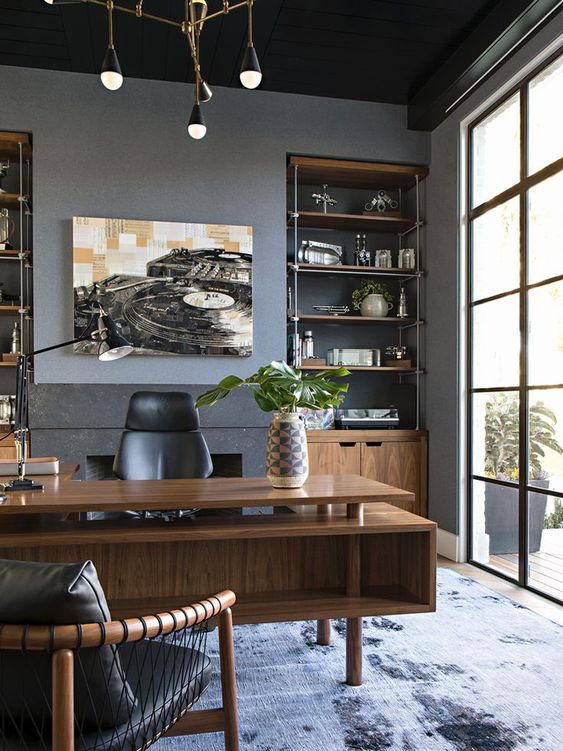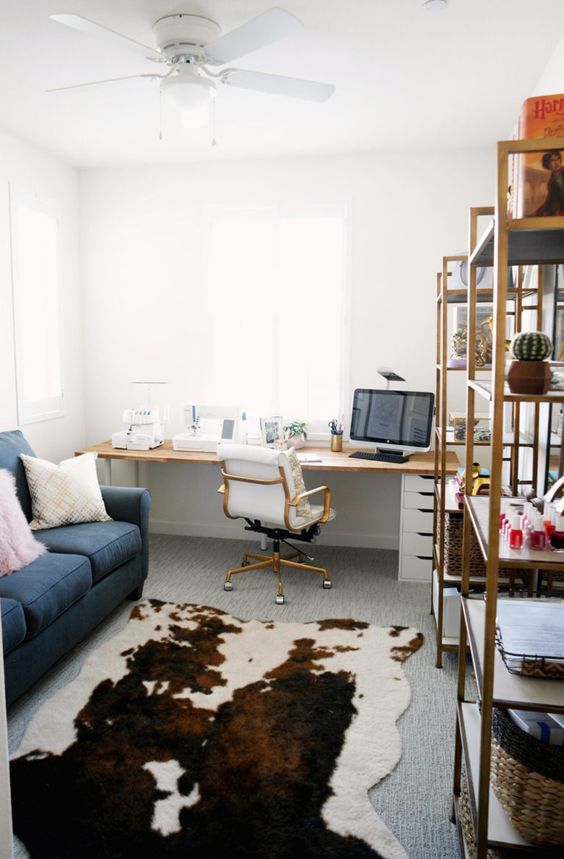 Style your home office with interesting items related to your work. These can be quotes on the wall, photographs or wall hangings, a nice wall clock, rug and planters. If you have a couch, consider smart or colorful cushions, whichever way your work is inclined. Stationary, a few desk accessories like a mug, photo frames, a vase, one or two knick knacks look nice; however make sure the desk isn't too cluttered.
3. STUDY ROOM + BEDROOM
One can take the advantage of a good room height to create a study space in a smaller bedroom. An elevated sleeping space and an integrated work space is a good example for someone with less home working hours or for a student.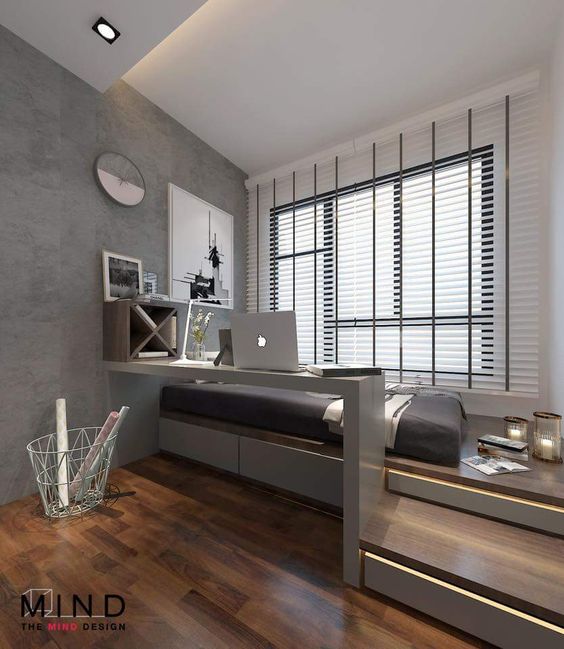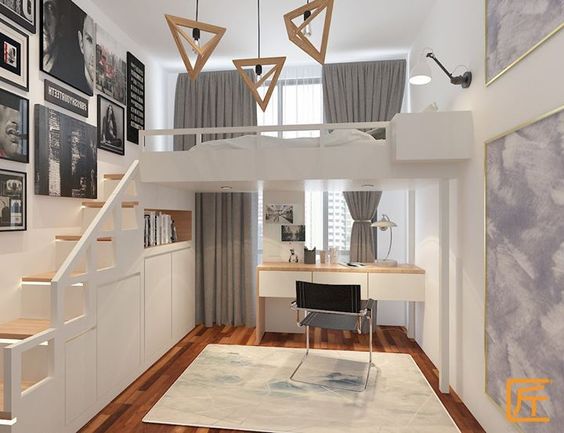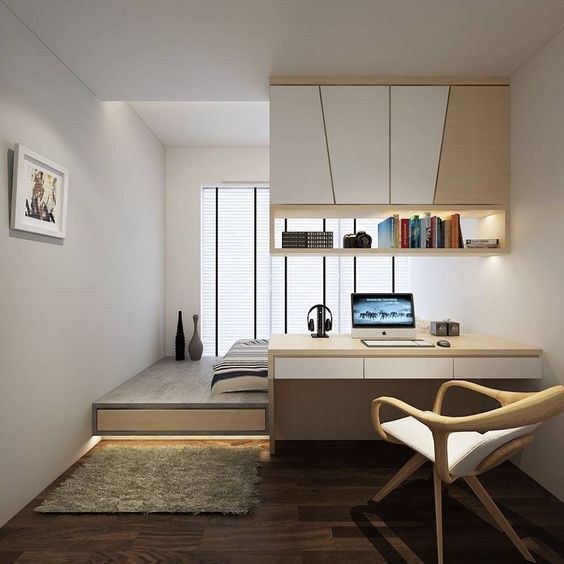 4. HOME OFFICE
If you are setting up a proper home office, it is advisable to hire a designer who can help you create a suitable work environment for your needs. Some key points to remember are : Adequate lighting, strategically located wall and table plug points, plenty of storage according to your needs, comfortable work chair and desk and ample space. A home office, though a separate space, needs to also gel well with the rest of the home decor.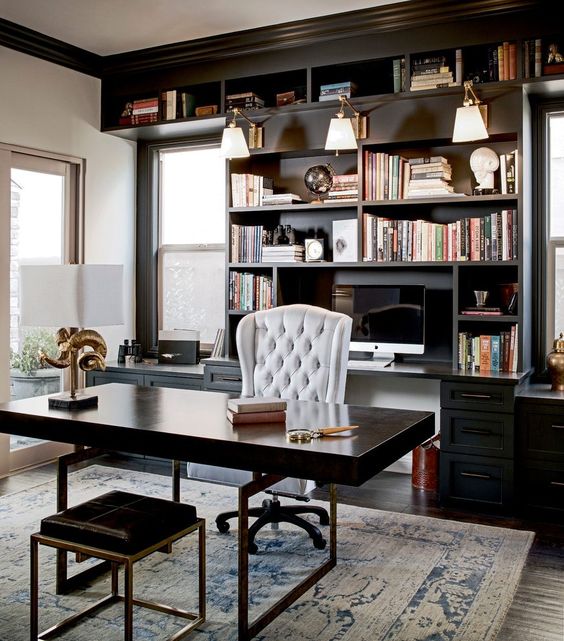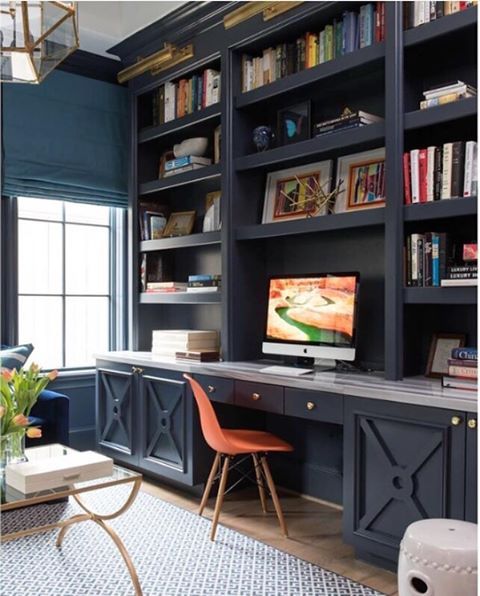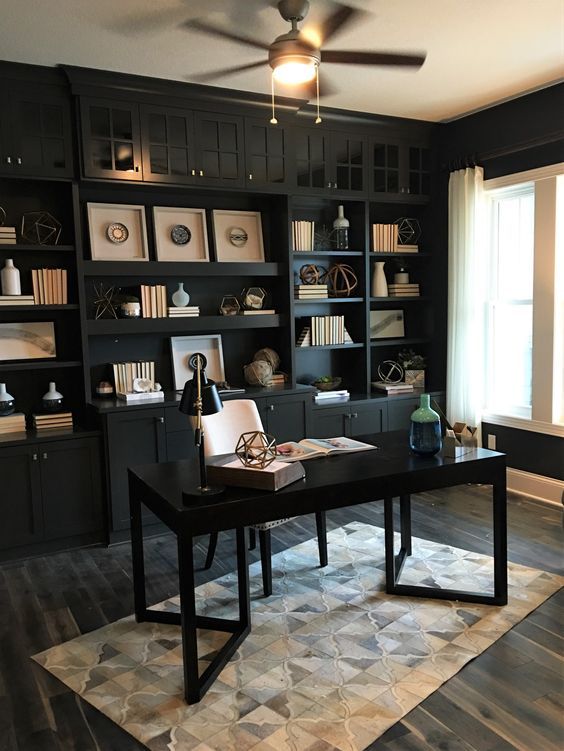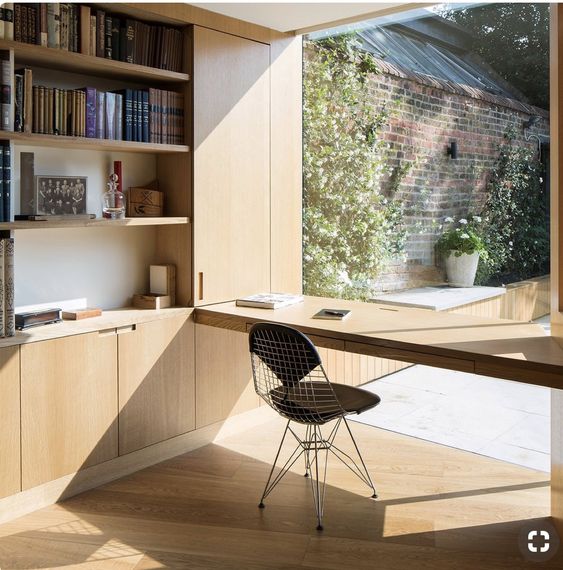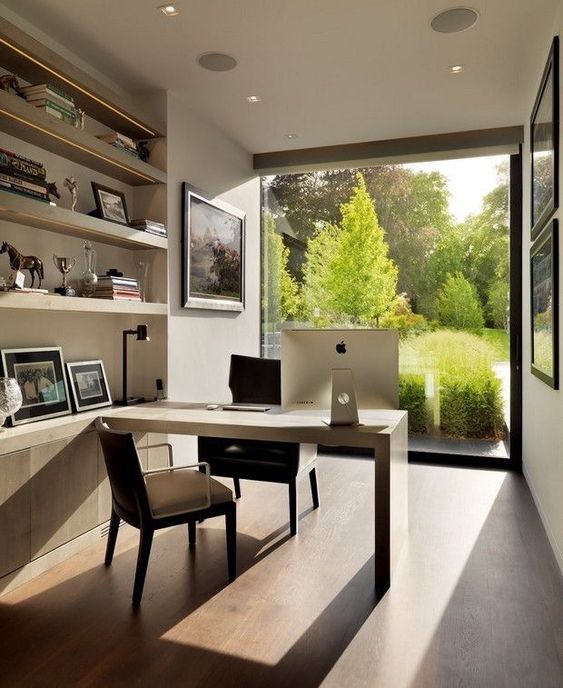 Your work is what drives you, and the place you work in should further fuel your passion. Some elements to increase work productivity are comfort and function in the work space. A clean desk and clean surroundings, elements of green like planters, or windows or a table overlooking an outdoor green space, nice soft music, plenty of natural light, soothing colors and good vibes further increase work productivity. I hope this edition is helpful and inspired many of you to make changes in your work space!