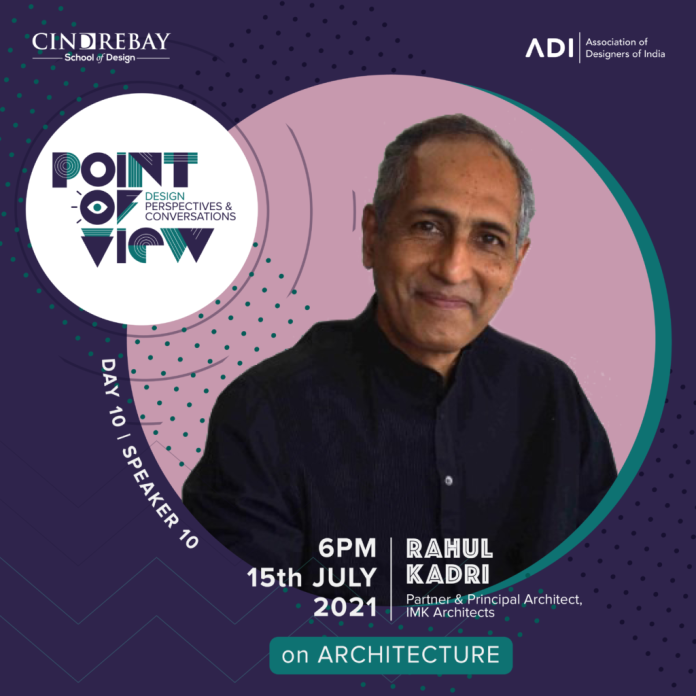 As the principal architect at IMK Architects, a 50 year old architecture and planning firm based in Mumbai & Bengaluru, Rahul Kadri has led several major architecture and town planning projects. Some of his notable projects are for Tata's, JSW and the Reliance group, Hotels & Resorts for Taj & Club Mahindra, College Campuses for Symbiosis and The Supreme Court Of India, and more. 
When Rahul Kadri started his journey with IMK Architects, India was witnessing a period marked by tectonic shifts in the socio-cultural landscape, owing to a liberalised economy. Such seismic shifts in the models of patronage and typologies of projects along with modern technology made inroads into the architecture and construction industry.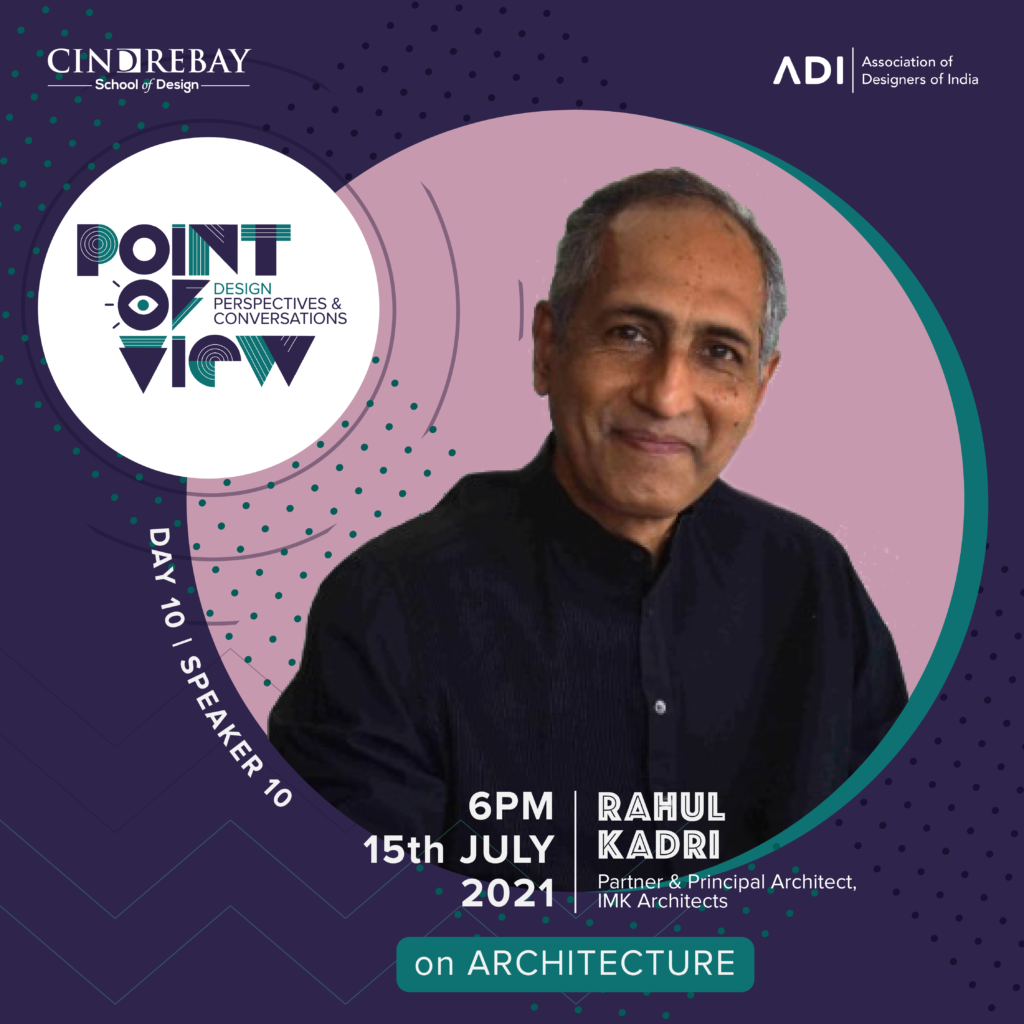 Sustainable growth and concerns pertaining to global warming emerged as a mainstream discourse. Taking into account all these myriad factors along with a focus  on social consciousness & urban ecological sensitivity, Rahul Kadri as a leading architect ensures the effective and efficient delivery of holistic design solutions from buildings to city master-plans –– vibrant, dynamic, healthy and robust spaces where people thrive.
With a unique, collaborative SCRUM based design process that involves intense workshops with all project stakeholders, IMK Architects under the leadership of Rahul Kadri is setting new benchmarks for Indian architecture & planning firms.
Rahul Kadri did a Diploma in Architecture at Academy of Architecture, Bombay, India (7/80 – 4/85) and a Masters in University of Michigan, U.S.A. (8/86 – 4/88), with a specialization in Housing. His academic work experience include re-establishing the College of Architecture and Urban Planning magazine "Dimensions" in 4/87, authoring ""The Inorganic Architect" in Dimensions (4/87)" & "A Perspective of Planning in Bombay, India", along with Introduction to Housing Systems, as a Teaching Assistant.
Rahul Kadri has donned innumerable hats in his vast and far-reaching career as an architect. He has played the role of an architect, planner, independent architect, researcher, & more across renowned architect firms both in India and abroad, not to mention a widely published author with his works featuring in numerous architectural books, magazines, & academic material, and even mainstream newspapers such as The Hindu.
Owing to his unparalleled contribution as an architect, Rahul has received countless awards and accolades including HUDCO Design Award 2020-21, CWAB Award 2020, Surface Design Award 2020 London, "Architect of the Year' by the Times Network & more! 
The real testament of Rahul's incomparable prowess and mettle as an architect is the sheer breadth and depth of his projects – from hospitals & educational institutions to townships & residential area planning to commercial spaces & hotel designs. Rahul Kadri in his 3+ decades of experience as an architect has touched and improved almost every aspect of design, architecture, and planning in the modern urban landscape.
In addition to all these roles, Rahul Kadri is an active participant and the Managing Trustee of 'Save The Children India' – an organization that is committed to the cause of education for the lesser privileged children. He is  also the Vice-President of The Pride India (Planning Rural-Urban Integrated Development through Education), an NGO, to promote the holistic development of marginalized rural people by adopting an integrated approach that is focused on health, education, and empowerment. Trustee of Kadri Foundation, that runs a school for under-privileged girls in the walled City of Ahmedabad.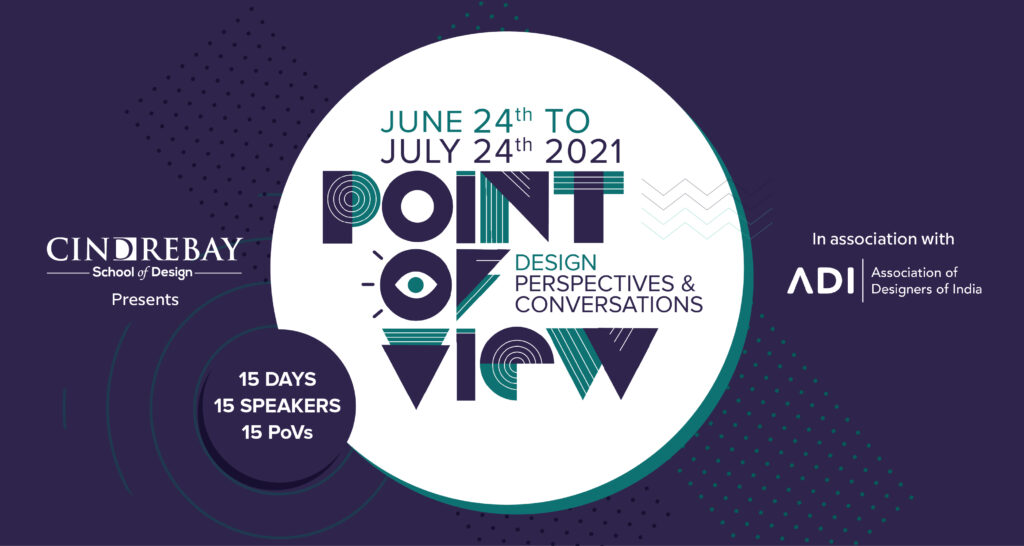 Words cannot express our gratitude towards Rahul Kadri as he graces us with his presence on our podium, Design PoV talks, a month-long event organized by Cindrebay School of Design in collaboration with ADI (Association of Designers of India). Catch Rahul Kadri live on 15th July, 2021, 6 PM IST onwards as he talks about his creative journey, struggles, and stories of inspiration as one of the most renowned architects of the country. 
Register for this  event at www.cindrebay.com/events
Mark your calendars! And follow us on social media for exclusive updates on the event and more!
Find us on social media here —
Instagram – https://www.instagram.com/cindrebay/
LinkedIn – https://www.linkedin.com/school/9552658/
FaceBook – https://www.facebook.com/cindrebay
See you all there!