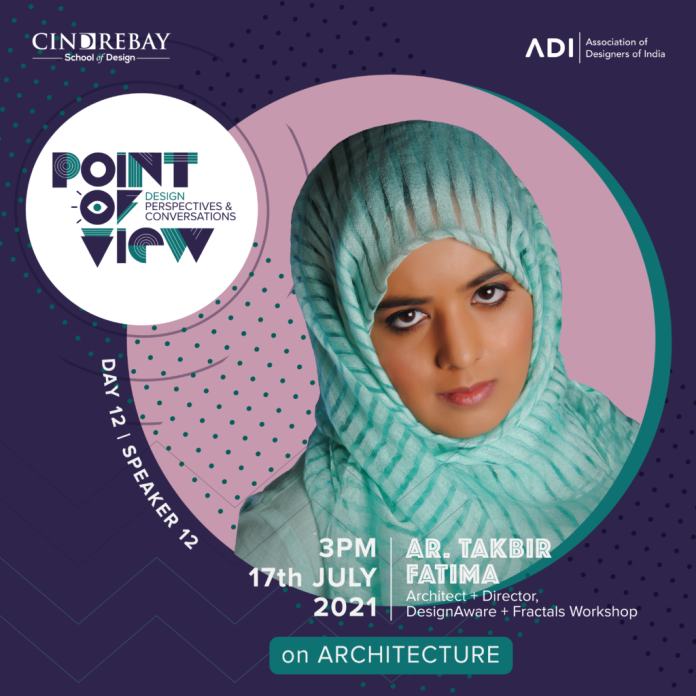 Director of DesignAware ( inter-disciplinary experimental design and architecture studio) and creator of Fractals Workshop and BuildAware, Takbir Fatima is a stellar young design leader in India. She has an MArch in Architecture + Urbanism from the Design Research Lab at the Architectural Association (AA) School of Architecture, London, and a BArch from CSIIT School of Architecture & Planning, Secunderabad. She is also a fellow of the Startup Leadership Program.

Named as Telangana Young Architect by the Indian Institute of Architects, and awarded the Emerging Architect of the Year by NDTV Design & Architecture Awards 2016, Takbir was also recognized in the annual selection of 50 emerging Indian architects and designers, iGen 50 in 2019.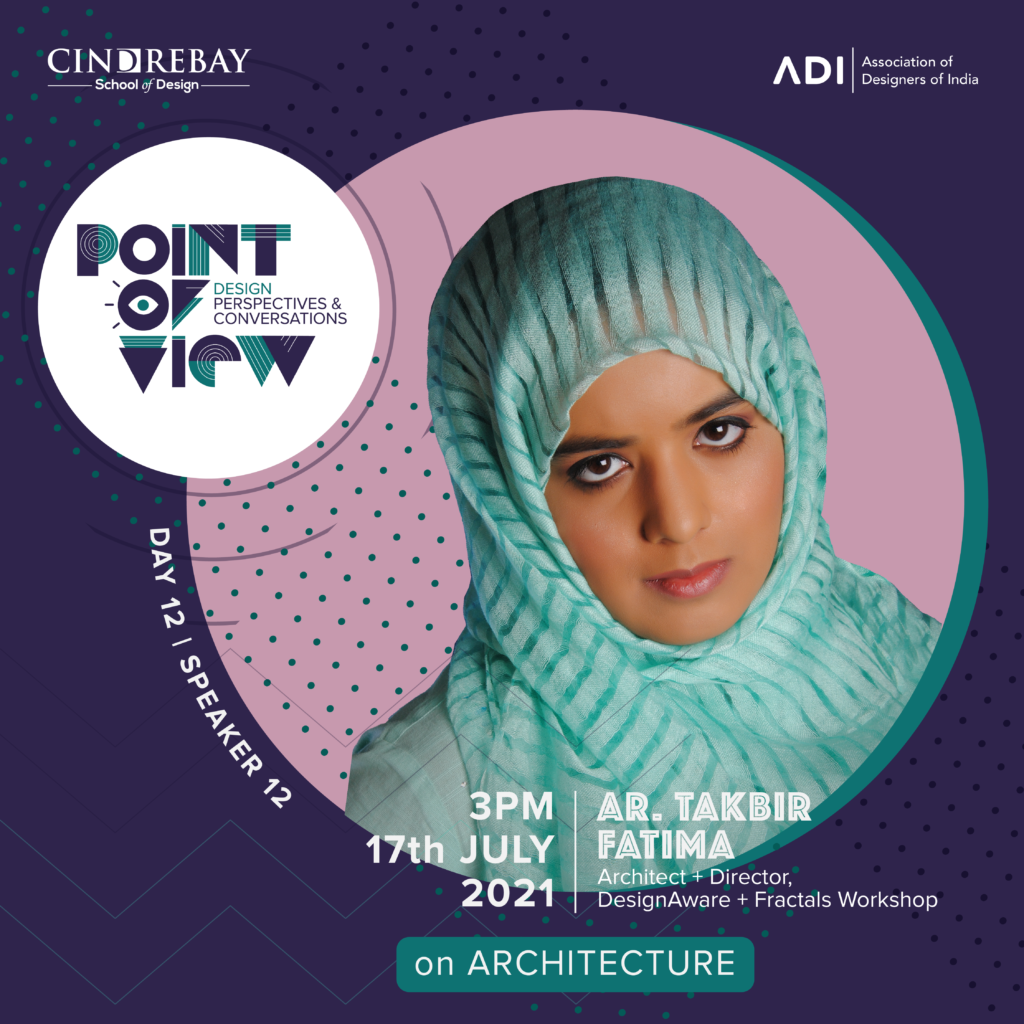 Not to mention, she is a TEDx speaker who has presented her brilliant work including innovative design methods at several international design festivals including the Dezeen Virtual Design Festival 2020. Her writings have been published in LA Journal, Indian Architect & Builder, The Wire and Mvslim.
Through her venture, DesignAware, Takbir wants to create awareness through liveable, wearable, usable, accessible and responsible design. Located in Hyderabad and Dubai, this studio practices and promotes process-oriented design. Their portfolio cuts across scale, method, location and typology, with a special focus on strong social & ethical designs, such as a school for students of disadvantaged backgrounds in the heritage zone of the Golconda Fort in Hyderabad.
In a non-profit endeavor, Takbir created DesignAware successfully by raising partial funds and contributions to build the context-sensitive school on a shoestring budget through the social media crowdfunding campaign, #MakeProgressPossible. This school's design has been widely published and has won multiple awards for its unique purpose, aim, and design. Not to mention, it has become a famous architectural landmark in its own right.
The work of DesignAware has been appreciated and published by various international architecture magazines, including Domus, ArchDaily, designboom, Dezeen, Indian Architect & Builder, Matter, Pool, etc. It was also published as a case study in the RIBA Rethink Design Guide 2020: Architecture for a Post Pandemic World. DesignAware was long-listed for the Dezeen Awards 2020 as Emerging Architecture Studio of the Year.
The long list of Takbir's achievements don't end here. Along with the many feathers in her cap is yet another brilliant creation, Fractals Workshop. This unique, hands-on workshop series combines design, structure, art, mathematics and computation. Since its inception in 2011, the workshop has been to major Indian cities in India such as Hyderabad, Chennai, Surat, Roorkee, Kochi, Ahmedabad, and even overseas such as Dubai, Sharjah, Bahrain and Doha.
Owing to her massive achievements and accomplishments, Takbir has been invited as an external juror and thesis guide, and has been associated with various programs and schools of design and architecture in India and abroad. These include CEPT University, VCU Qatar, VIT Vellore, Raffles College of Design, Turenscape Academy and the Boston Architectural College.
She is a Global Teaching Artist for Facebook Open Arts and since the beginning of the pandemic she has been involved in organizing a series of virtual lectures, Road Less Traveled. This brought architects from all over the world, who have taken very different career paths, onto a single platform with an aim to crowdfund relief efforts for migrant workers, daily-wage earners and medical professionals affected by the pandemic and lockdown, in an initiative called #StarvetheHungerVirus.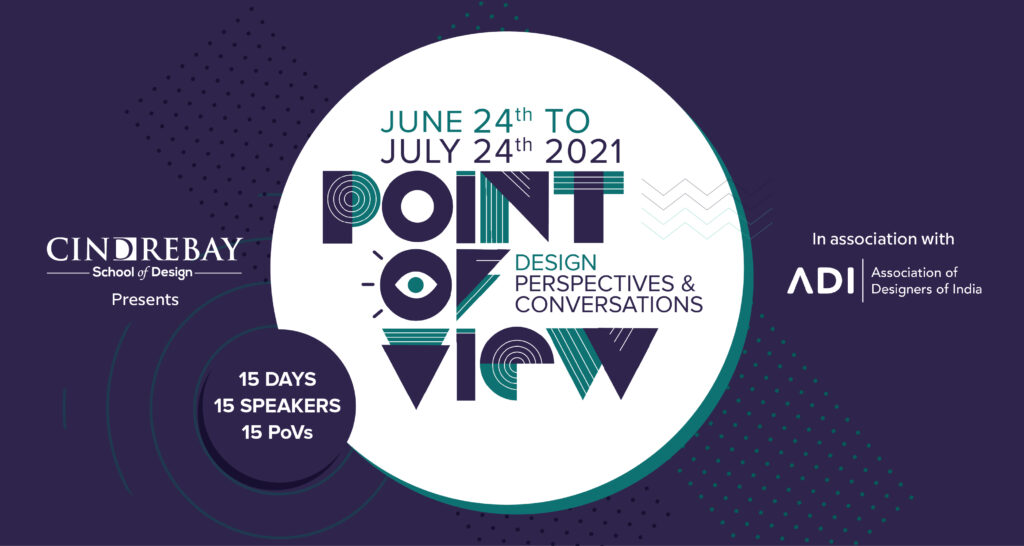 We are more than honored to have such a young, prolific, and a brilliant mind grace our podium on 17th July, 2021, 3 PM IST onwards as a guest speaker for Design PoV, an event organised by Cindrebay School of Design in collaboration with ADI (Association of Designers of India). This event is a part of our ongoing celebrations for our 15th anniversary, and we cannot wait to hear what amazing stories, lessons, and insights Takbir has to share with us!
Register for this event at www.cindrebay.com/events
Mark your calendars! And follow us on social media for exclusive updates on the event and more!
Find us on social media here —
Instagram – https://www.instagram.com/cindrebay/
LinkedIn – https://www.linkedin.com/school/9552658/
FaceBook – https://www.facebook.com/cindrebay
See you all there!