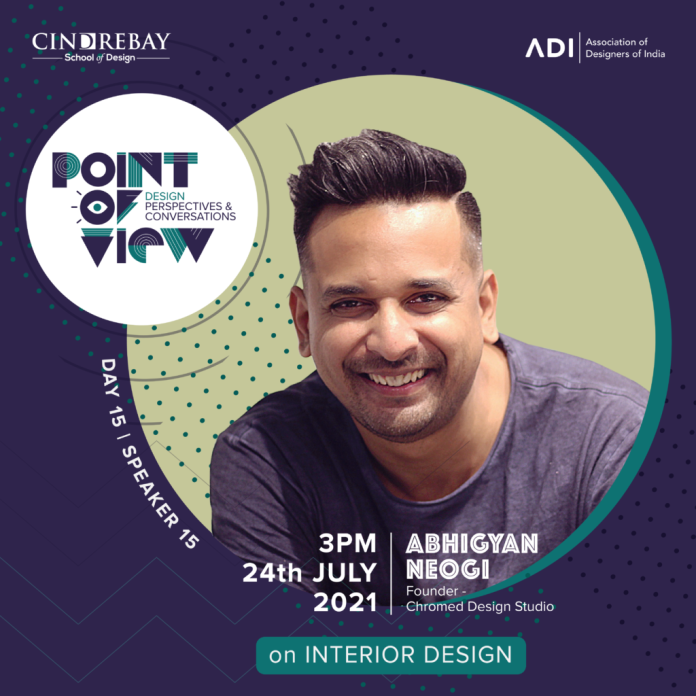 Abhigyan Neogi, founder of Delhi-based architect & design studio, Chromed Design Studio has carved a niche for himself in the design landscape of the nation. With a unique amalgamation of rugged logical accuracy and a joyful nature, Abhigyan Neogi designs interesting habitats that embody this distinct combination.
In addition to creating avant-garde design strategies that transform the facade of the contemporary community lifestyle, Abhigyan has also served as a speaker at renowned design platforms such as Eldrok India Architecture Summit 2021, Talk of the Town 2019 by Surfaces Reporter, and FOAID 2018-19.
Not to mention his vibrant and uniquely aesthetic designs have featured in a number of highly coveted design mainlines including Home and Design Trendz, Restaurant India, Hospitality Biz, Architecture + Design, L'Officiel, B.O.B Korea, Restaurant Development + Design, and many more.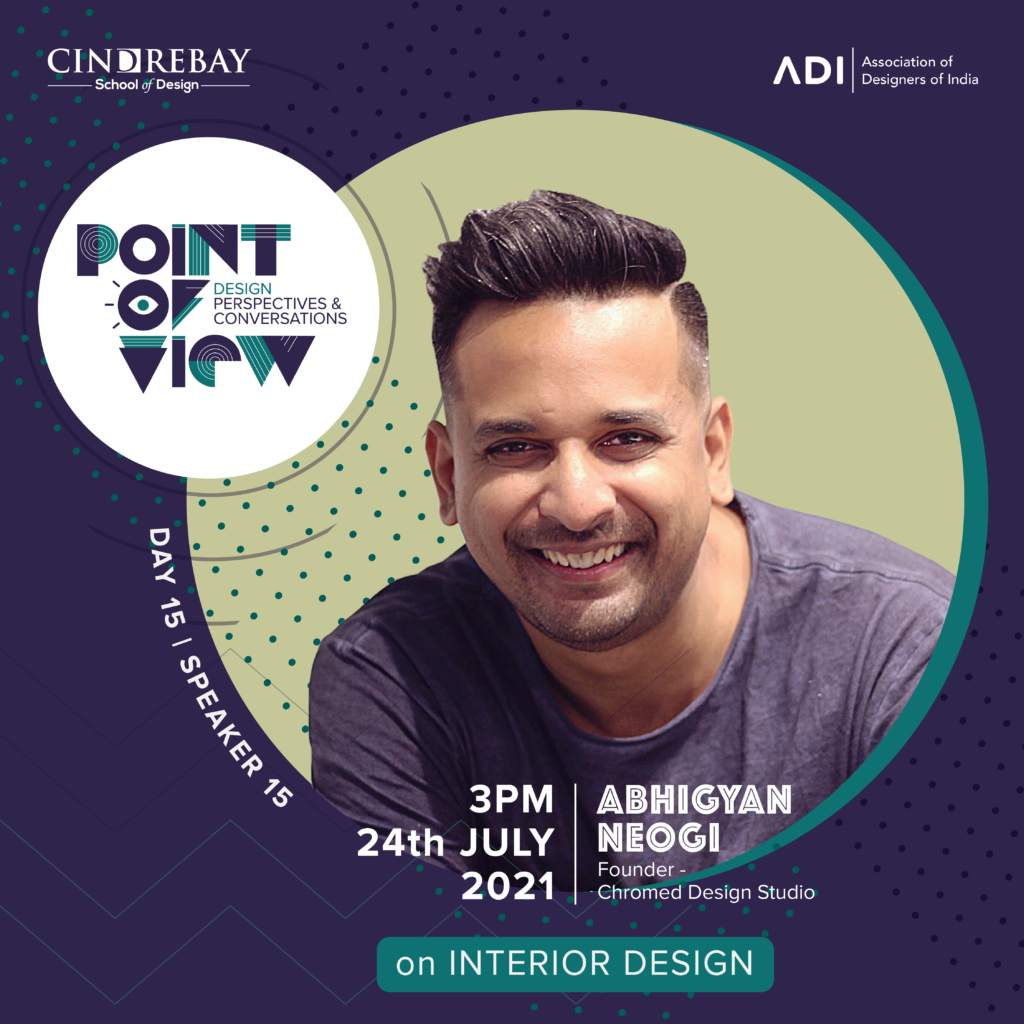 Abhigyan Neogi's stellar work has also achieved him countless accolades such as
Young Designer Award, India 2010
Estrade Award, Singapore for Best Commercial Interiors 2016
Winner for Retail Interiors by FOAID India 2016
Commendation at Saint Gobain
Economic Times Award for Best Hospitality Design 2016
Platinum Winner for Best Hospitality Interiors at Architecture Ideas 3.0 by Berger and FOAID India 2017
Winner at HP Skyline 2050 Awards; Speaker at Dialogues Hyderabad 2018
Finalist at Cera Design Challenge 2018 & Finalist for Commercial and Hospitality Interiors at Architecture Ideas 4.0 by FOAID 2018, and iGen 2020.
Through his work at Chromed Design Studios, Abigyan Neogi aims to reinvent the global perception of India as a citadel of design. Making India a hub of avante-garde designs is one of the key outlooks and aims of Abhigyan and his creative team at Chromed. The one primary guiding principle at Chromed is not aesthetics or even sensibility but an everlasting curiosity for creative processes that unlock the imagination as designers, architects, and creators. 
A few of the celebrated projects designed by Chromed include restaurants like Kwality, Social, Musaafer in Texas and Virat Kohli's One8 Commune, to name a few. Additionally, Chromed has created magnificent spaces such as INOX cinemas at various locations, Vehere, Vanya Mahal, Manaskriti School and Innov8's co-work office spaces, and recently ventured into the healthcare sector applying exquisitely aesthetic & functional design to critical spaces like clinics & hospitals.
As a creative soul, Abhigyan is always pondering over ideas and thoughts that question the limitations of human imagination, opening doors to limitless possibilities such as – "What if an architect could be as experimental as a chef? What if the building became a character? A living organism? What if your environment could transform with every step?". 
And this free-spirited, no-holds-bar thinking can be seen through the diverse array of projects going on simultaneously at Chromed Design Studio. On a given day, Chromed Design Studio could be working on an F&B project, a residence, a master plan, an interior project, a multi-specialty space, and a commercial project. And it is this ruggedly unique policy that lends Chromed Design Studio its marked creative character. 
Instead of being a torchbearer of the conventional design and architecture leadership strategy that works top-down within rigid hierarchies, Chromed Design Studio brings in a whole dimension of integrating a team that focuses on all aspects of a project with a team of highly skilled professionals with a single window delivery approach.
For Abhigyan Neogi, the unquenchable thirst to be a sculptor, a traveler, and a full-blown artist is the driving force behind him taking up the discipline of architecture. Starting off as early as 18, Abhigyan kicked off his creative career through architecture and even advertising. Post his graduate studies at TVB School of Habitat Studies, New Delhi in 2008, he stamped his belonging in the fraternity with a name like Morphogenesis. 
Even though today Chromed Design Studio boasts of a number of nationally recognized projects, it had humble beginnings way back in 2010. Since then there has been no looking back for Chromed Design Studio and it has successfully completed many popular projects under the able leadership of Abhigyan. Some of which include Fio Cookhouse& Bar-Nehru Place, La Bodega-Khan Market, Impromptu- Gurgaon, office space for names like Housing.com & Uber and some very recent ones like Social Offline- Nehru Place & Number 8- Sunder Nagar in Delhi.
We feel extremely proud to host Abhigyan Neogi on our platform, Design PoV, a month-long celebration of India's leading creative personalities, organized by Cindrebay School of Design in collaboration with ADI (Association of Designers of India). Join us on 24th July 2021, 3 PM IST, to listen to Abhigyan Neogi's creative journey – the ups and downs of his life as an architect and a design leader.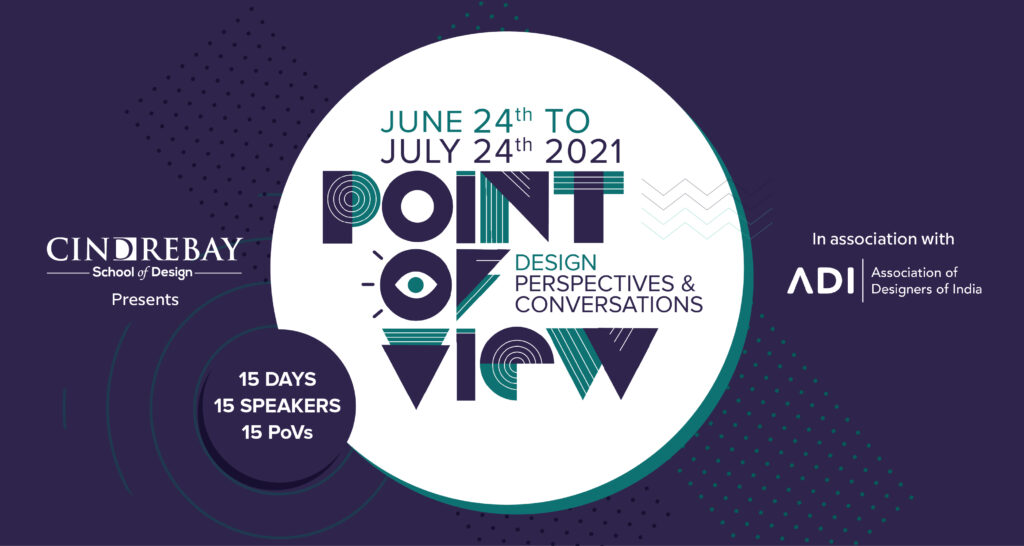 Register for this  event at www.cindrebay.com/events
Mark your calendars! And follow us on social media for exclusive updates on the event and more!
Find us on social media here —
Instagram – https://www.instagram.com/cindrebay/
LinkedIn – https://www.linkedin.com/school/9552658/
FaceBook – https://www.facebook.com/cindrebay
See you all there!