Silver jewelry is trending and how! Fashion temperatures are soaring with this incredibly Indian yet modern style, and everyone wants a piece of the action! Ofcourse, being in India, we know that there are dozens of other jewelry, gold, platinum, diamond, kundan, lacquer, traditional and what not! But in this article, lets find out how you can wear silver, metal oxidised, junk jewellery in your daily life and raise your fashion game!
1. STREET STYLE:
With bohemian styles and indowestern ruling the fashion market, there is no outfit you can't pair junk jewelry with! Add a pair of 'desi' jhumkas with ripped jeans and a tank top, with jutis, and you're ready to rock college fashion! An oxidised silver necklace paired with a spaghetti dress with block heels, is a good outfit for travelling or shopping! Silver rings or chunky bracelets can be worn with jeggings/flaired pants/colettes and a flowy/loose top and comfortable flats/bellies.
2. OFFICE CHIC:
Okay, who says you can't wear jewelry in office? With office settings slowly becoming more informal in India (high time), dress codes are taking a turn for the more fashionable. Wear a denim shirt with an intricate silver choker, pants and oxford shoes for an understated diva look. A white blouse, trousers and a chunky layered necklace is perfect for informal meetings or office parties. You can also never go wrong with a kurti, leggings/patialas, jutis/kolhapuris and big silver jhumkas or chaand baalis!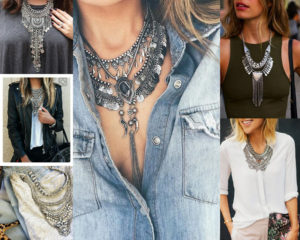 3. BOHEMIAN GODDESS:
Bohemian styles are the most comfy and underrated look which is slowly catching on. College fests, music concerts, parties, best friend's wedding, festivals, brunch, casual day outing or while travelling, it is the perfect trend to pick. Wear a colorful embroidered cape, over a solid tank top and leggings, with bold silver necklaces (yes, more than one) or large drop earrings for an incredible look. A solid crop top, with a flowy skirt, either colorful/embroidered/laced, basically any kind, with a long detailed silver necklace is also a good option.
img class=" wp-image-2688 aligncenter" src="https://blog.cindrebay.com/wp-content/uploads/2018/02/Blog-no-35-Silver-Jewellery2-300×240.jpg" alt="Blog no 35 – Silver Jewellery2″ width="454″ height="363″>
4. DESI STYLE BRIGADE:
Kurtis and Salwar Kameez are the staple outfit choice for most Indian girls during family events, or for work, college or even casual affairs. Jazz up your favourite white kurta, with a colorful dupatta/stowl and add a lot of silver kadas/bangles. Even a necklace strewn around with a colorful plazzo and solid kurta can work wonders!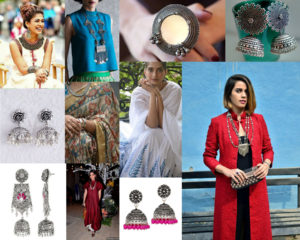 PRO TIPS:
Try not to overdo the jewelry. Select one statement piece at a time. If you're in the mood for a necklace, skip the drop earrings and go for simple tops. If you've picked out bangles, say no to big rings.
Choose a flattering neckline for a necklace. Either it should be deep enough to show the entire necklace on your skin, or high enough to set the base for the same. A medium neck, where the necklace sits half on skin and half on the fabric, doesn't look that great.

Start small. Do not invest in expensive jewelry without trying it out first. I recommend to start with a delicate neckpiece, small jhumkas and chaand baalis, one or two bangles and rings. If you like the trend, and if it suits you, you can build your collection.
Don't be afraid to try other jewelry like anklets, waist bands, maang tikas, etc. in silver as well.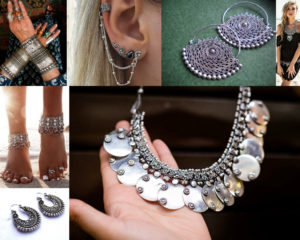 WHERE TO BUY:
Chunky, traditional jewelry, even tribal patterns and styles are taking the market by storm in recent times. You can check out the street markets and get pieces for as cheap as Rs. 100 – Rs. 5000. The best markets to go are Sarojini Nagar, Lajpat Nagar, Janpath, Delhi, Colaba Causeway, Mumbai, and basically any famous street market in India. If you are averse to street shopping, you can try websites like jaypore.com, voylla.com for authentic designs, but on an expensive side. For dirt cheap prices yet amazing collections, go to clubfactory.com where you can get jewelry (artificial, obviously) for as low as Rs. 50 – Rs. 3000!
*You can find the above designs on clubfactory.com, jaypore.com, gaath.com, voylla.com, craftsvilla.com etc. Prices may vary.