In recent years, there's been a paradigm shift in the design typology of interior Partitions. We have surely come a long way from plain and simple brick plastered partitions or POP / cement sheet partitions. In modern homes these days, partitions aren't merely space dividers, but also features in the space design. The development in architecture and construction methodology has greatly affected Interior architecture, paving the way for more barrier free design and thus bigger spanning spaces. Open layout homes are in trend, whether they may be independent villas or apartments. In this setting, a lot of people are inclined to incorporate innovative interior partitions to visually divide and add aesthetics to their spaces.
In the wake of more modern technologies and simplified use in materials, an almost infinite variety of partitions have taken the market by storm. More and more inventive designs and bolder use of materials have made this element very interesting and sought after. Be it opaque, translucent, functional, interactive, colorful, formal, classic, fun or quirky, there is no brief, interior partitions cannot fulfill. Here is a curated list of partitions in every style, material and theme to inspire your next Interior Design Adventure!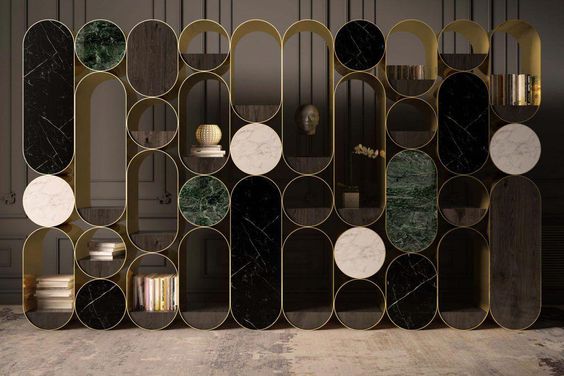 This bold and uber cool partition design has it all. Marble, metal, black and white with a functional book shelf, gold tints and curves which accentuate the space!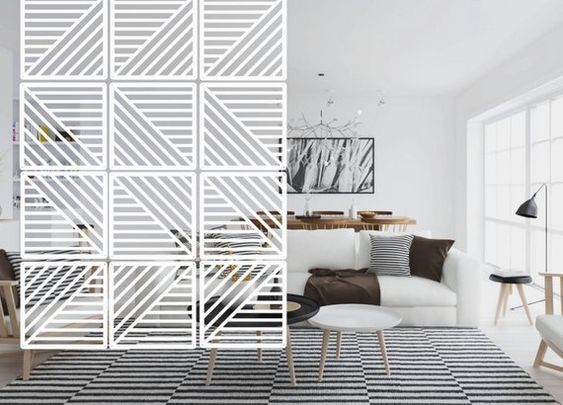 A stark contrast from the first example, this serene white geometric partition, compliments the rest of the white decor and blends seamlessly into the space.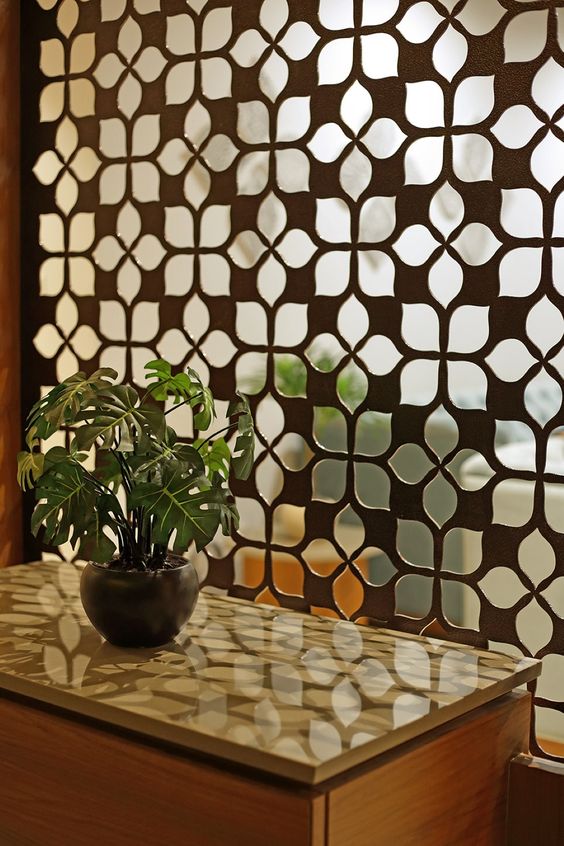 This floral motif screen partition, is light, can be made in metal or MDF, provides beautiful light and shadow play and is perfect for Indian homes.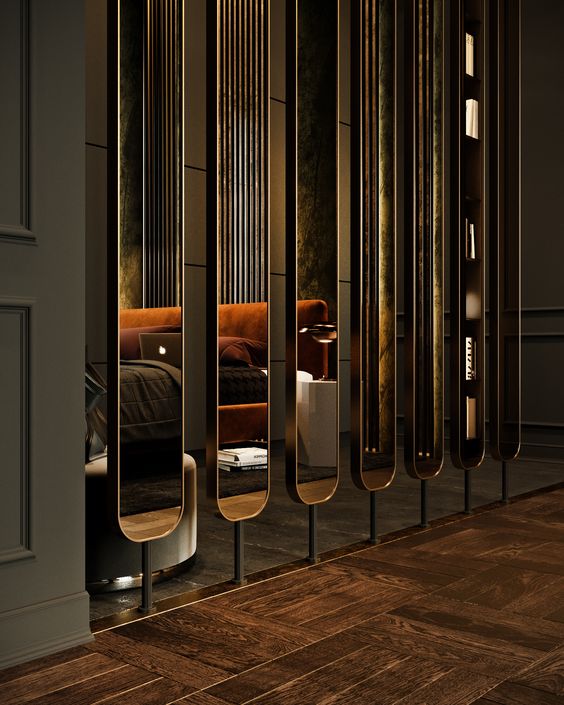 Mirrors and gold tints, the perfect ingredients for a sophisticated interior design. This partition is so simple, yet looks like a million bucks, best suited for Fine dining restaurants, retail stores or office lobbies.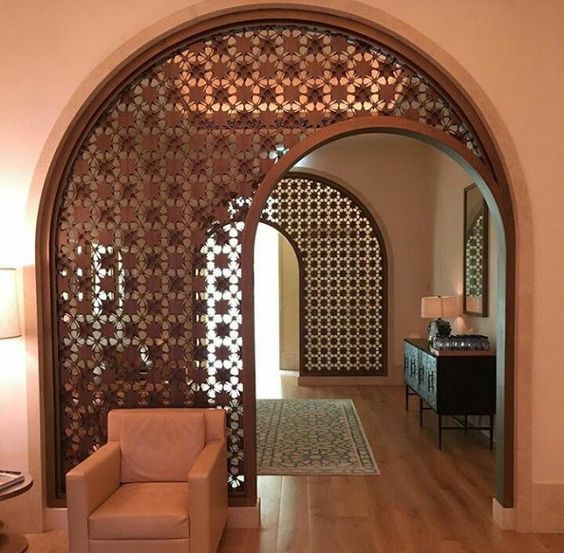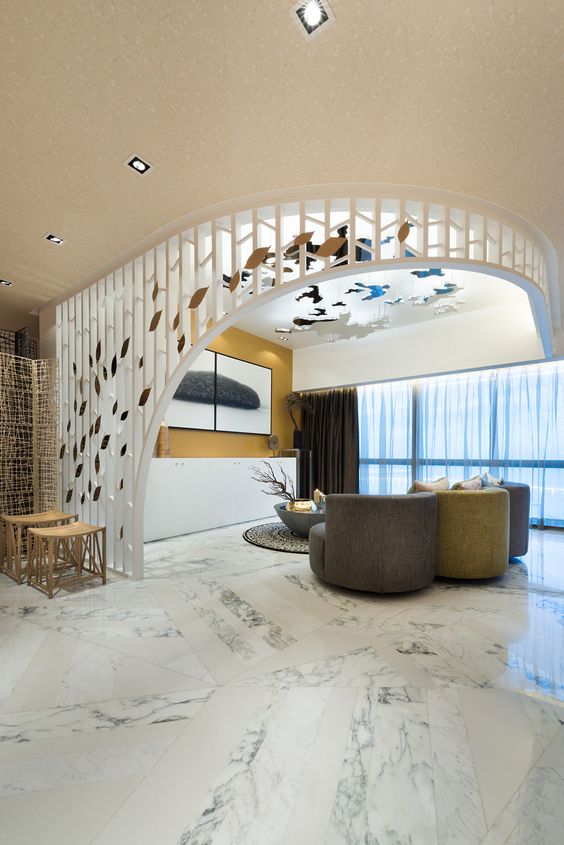 Intricate patterns also work superbly in partitions. This arched screen, creates a beautiful frame in the space and is a great backdrop for residential interiors.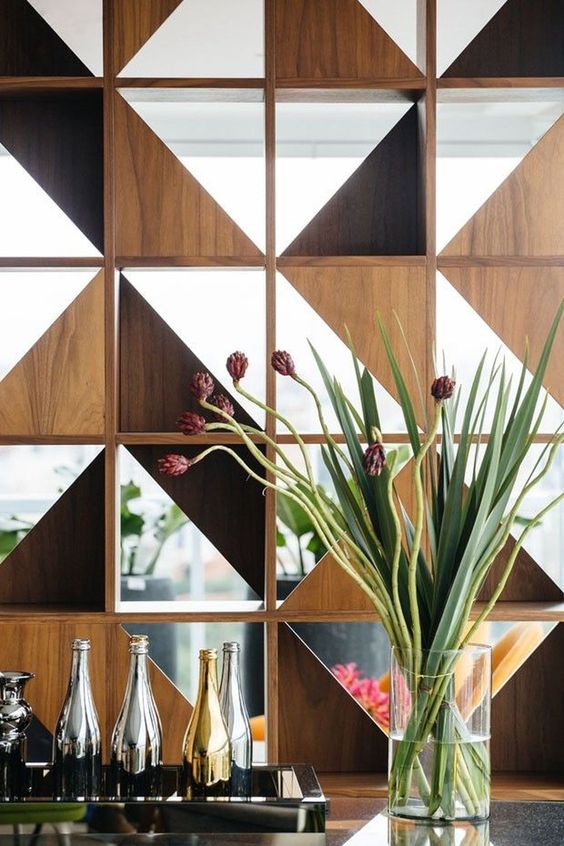 Wooden partitions are one of the best options for contemporary and earthy designs, they also work well with Bohemian interiors. Grey and wood are colors in sync with modern interiors and can be designed as opaque screens or see-through partitions.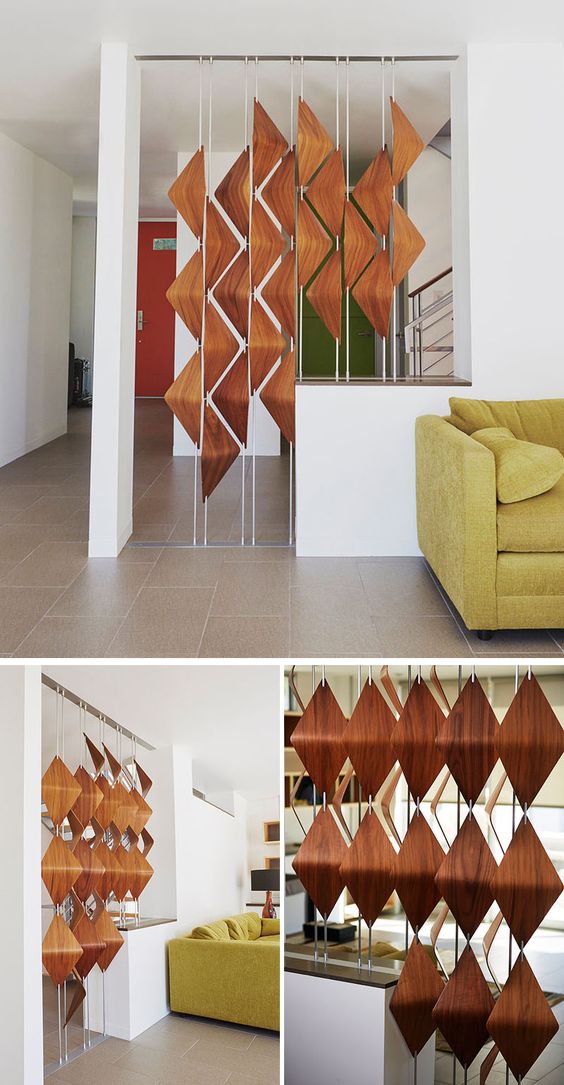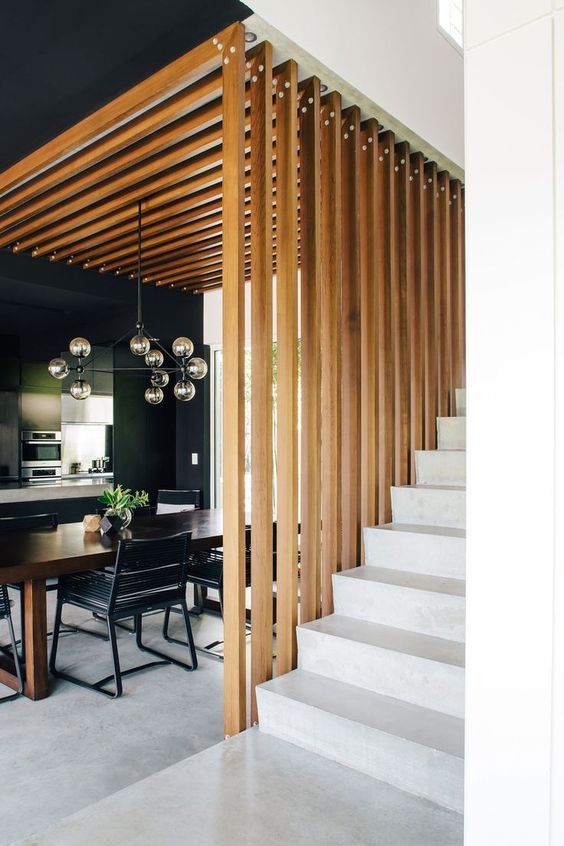 Wooden battens are also an easy, elegant and comparitively cheap way for a divider. They look extremely classy as dividers for stairs, mandirs, living rooms and can be fashioned as storage units cum partitions.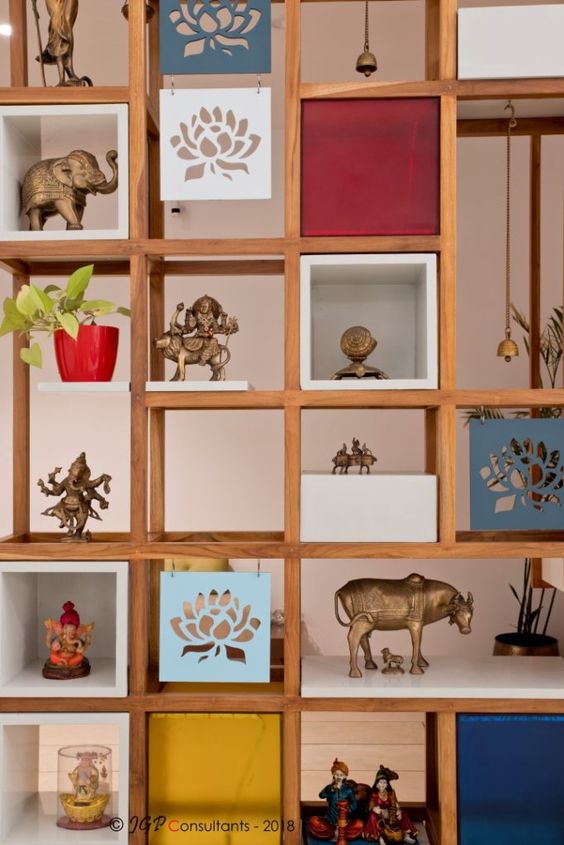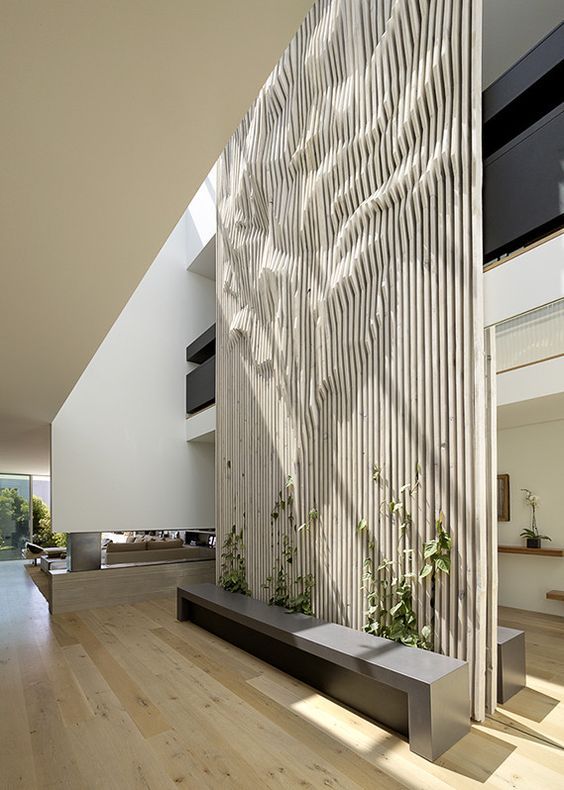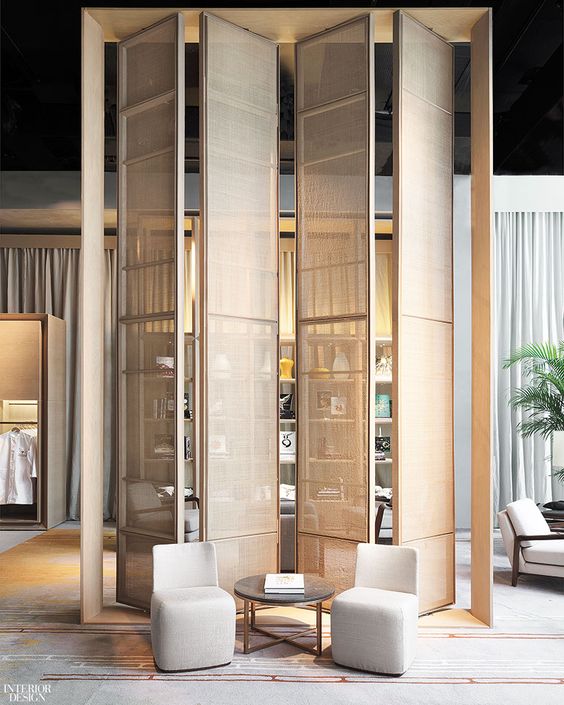 Fabric screens, or fins are also very functional, as they can be adjusted to hide or open up the space as required.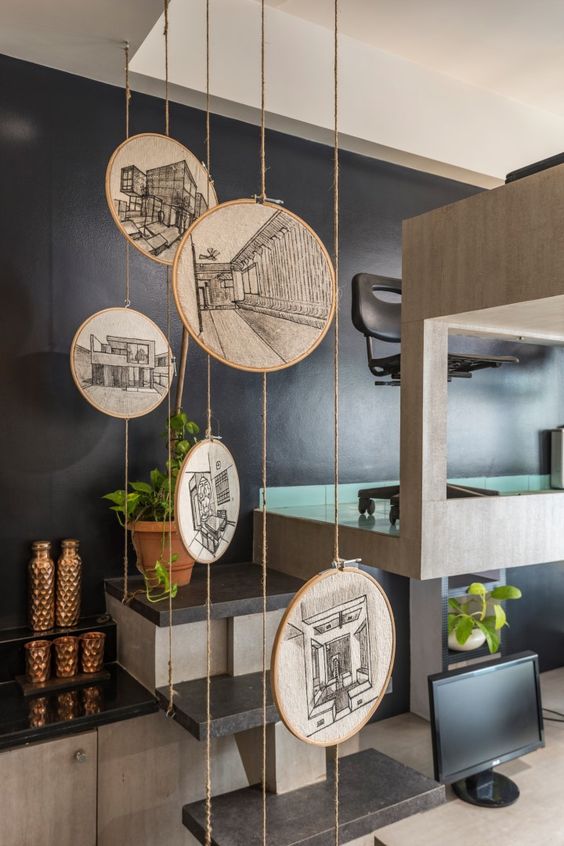 Speaking of unconventional partitions, this one really caught my eye. Who says dividers need to be solid? This innovative design, is so simple, yet so effective and showcases the owner's talent in an imaginative way.
In children's rooms, fun interactive partitions can not only be an interior feature, but can keep a kid busy for hours!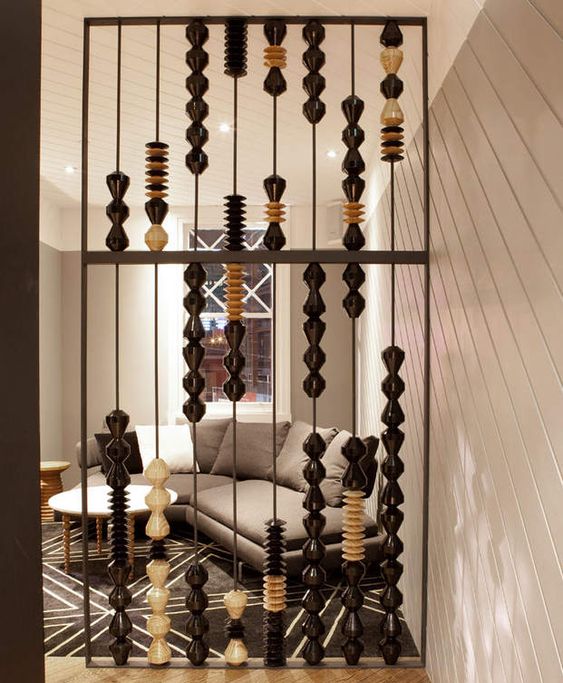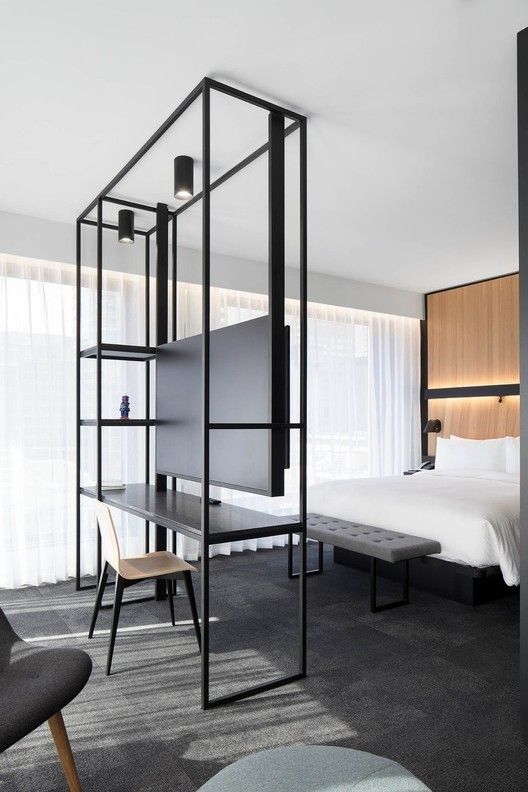 This amazing partition design is so useful, it's Genius! A bedroom with this smart panel, serves as a storage unit, a study table and opens up the walls and windows flooding the room with light while also dividing the personal sleeping space and private workspace.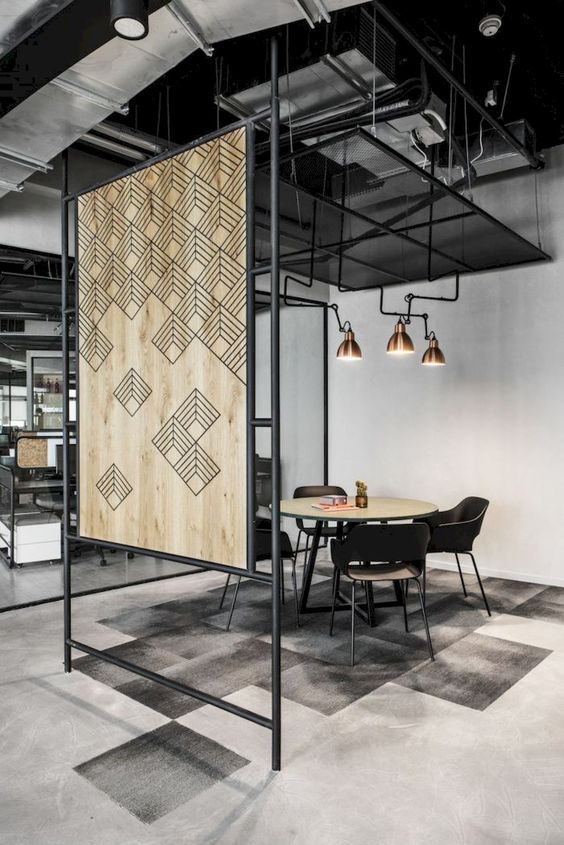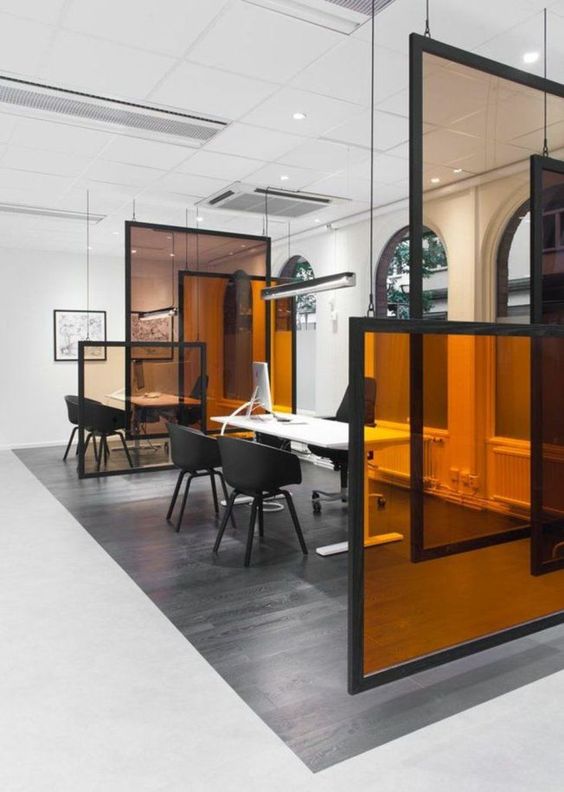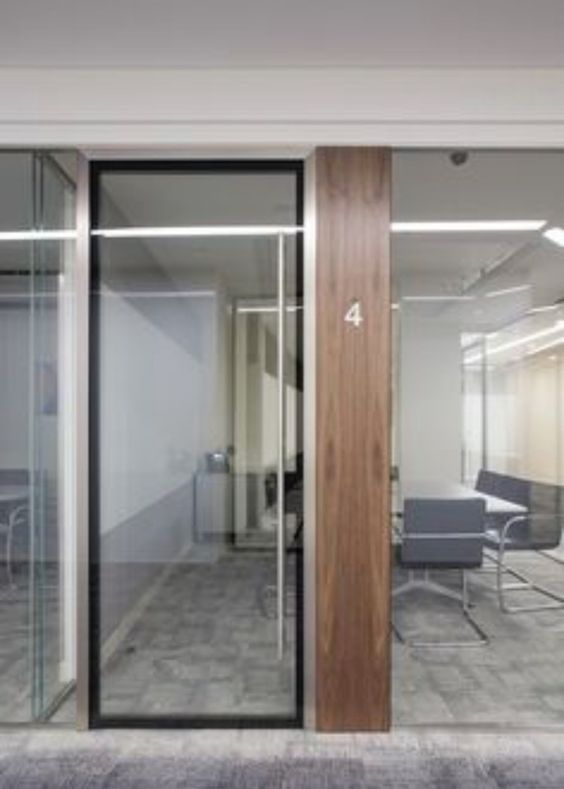 Now that I've mentioned workspaces, I need to acknowledge that dividers have an important role in office interiors. To divide cabins, meeting rooms and even cubicles, a variety of different types of partitions are used. Glass partitions, (framed or frameless) are one of the obvious choices for cabins, whereas low height plywood dividers are usually used for cubicles. However, they are not the only choices.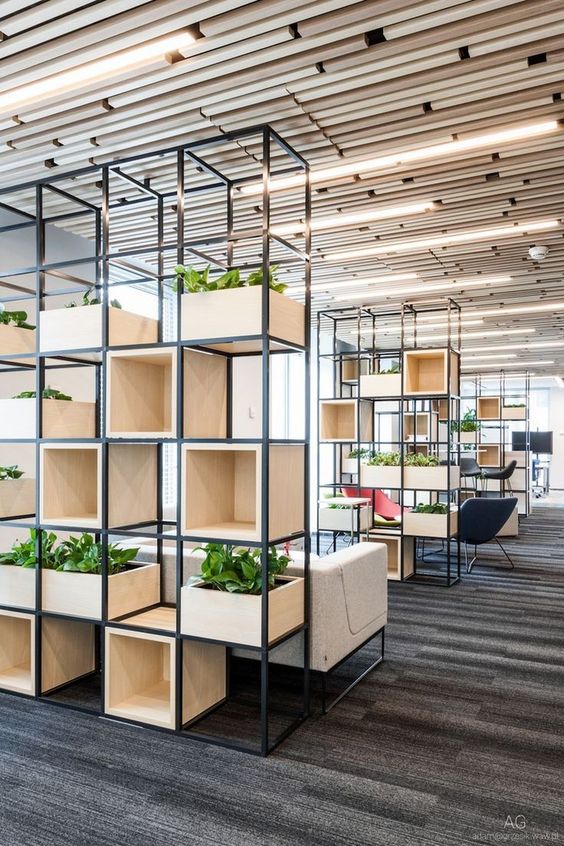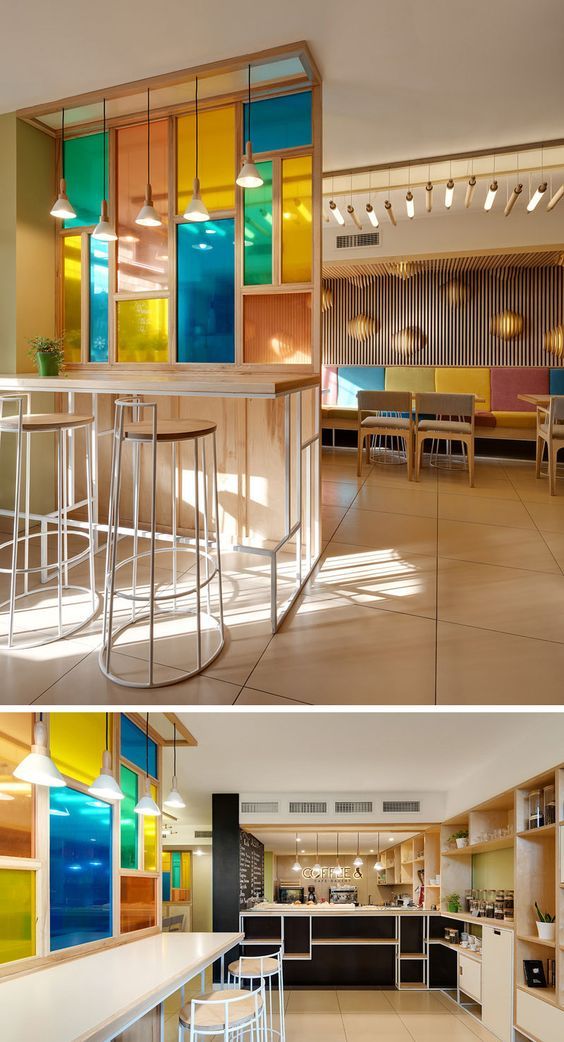 Partitions can also be used as a beautiful backdrop or a colorful element in interiors. One can use plants or indoor flowers to add colors to a space, or alternatively go for lacquered glass to add a similar effect.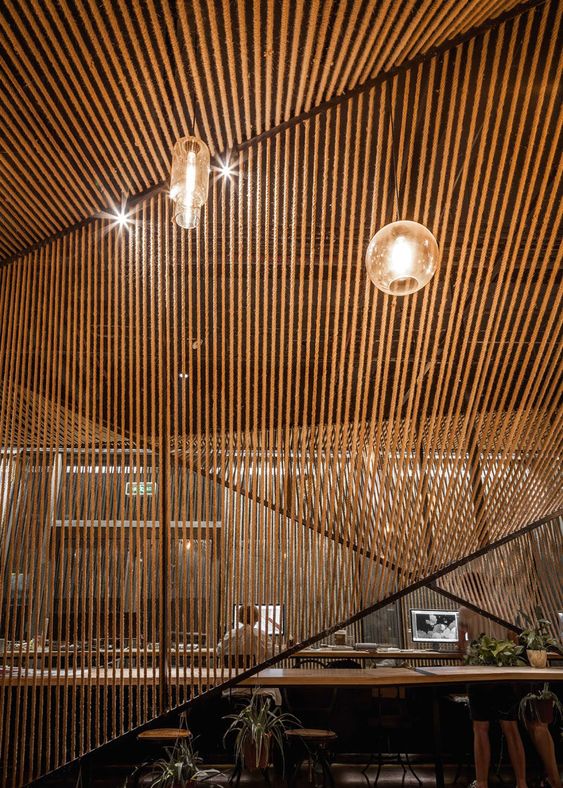 We can't write an entire blog on innovative partitions, without mentioning rope dividers now, can we? Rope partitions are undoubtedly one of the simplest, cheapest, coolest ways to add a divider, it looks fun and casual, goes great with contemporary and modern design, and if you're skilled enough, you can probably do it yourself!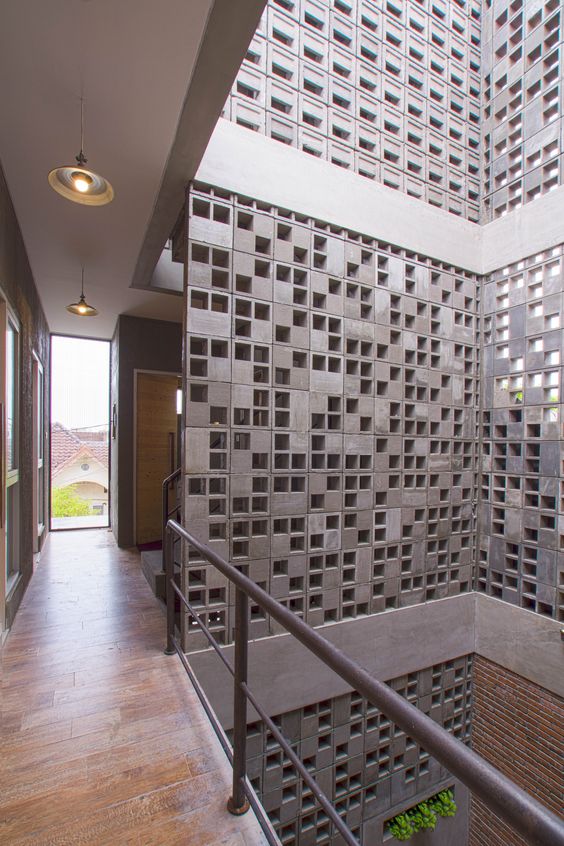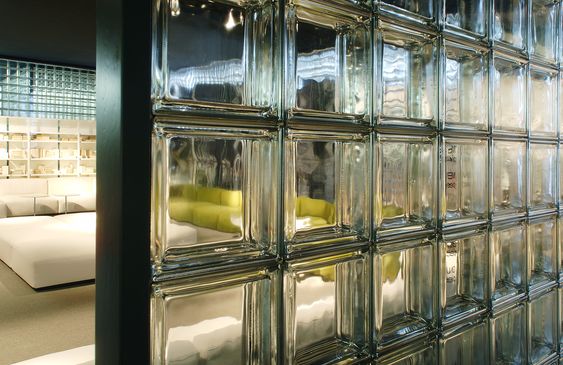 Other interesting materials which can be used are brick or cement blocks, or even glass blocks which are slightly heavy and more expensive, but worth it for their distinctive look.
You've made it to the end(!) and I hope you got some great ideas and inspiration for your space from this curated list! Ditch the same old boring brick partition and add a bit of pizzazz with these great designs in your space!