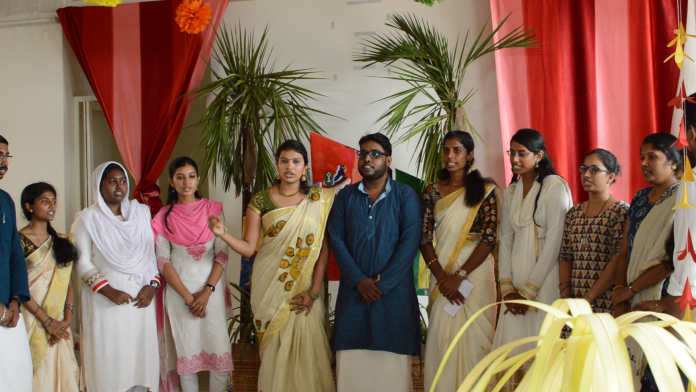 Everything being a constant carnival, there is no carnival left – Victor Hugo
In this age of celebrations that appear and leave as quick as the Instagram posts, we at Cindrebay Trivandrum brought together "Paithrikum"; the nostalgia of celebrating the 10 day carnival – Onam (Kerala's harvest festival).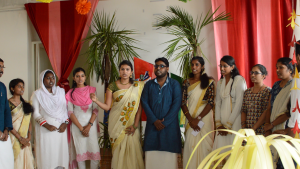 Onam marks the arrival of the harvest season in Kerala, auspicious for the legendary homecoming of Mahabali – the righteous king that once ruled the land of Kerala. There is a heritage behind the celebration that starts on a date and extends to 10 days finally culminating to a grand conclusion of a four- day celebration during the Malayalam month of Chingam every year. Nowadays, it is only the four days that appear in the end that are given significance because of the hastiness that the human beings have succumbed to. But there was a time when each day leading to the main day had a implication and reason to be rejoiced for. We went in search for the same and hence conceptualized our Onam Celebrations as Paithrukam.
The decor and ambience of the campus kept up to the Onam of the yester years with nuances of the grand celebration that is slowly degenerating among the new generation.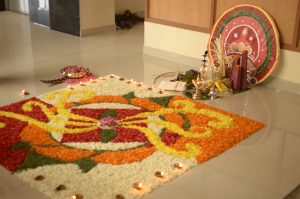 The traditional "oonjal" or the swing signifying "Atham" or the first day of Onam, the divine arousal on "Chithira", the hustle -bustle of shopping on "Chothi" and "Visakam" , the aplomb of the snake boat race on "Anizham", the cultural fiesta on "Thriketta", the preparation of the "Thrikkakarathappan" or the conical structures signifying Vamanamurthy on " Pooradam" to the final days of "Uthradam" and "Thiruvonam" made for the themes of the Pookalam competition held for the students. Cine Artiste and Restaurateur Ms. Poornima Anand and Arts and Crafts Instructor Dr. Parvati Menon graced the judging panel for the Pookalam competition. The outlines to the concept of each pookalam was brought to light by the students themselves through their eloquent brief.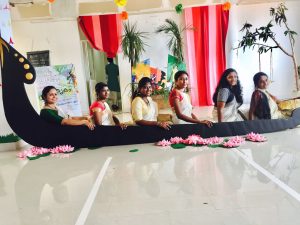 The Pookalam competition was followed by the Group song competition between the different batches on traditional Onam songs. The finale to the pre-Onam celebration was a Quiz conducted for students by the faculty on facts, ideas and rituals regarding the harvest festival of Kerala.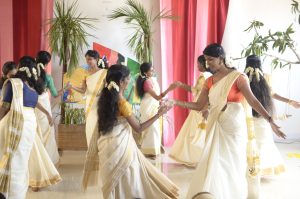 The second day began with the reception of Mahabali, followed by the traditional dance – Kaikottikali and other cultural programs by the students. The day was made lively by the inclusion of traditional games, activities and the sumptuous Onasadya.
Every festival is a reminder to the good times of yester years. This year, the Onam celebrations at Cindrebay school of Design, Trivandrum was a subtle travel to imply the aesthetics of the rich heritage that the grand festival of Kerala can proudly be pronounced for.