"There is no such thing as bad ideas. Just poorly executed awesome ideas."
A famous line from a well known series, this statement rings true for all of us. More often than not, that we all come up with excellent notions and concepts, dreams to do something different, a purpose we feel, will serve everyone. However, as amazing as the idea sounds, delivering it, is a whole other ball game. Poorly executed ideas can mean disastrous for everyone. Take for instance the demonetization episode which struck the country recently. A truly marvelous idea, gone berserk owing to poor implementation.
They say that "Excellence is never an accident. It is the result of high intention, sincere effort, intelligent direction, skillful execution and the vision to see obstacles as opportunities." Bearing this in mind, Cindrebay School of Fashion and Interior Design, not only inspires it's students to conjure inventive designs, but also trains them to ably execute them. One such workshop was recently organized by a vertical of Cindrebay Institute Nagpur, "The Void"." The Wood Working workshop, in association with Makers Adda, was organized with the sole intention of giving the students a chance to explore the maker in them.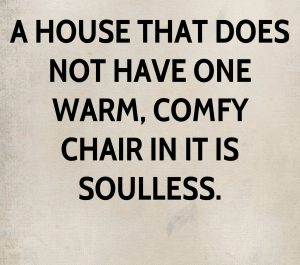 Be it lending a space a unique personality, or using it as a dominant feature, or just providing seating, a chair has many roles. Furnishing is a fundamental part of interiors and furniture design in itself is an expansive subject. Well designed furniture, brings character and liveliness in a space. It also has the power to make people snug. Imagine sitting in a rickety crooked chair. You'd want to get out of it as soon as possible. Hence, it's important to know the correct anthropometry and typology of use, before designing any furniture. To help students understand this concept, Mr. Lalit Vikamshi, an artist of international acclaim, undertook a splendid wooden workshop. Mr. Vikamshi, is also the co-founder of Alag Angle, a unique platform that encourages art lovers to create and experiment with the art form of their choice. The 2 day workshop entailed students designing their own piece of furniture and executing it using the proper tools and materials.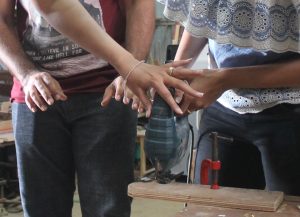 The applications of wood are limitless. From making entire houses, to the smallest of hinges, the right kind of wood coupled with the right detail can work wonders in any room. The challenge for the Cindrebay students in this workshop, was to come up with their own furniture design, and make a scaled model of the same. This design was then to be used in their spatial design assignment. Ar. Khushboo Agarwal undertook the herculean task of approving and guiding the students to reach a practical design. She says, "Being a designer, you have to convince a lot of people to translate your concept into reality. The client who invests in your idea, and the carpenter who implements it, everyone should have a mountain of trust in you. Making 3D scaled models, is the best way to make sure your idea floats. Students need to equip themselves with the knowledge of materials and tools at an early stage to become confident designers."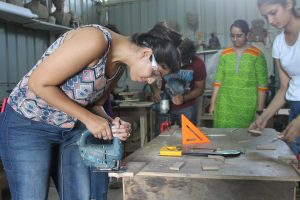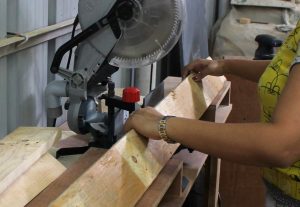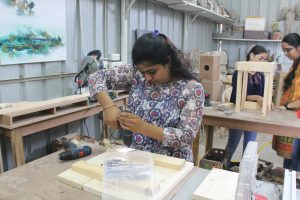 After sketching their own idea, the students set out to craft it from wood. They learnt to use different power tools such as drills, wood carving power tools, routers, saws etc. They came up with various articles, such as scaled models of different beds, chairs, bar stools etc. To make them aware of real scale, Mr. Vikamshi asked them to make a real life model of a chair, an ottoman and a projector stand. Others who attended the workshop fabricated small wooden dolls and bobbleheads, artefacts and wall hangings. A student observed, "Working with real materials and appliances makes us aware of the consequences of our design. Practical know-how is as important as ideating. This workshop is truly a hands on experience. Hammering our own furniture piece by piece has given us an insight of the amount of effort which goes on at a real construction site."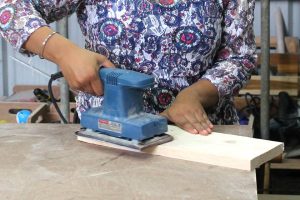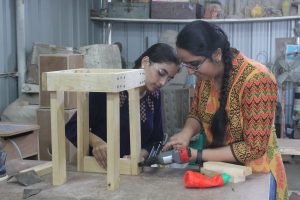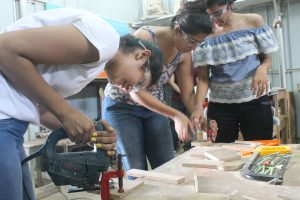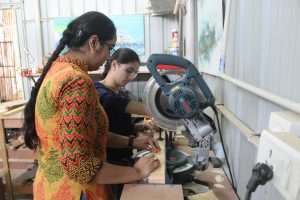 Aesthetics and practicality goes hand in hand in interior design. A finished product should be stunning to look at, and easy to use. Putting this into effect, the students were asked to give finishing touches to their model. Smoothening and polishing wood is important to impart it a complete look. Some students even chose to directly paint and scrub their models to lend it a rustic shabby chic look to suit their spatial design. The idea of making the best out of waste is something Cindrebay gives prime significance to. Wood shavings and left over pieces were thus reused to make other small artefacts and articles. Students used these articles to personalize their own desks at the institute.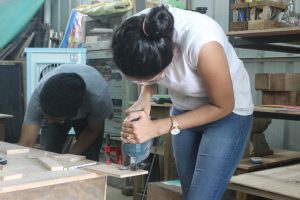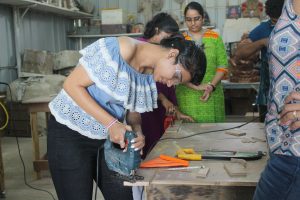 It is true what they say, "You always had the power my dear, you just had to learn it for yourself." Practicing what we preach, Cindrebay comes up with a unique workshop every week.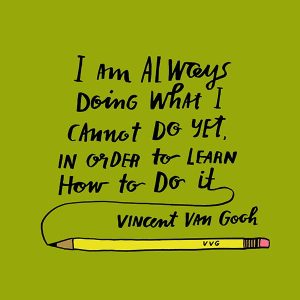 Join us at Cindrebay School of Fashion and Interior Design, to be a part of such exclusive learning experiences, brought to you by "The Void."