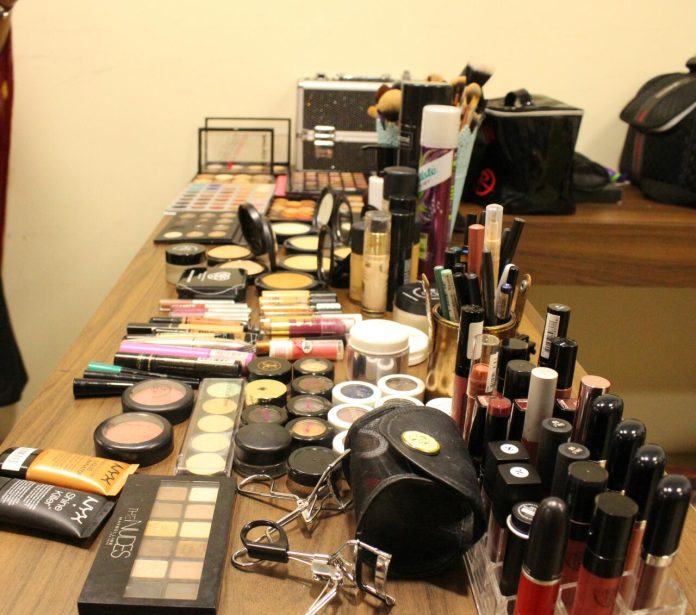 "I believe all women are pretty without makeup. But, with the right makeup, they can be pretty powerful!" – Bobbi Brown

Self-grooming and personality development are an integral part of our personas. The clothes we wear, our gestures and expressions, language, the way we present our self speaks volumes about our personality. But, you cannot be a confident person, if you are unsure about how you look. Being fidgety, playing with your hair, getting conscious about your attire are all signs of nervousness and low self-esteem. At Cindrebay, our aim is to launch confident professionals who are ready to face all challenges life throws at them, head on! Hence, we organized a self-grooming, skin, haircare and makeup workshop, "Go Glam", to make sure our future fashion designers walk head held high!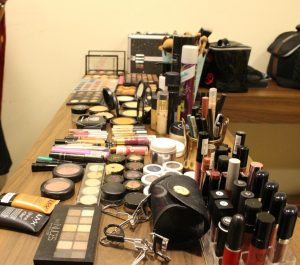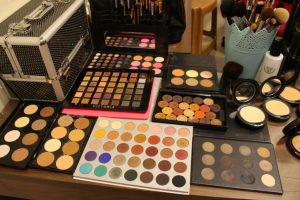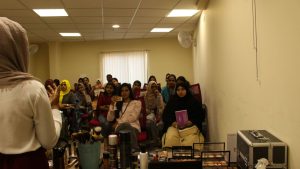 We all want to look our absolute best, so that we can feel our absolute best! But sadly, most of us don't know how. We see makeup tutorials and pictures on the internet, but it's difficult to follow those tips. Makeup is an art, but it doesn't have to be time consuming or the reason to be late every day! Hence, we got Ms. Shurouck Saleem, Founder at Glaam by Sugar, to give us a few tips to on how to do every day natural makeup. She was invited to demonstrate her best makeup tricks and hacks, how to transform a simple day look to a glammed up night look, best hairstyles for long and short hair and to shed light on her morning and night skin care routine.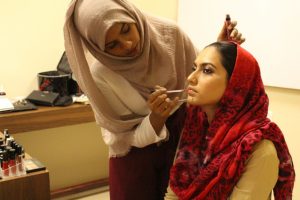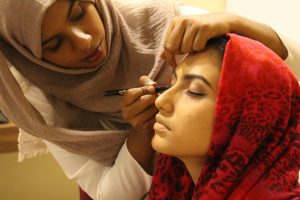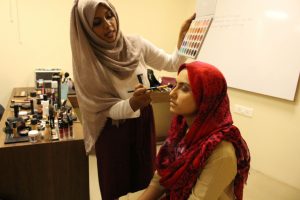 In the first part of the workshop, Ms. Saleem addressed personal hygiene, daily and monthly skin care, beauty treatments and the simple dos and don'ts of makeup. She advised, "Makeup is a very personal thing. It cannot be blindly copied for good results. Your style has to evolve on its own. Every face is different, and its up to you to recognize the best features of your face and highlight them, and the drawbacks of it and tone them down using makeup. What I can show you, are the techniques and procedure, but you have to practice and try yourself to figure out which colors, which techniques work best in your favor." Next, she invited a volunteer to demonstrate a simple natural makeup look. She went into detail of how to get the right foundation for your skin and color, the right lipstick shades for Indian skin tones and the best makeup tools like brushes, beauty blenders etc. She then went on to show how to achieve the perfect base and flawless foundation and how to make it last all day long. She stressed that it's important not to go overboard with your makeup, as that can result in a cake face and highlight the flaws of our face instead of enhancing the pluses.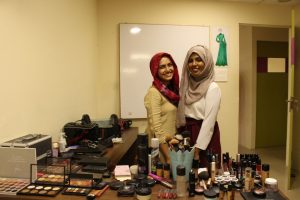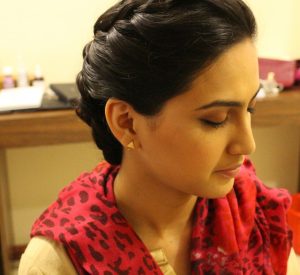 In the next part of the workshop, Ms. Saleem, began to demonstrate the different kinds of eye and lip makeup which are suitable for parties, weddings and events. She even showed how we can transform our simple office makeup look, to a glam party look in only a few steps. The students learned a lot of simple hacks on how to get the perfect winged eyeliner. They were showed eye makeup with liquid, pen and pencil eye liners. Ms. Saleem also showed how we can get the maximum out of our beauty and makeup products by using liquid lipsticks as eye shadows and blushes and buffing out kohl itself to get a smoky eye look. She also briefed everyone about the main mistakes people make while applying makeup and gave answers on how to avoid them.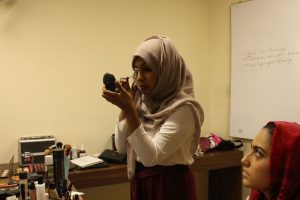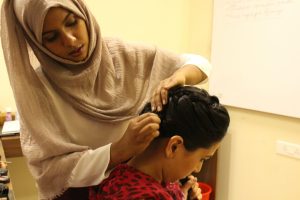 After an enlightening makeup tutorial, we moved on to haircare and simple hairstyles. Ms. Saleem is a genius when it comes to hairstyles and hairdos. She observed, "Not everyone is blessed with amazing hair. That doesn't mean we can't make ours look amazing. Just a little effort in the morning and you can say bye to boring hair for the rest of your life." She then went on to show easy hairstyles with minimum accessories and products on short hair. How to uplift a simple pony, how to make the perfect messy bun, how to make hairstyles suitable for formal occasions etc. were some of the topics she covered. She then proceeded to show more intricate hairstyles on long hair. Beautiful upswept hairdos for weddings, delicate braids, beach curls etc. were some notable hairstyles for the day.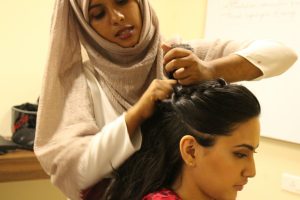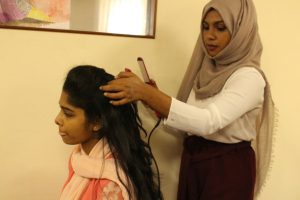 The fervor shown by all present and the initiative taken by the Head of Fashion Department – Cindrebay School of fashion, Ms. Jesly Salim Kumar is praiseworthy. She quotes, "Makeup is a powerful way to effectively reveal something unique about your inner self. Knowing how to do correct makeup can give you a confidence boost and thus make your day better. Our endeavor through 'Fashionbay' is to bring like-minded people closer and create a platform to discuss such wholesome ideas. This excellent workshop was another feather in Fashion bay's hat. I'd like to thank Ms. Shurouck Saleem for her time and effort!"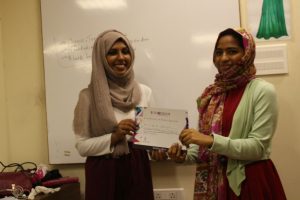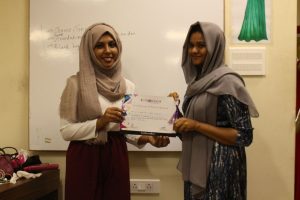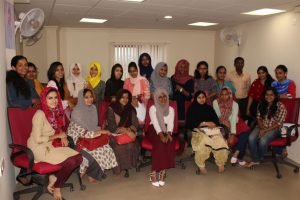 Join us next time, at Cindrebay School of Fashion and Interior Design, for more such workshops and events, filled with fun, light hearted discussions and amazing people!