Established in 2003 by architect duo Sunitha Kondur and Bijoy Ramachandran, Bangalore based architecture firm Hundred Hands has acquired quite a name for themselves. In the field of Architecture and sustainable design, HundredHands focuses on the urban context and measures which could be taken to improve the same. The inspiration for every design is derived from it's context, wherein the existing elements dictate the scope of the project. Aspects of scale, personality and visual impact are also central to their design through which they seek to communicate with the urban fabric of India. Let's walk through some of the most successful projects of Hundred Hands and take some cues from their effective designs.
1. Bangalore International Centre | 2019
BIC is a public building comprising of an auditorium, seminar rooms, an art gallery, library, restaurant and a gathering space. This public space over 4420 Sq m. in Bangalore serves as a dialogue between different cultures, people, societies and their ideas. A competition winning entry, this design put the idea of public space and democratic functioning within the building at it's core.
The design revolves around 4 main aspects of the built, the public forum, the transition spaces, landscape design and site shape and context. The play of levels and a void along the second floor opens up the building centrally, making it perfect for interaction and visual connection throughout the structure. The landscape helps in neutralizing the odor from the nearby Nala (sewage) and the materials used in the construction of the building makes this new structure homogenous with the rest of the Bangalore skyline. Simple use of bare cement concrete infused with pops of red using bare bricks elevates the straight and sleek design of BIC. The brick screens, simple railings and pergolas along the corridors with strategically located fenestration bring in natural light with a subtle play of shadow.
Green building and minimizing carbon footprint of a structure is one of the core values at Hundred Hands and it comes as no surprise that BIC has also been submitted for a GRIHA 5 star certification.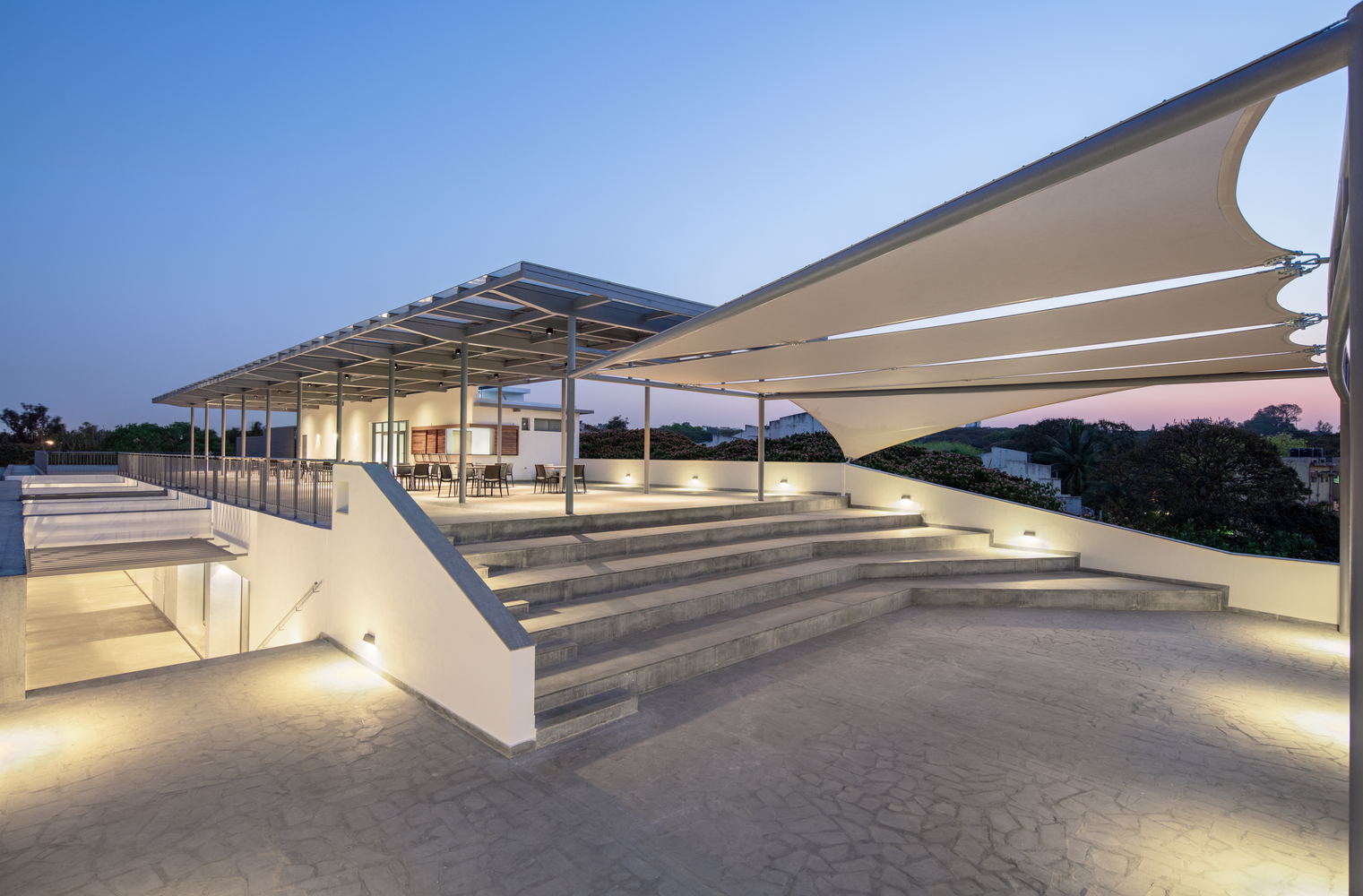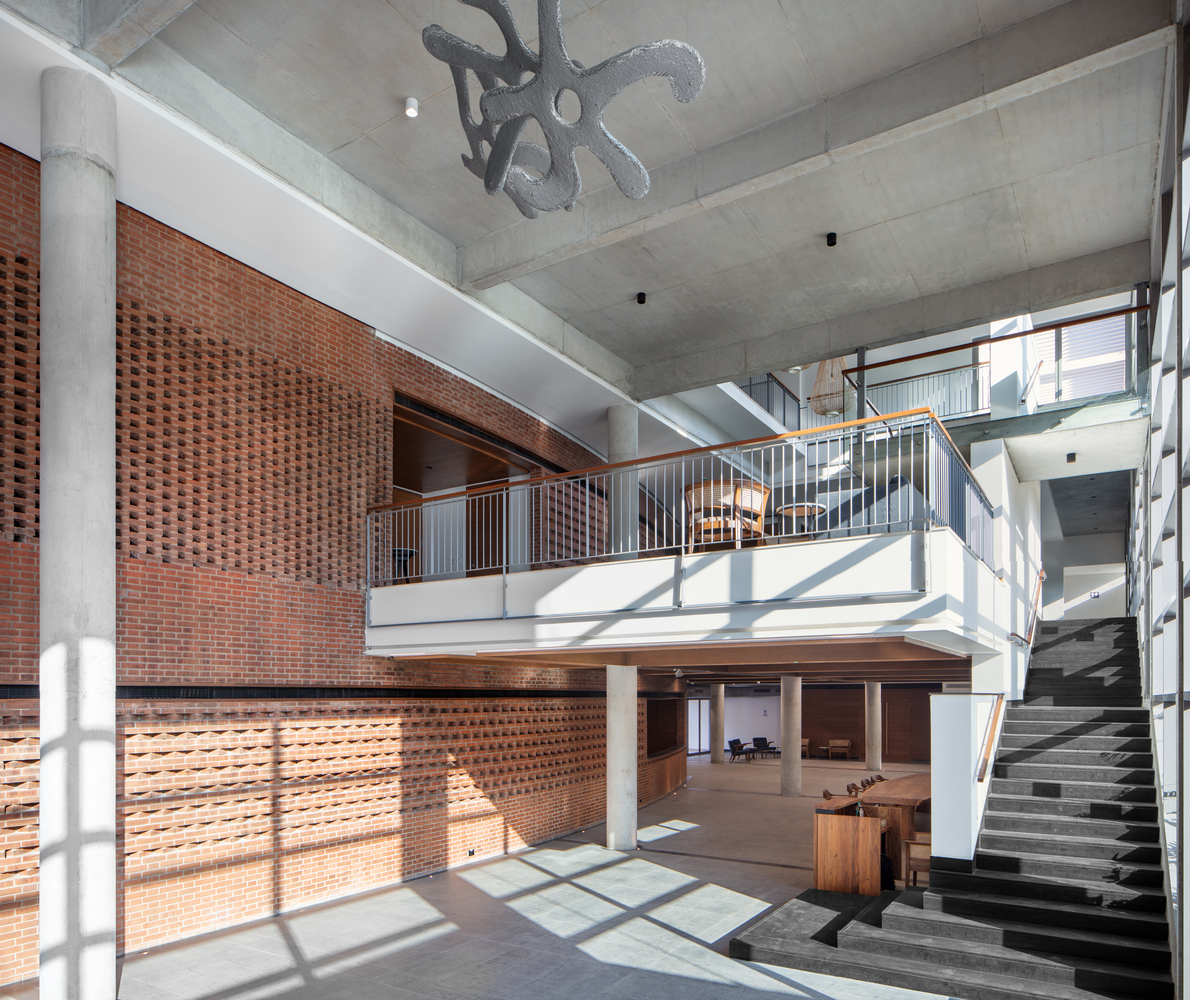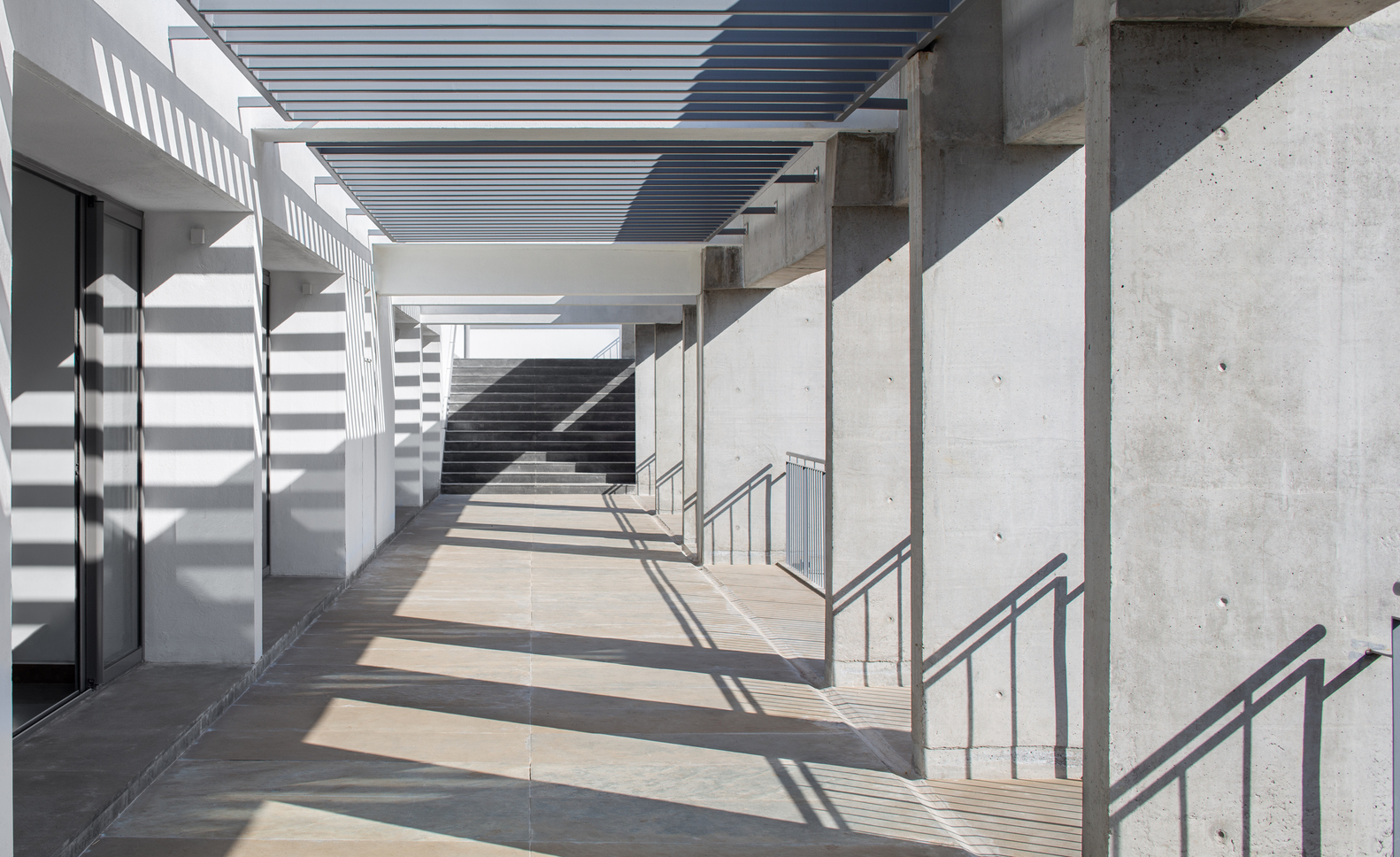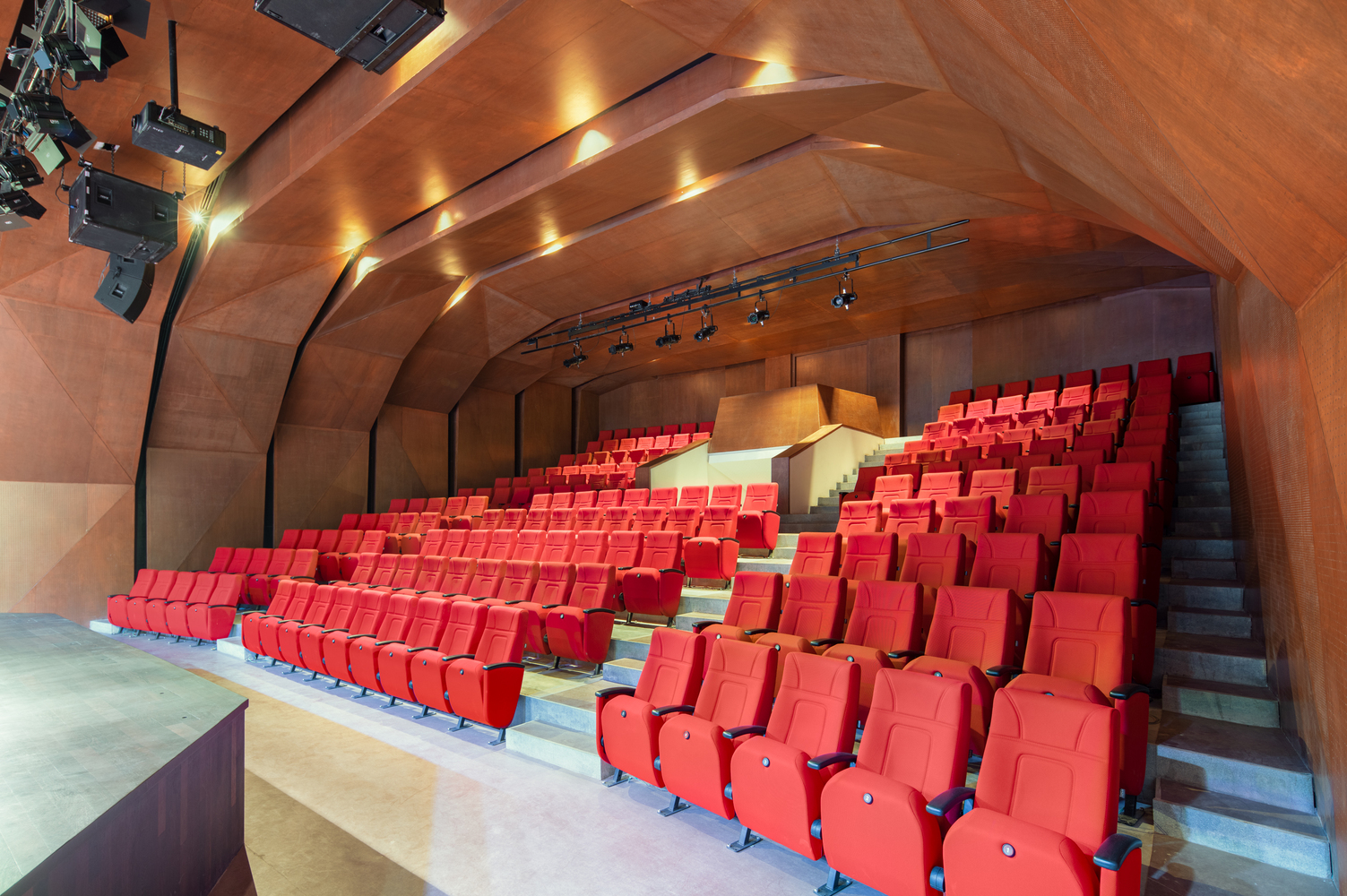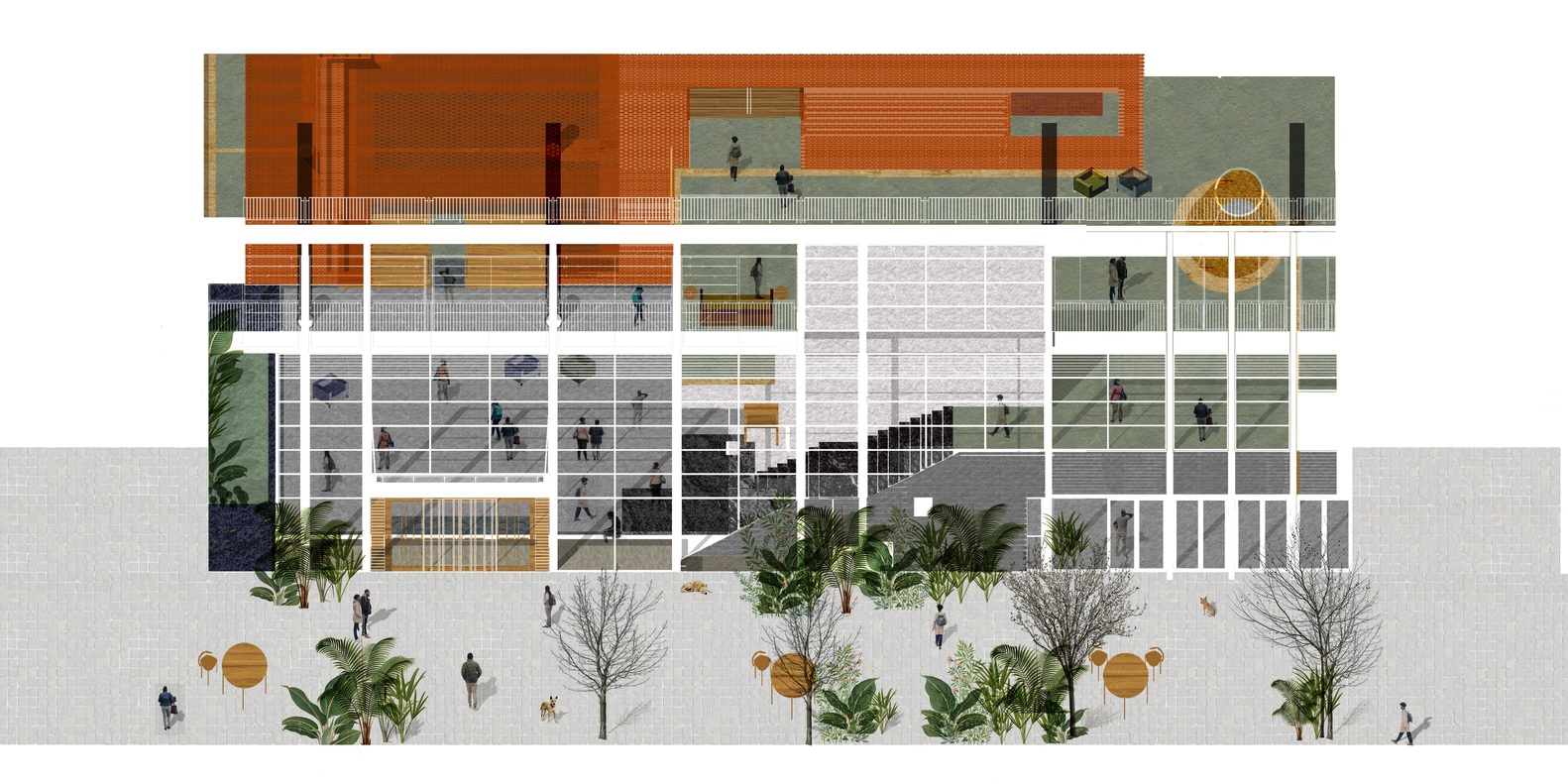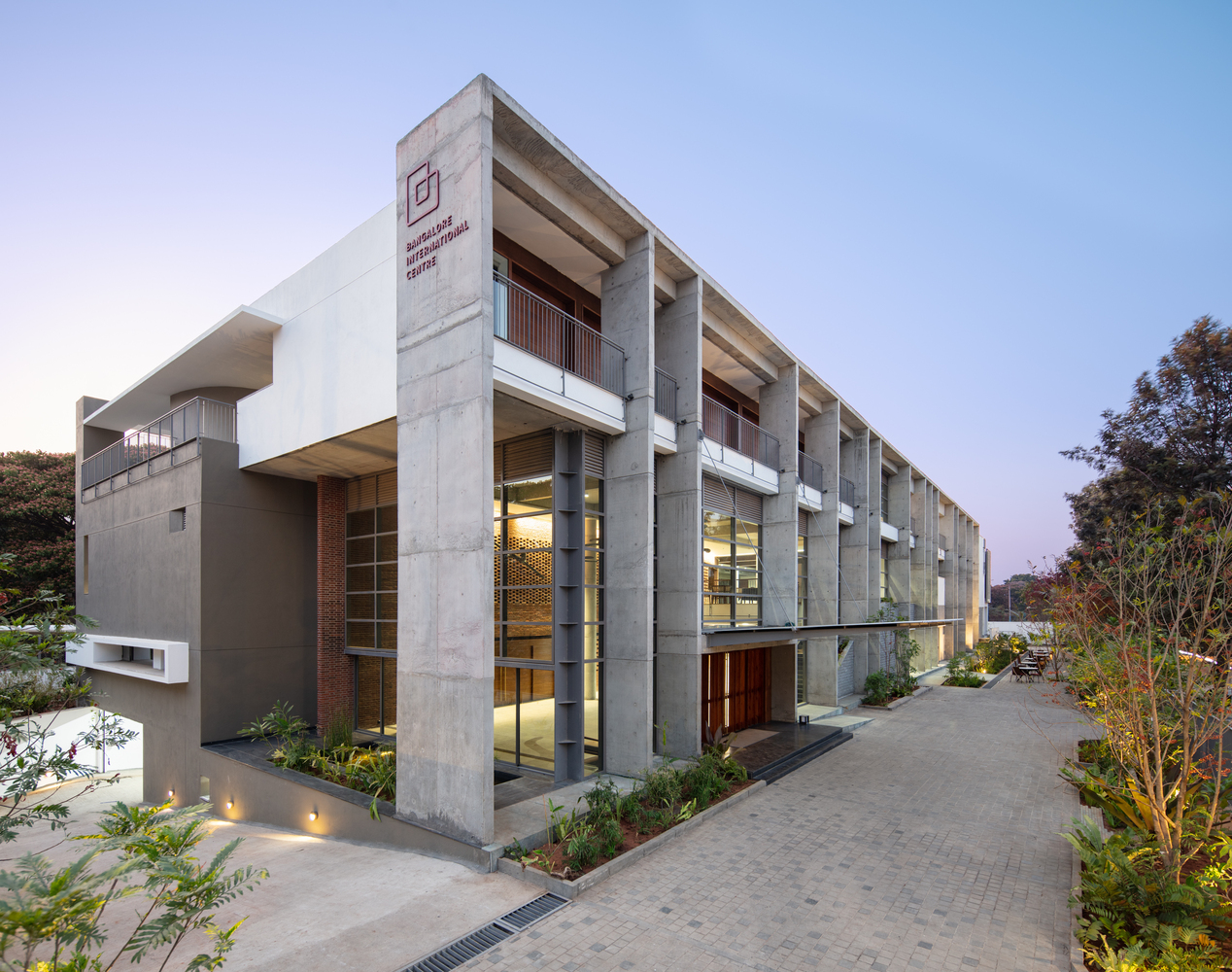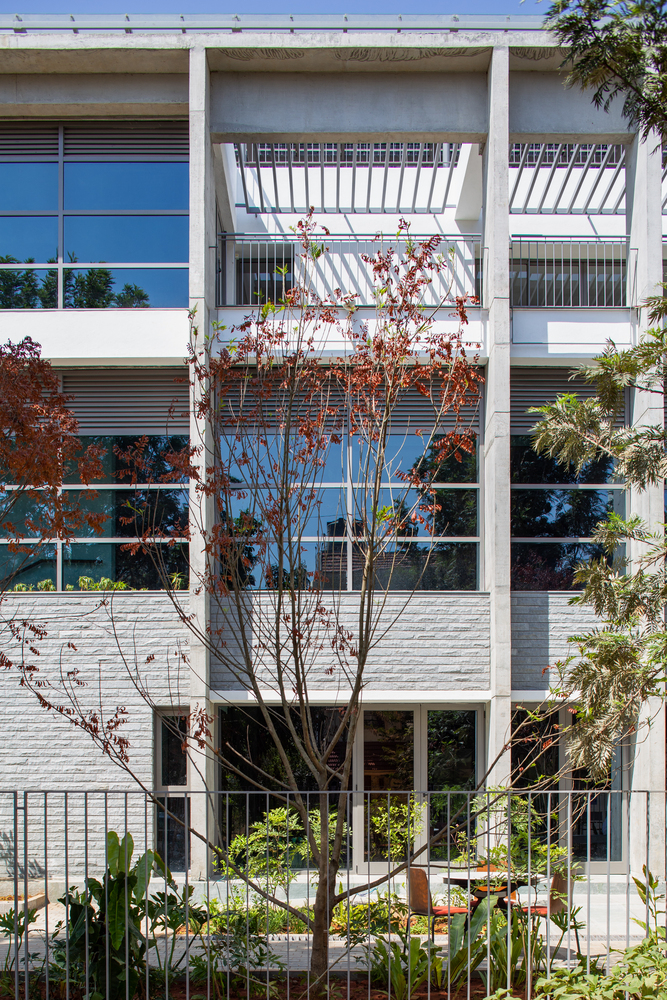 2. Taaq Academy | 2012
Indian Institute of Architects National Awards 2016 (Commendation) – Interior Architecture winner, Taaq Academy is a recording studio and music school. This Bangalore based 1700 Sq.ft. studio comprises of jam rooms, classrooms, a small admin space and retail outlet. The designers came up with the idea to introduce curved bare brick walls for the jam rooms, which not only provide acoustical strength but are also visible from the entirely glazed building facade. The contrast of the flat glass against the curved studio surface is highlighted with the red brick and soft lighting. In the daytime, this passage acquires a dynamic quality with shadows of the bamboo blinds and signage fall on this brick wall. This box within a box design, elevates the aesthetic of the music school and interestingly is devoid of any awkward corners, as the spill over spaces are smartly used for reception, a small shop, pantry etc.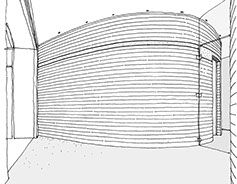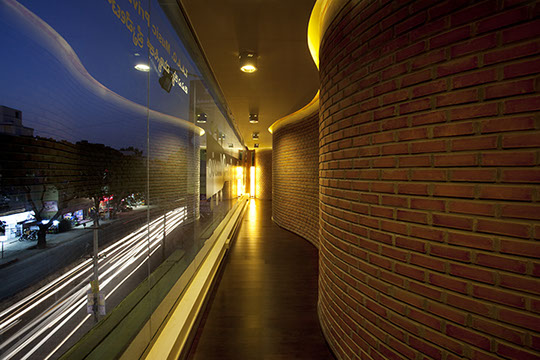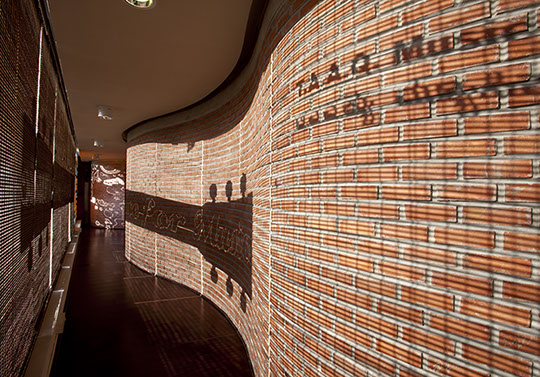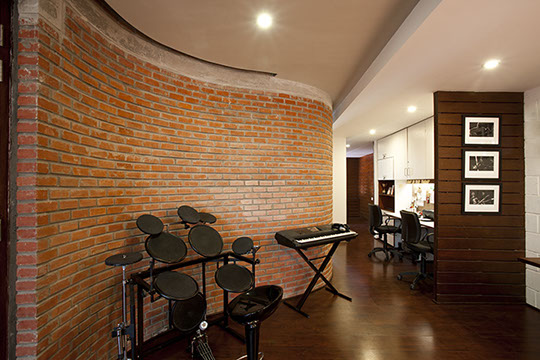 3. K-START | 2016
A co-working space in Bangalore, K-Start identifies itself as a space flexible enough for different teams of professionals and entrepreneurs with an impetus to events, launches and public dialogue. A young and hip interior design with bright colors and walls adorned with artwork by famous artist KK Raghava, this office space is a breath of fresh air. Natural stone, brick, timber and simple cement flooring, champion the artwork and provide an invigorating atmosphere to work in. Pops of yellow and black, against the grey of cement and red of bricks, allow for multiple interpretations of the interiors. There is something for everyone with an industrial theme in the work space, a cozy eclectic feel in the waiting and lobby space and a funky contemporary theme in the pantry. Even though the interiors are filled with different themes, colors and fixtures, the artwork stands out and the project overall feels like a cohesive enjoyable space.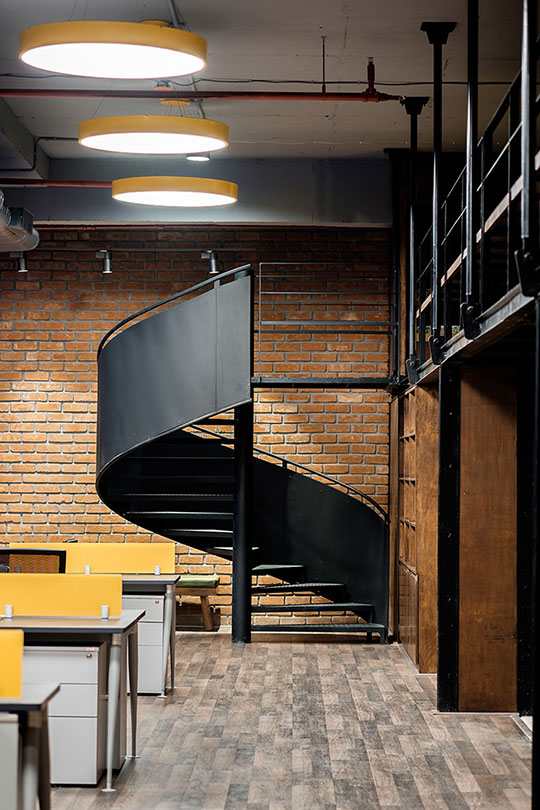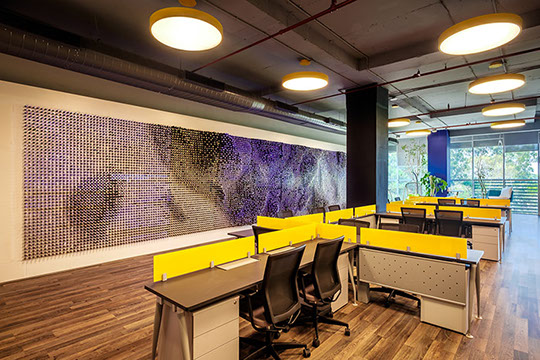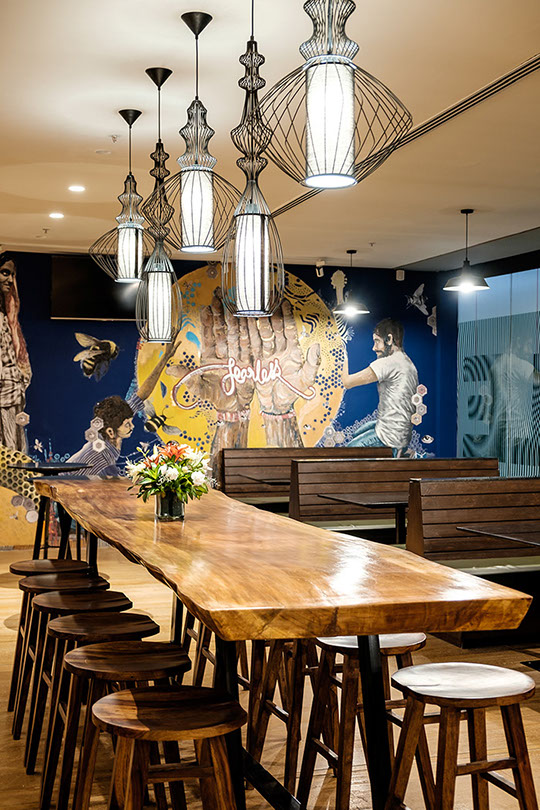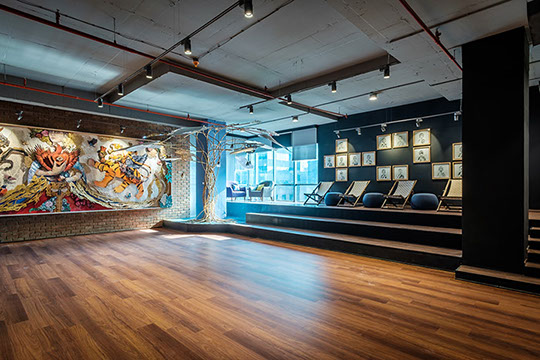 4. VDB CARDINAL | 2012
A small apartment building wedged in a dense neighborhood in Bangalore, the Cardinal is a study in using limited materials to their maximum potential. The 10 apartments of 300 Sqm. each, have private pools alternated in orientation to screen them from public view as well as create a play of masses in the building facade. Located in the corner, the private pools are screened with timber slats enclosed in pivot able shutters which allow or prevent light and create an interesting light and shadow play. As is seen in their other projects, Hundred Hands uses the same combination of cement, brick and wood to bring the Cardinal to life. The wooden shutters on the facade, bring a dynamic quality yet serves personal interests of the residents for privacy and control of daylight.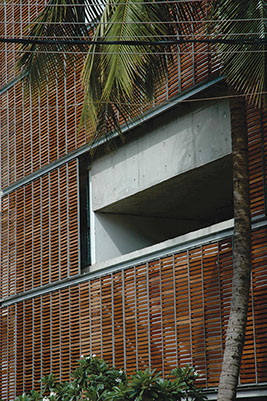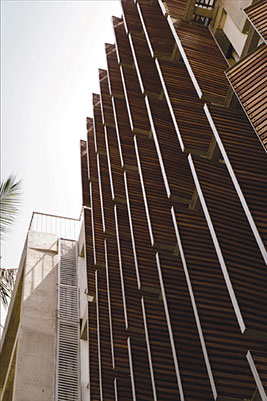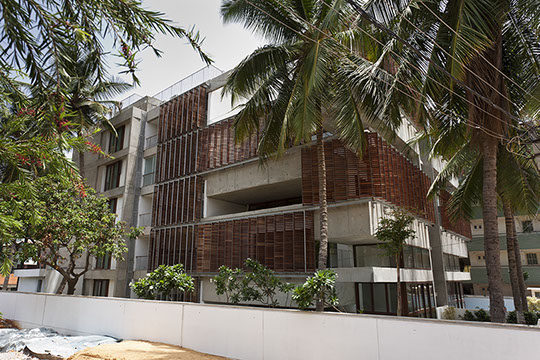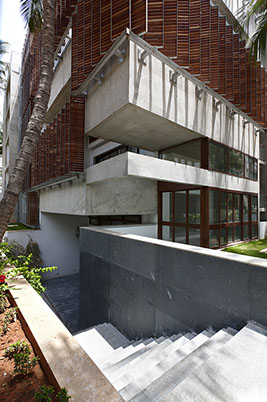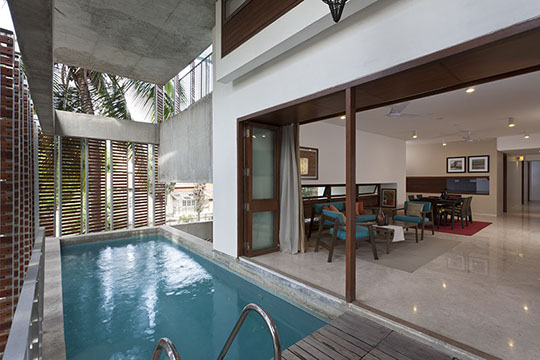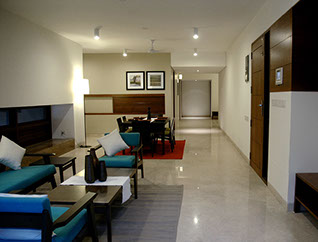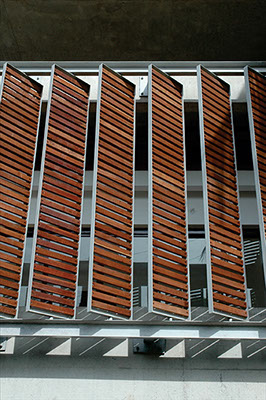 In an article to Bangalore Mirror in August 2009, Ar. Bijoy says that Competitions are also a refreshing change from the tedium of everyday architectural practice. In another interview by ThinkMatter, Bijoy named Ar. B.V. Doshi and Ar. John Utzon (who designed the Sydney Opera House) as his inspiration. "I think Doshi's work is a constant source of inspiration for us. I find his work charged with a certain energy which is very difficult…Doshi and Utzon, Utzon is like that as well. There is some life in those plans that is difficult to describe", Bijoy was quoted.
Green building and climate responsive architecture in India had taken a backseat in the era of globalization when glass and metal boxes had replaced our vernacular treasure of materials. Thus, young architecture firms like the Hundred Hands, carry a huge responsibility on their shoulders. In bringing back these old school materials, they are reinventing Indian architecture and sending a green message to the world. The concepts re-imagined by these designers, like the Contemporary Vernacular by SHK Architects, Nagpur, or the adaptive reuse of buildings or using GRIHA bylaws in construction is a positive and much needed architectural approach.