Drama theaters and live performance spaces celebrate the cultural and social tradition of India. Cultural shows, music performances, dramas, plays, one act shows, stand up acts and fashion shows are all events which are enjoyed by a large audience. Designing spaces for the same has to be done after taking into account, total capacity of people, type of activity or events to be held, different acoustic requirements are there for speech, drama and musical events. The main difference between a theater and cinema hall is that you look down to the cinema screen whereas in a live theater, you look up towards the performer. Thus, audience in a cinema hall would prefer to be seated as far away from the screen that is in the back rows, whereas in a live theater they would want to be seated as close to the stage as possible. Thus, designing both is a tricky thing.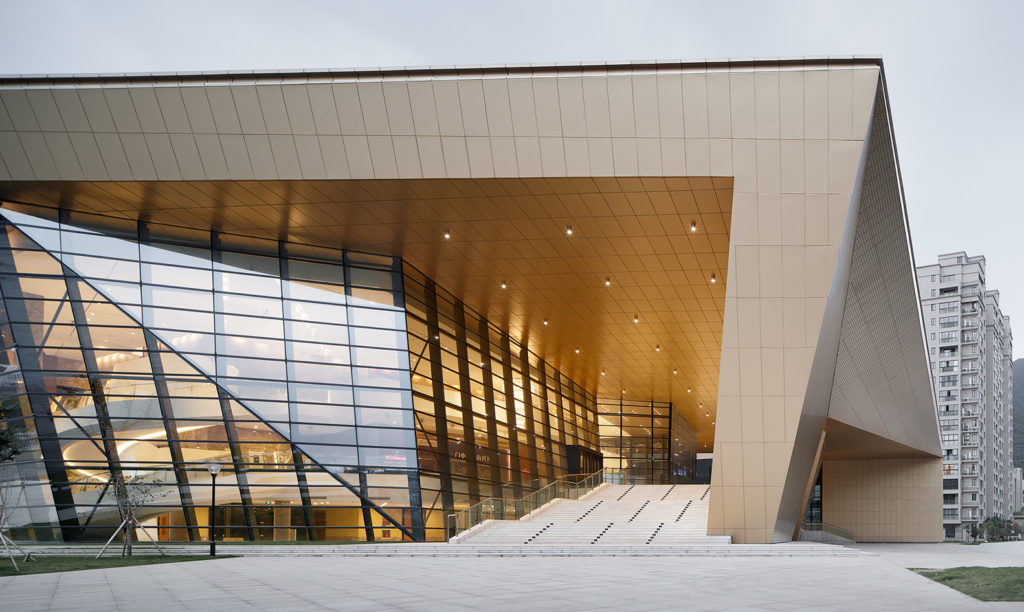 Organization of Spaces
Reception/front of house: Entrance hall, foyers, box office, cloakroom, toilets, corridors and stairways. Optional: shop, exhibition space, restaurant and bar, tourist information office, administration office.
Auditorium: main seating area. Optional: box/studio theater.
Stage/Backstage: main stage, wing, back stage area, dressing rooms. Optional: scenery shop, wardrobe/costume shop, workshops and education rooms, and kitchen/staff room.
Other areas: Vary in content and size depending on type of theater: drama and musical auditoriums, or an arts center for amateur theater and education.
Reception / Front of House
The reception area of the building should have a sensitive relationship with the landscape. Some contemporary designs have used sophisticated glass facades and bright lighting in the entrance foyer, allowing the interior to spill out onto the street and creating more inviting access for public.
Other structures are more sculptural, with large open plans and interesting uses of natural lighting.
It is important that the organisation within the supporting spaces that lead to the auditorium is clear and welcoming. The main reception area may include a box office/information desk, cloakroom, and access to toilets.
Sometimes, lobbies make available walls for art exhibition areas and multimedia displays thus animating the public areas.
A restaurant or bar/cafe is good for creating an atmosphere, and can overlap into open lobby areas, or can be accessed through corridors/doors leading from the reception areas.
Access for people with disabilities, congestion and droughts are common problems with theater foyers; clarity of circulation is paramount. A range of disabilities should be catered for, including lifts from the entrance hall to the auditorium.
Some foyers occupy just the 'prow' of the building, whilst others are located around the fronts and sides.
Doors should open outwards, towards the exit flow in the corridor and should be self-closing. In many cases, especially in traditional theater buildings, the main stairway leading to the auditorium is located prominently in the principal foyer.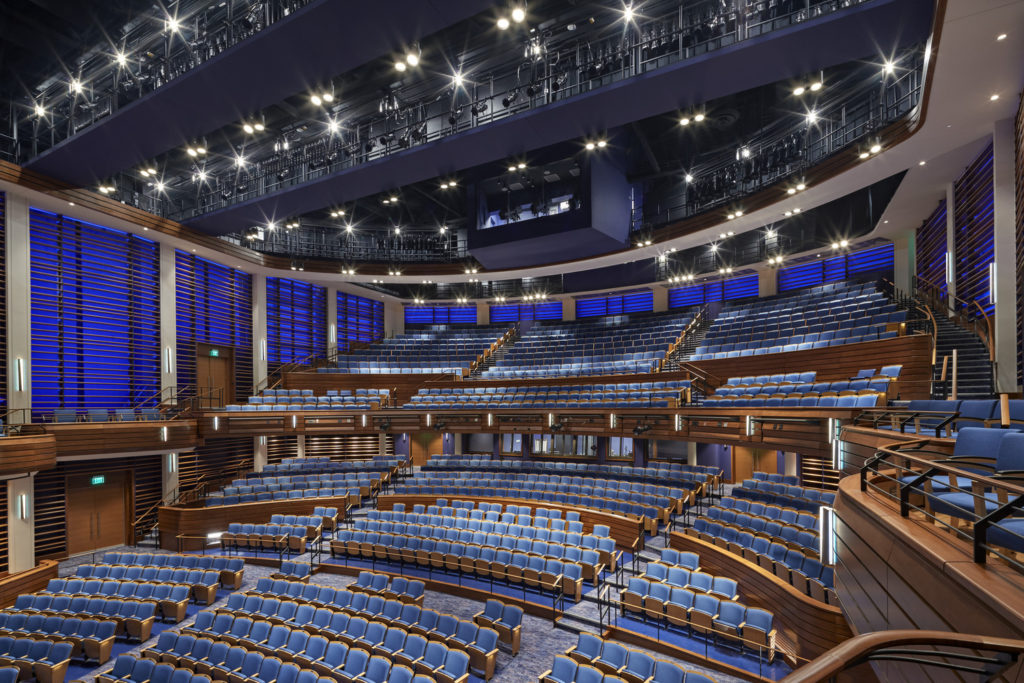 Auditorium
The audience can enter the auditorium, either from the foyer at the rear, from the sides of the seating rows, or from an opening within the seating ranks.
In open stages, the stage area and auditorium are one space; traditional proscenium can have spectacular engaging fore-stage openings and elaborate comfortable interiors.
Contemporary designs tend to be more simple and elegant in their approach, accommodating fore-stage grids, lighting bridges, acoustic devices and multipurpose panels, arranged around walls and ceiling. Acoustic and visual requirements must be considered at the outlet.
This will determine seating arrangements, layout and materials used ceilings, walls, floors and chairs.
The auditorium must be completely protected from any external and internal sound from rehearsal rooms or the studio. In some cases, sound locks have been used on the doors.
Concrete and brick in walls are not only non absorbent, and therefore internally acoustically dynamic, but is also good at excluding internal sounds.
Seating and Audience section
Flexible seating allows greater capacity and variation, and slide-away rows can be used to expose larger floor surface.
In some cases, fore-stage seating can be moved into the storage below the stage, and the front stalls seating can be moved back beneath the rear stalls, allocating standing room for large concerts.
Circling screens can be used to reduce the size of the auditorium capacity while openings in the screen allow for seating slips, standing spaces and lighting slots.
The minimum clearway between seats increases with the number of seats in a row.
Rows can be designed in a variety of forms for various audience requirements; with a smaller audience, straight rows are possible. Adequate room must be allowed for wheelchair access and turning space. The various seating row layouts are:
straight
straight with curved ends
curved
angled
straight rows in blocks at different angles
For open stages and auditoriums with no balconies, seating can be steeply raked. However when balconies are used, then the raking intensity can be reduced, allowing more height for balconies. Small box or studio auditoriums can use very steep raking to compact and allow a clear view of the open stage area.
Every seat should allow the view of the main central areas of the stage. Obviously it is ideal to try to achieve a clear line of sight of the whole stage area from every seat, but in compact theaters with a proscenium stage, some seats will have site lines into the back stage area from one angle, and seats in the upper level balconies will be looking down onto the stage and may not see the full back drop sets on the stage.
The seating design must be considered in conjunction with the stage proportions and acoustics.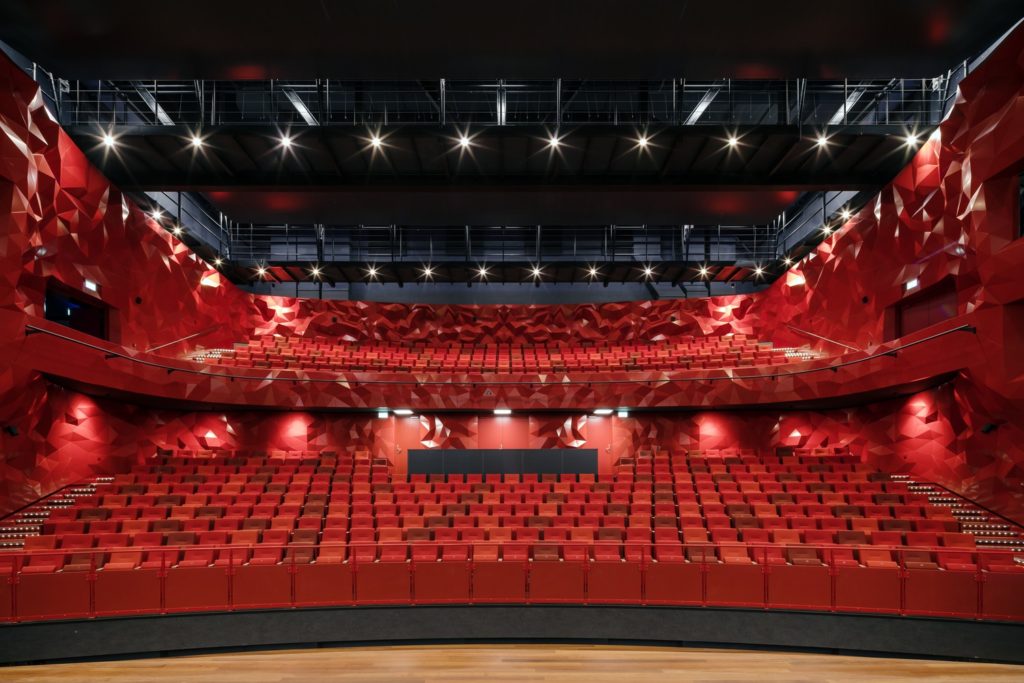 Other Aspects
The stage: Dimensions are largely dependent on the technical requirements of scenery dimensions and the type of performance being hosted.
Proscenium Stage: Traditionally used extensively, this form of stage is both versatile and flexible. The proscenium opening separates the performances area from the audience, and packs away the backstage areas. In some contemporary designs, the size is flexible for a more versatile performance area. The proscenium height and width depend on technical and visual requirements; widths for drama are 8 to 10m, and 12 to 20m for multipurpose venues.
Other Aspects: A fire curtain drops from just inside the lip of the openings an d should extend below the stage level, sometimes through the floor. An apron can extend from the proscenium opening and fire curtain. There may even be small side stages placed in the sides of the proscenium frame. These stages should relate to the main performance space, and sizes can vary. They may be used for extra scenery and possibly performance space, so good circulation and access backstage is essential.
Exit: The exit requirements are for each level. Two separate exits are provided for the first 500 seats, and an additional one for each 250 thereafter.
All doors should open in the direction of escape from the auditorium. Each exit must lead, via a fire-resistant enclosure, to a place of safety.