Offices are second homes for people. We spend almost 8-10 hours in our workplace everyday and therefore Office interiors are being taken extremely seriously in recent times. Indian designers are aware of the importance of inspirational, lively and energetic vibes in an office environment to create the right setting for work. Productivity and enthusiasm in workplaces is also a matter of discussion and an aspect to consider while designing interiors. Here are some examples of creative and fun workplace designs in India, by Indian designers! Let's jump right in!
Nureca Inc Offices | NOOR Architects Consultants
It is true that most offices require similar components like cabins, cubicles, pantry, reception etc. but each office has a distinctive function. The age group of employees, the work they do, office culture and traditions are all factors to be taken account. Wellness enterprise Nureca Inc recently set up their Indian facility in Chandigarh and NOOR Architects did a fine job in establishing a benchmark for small to medium offices of this typology.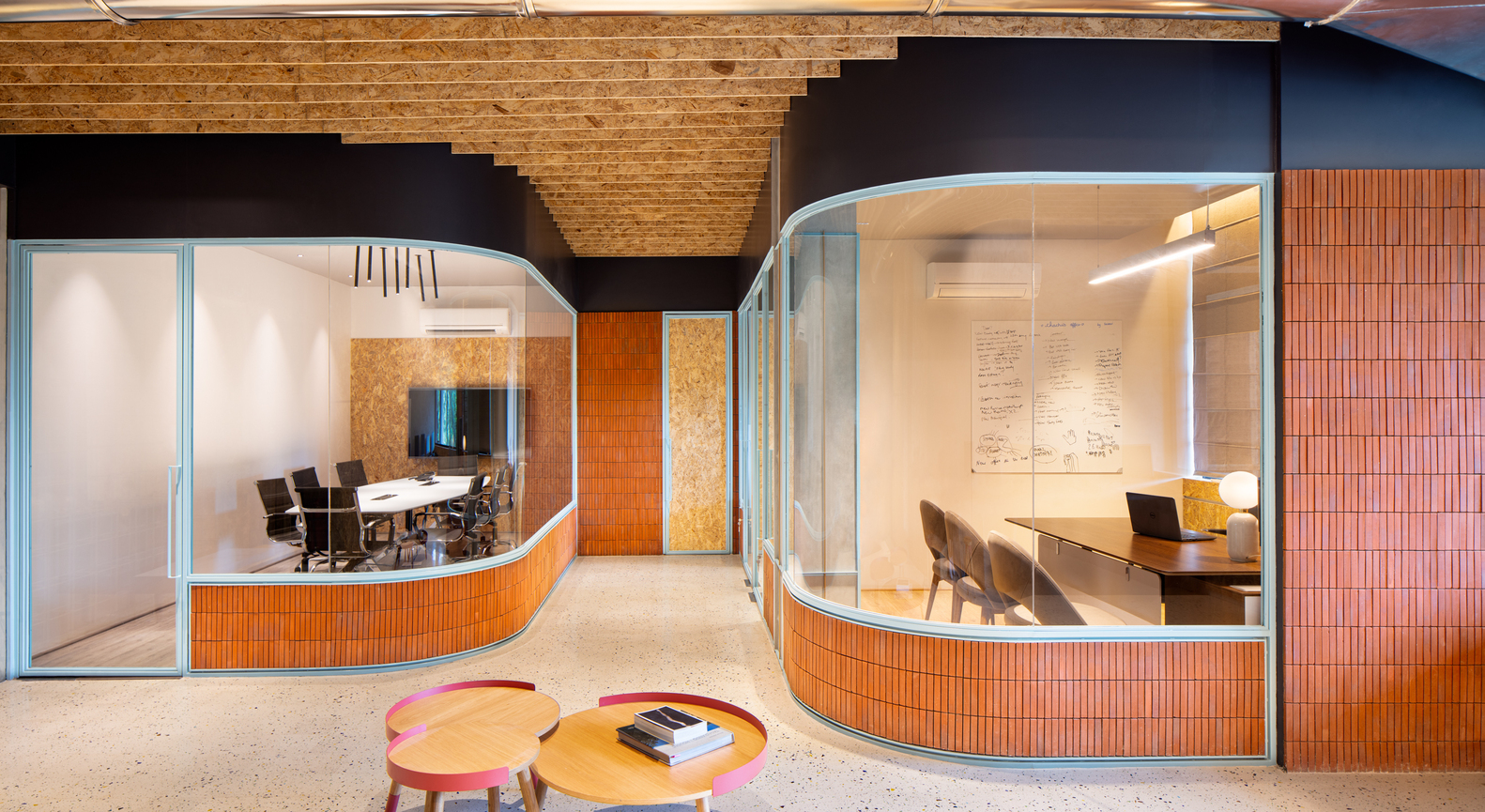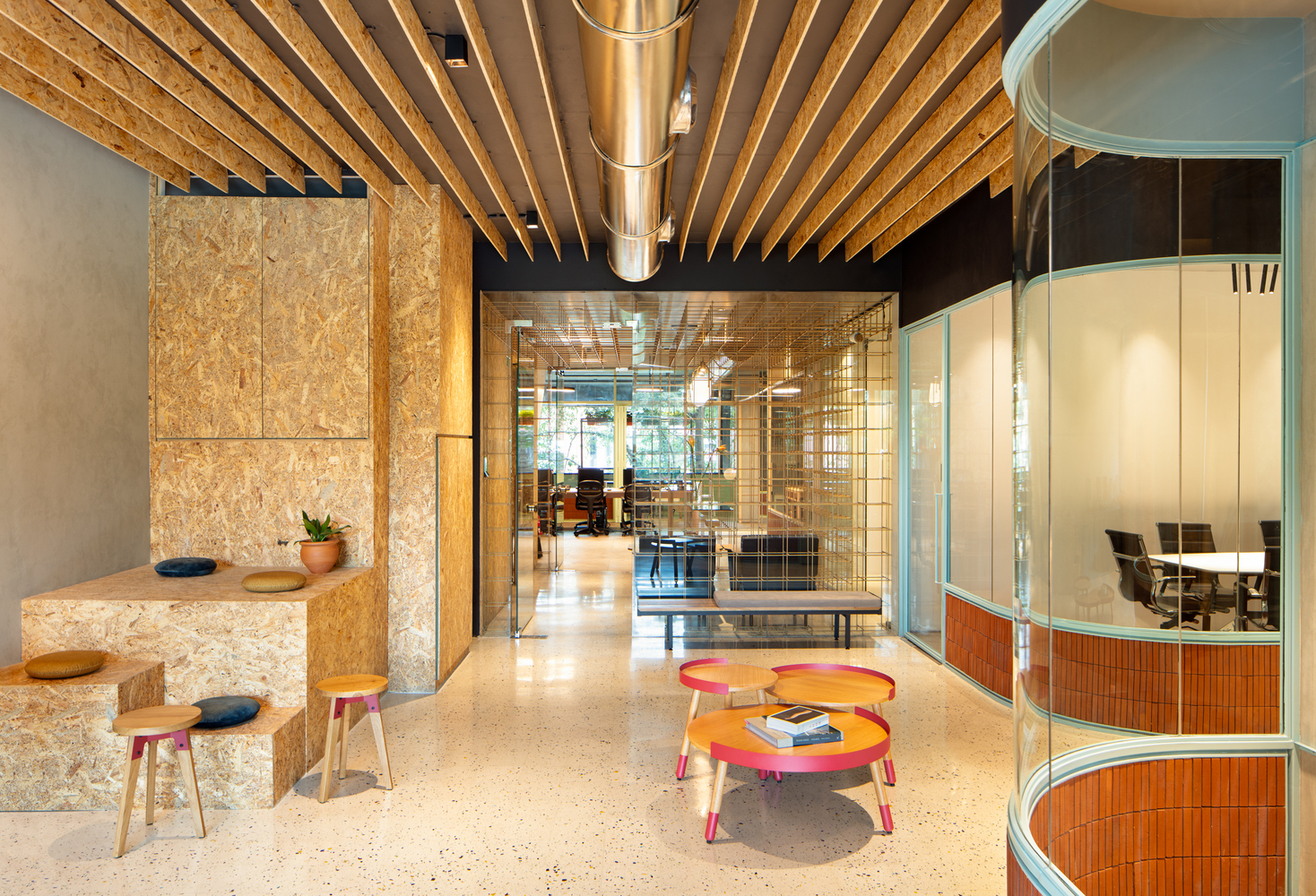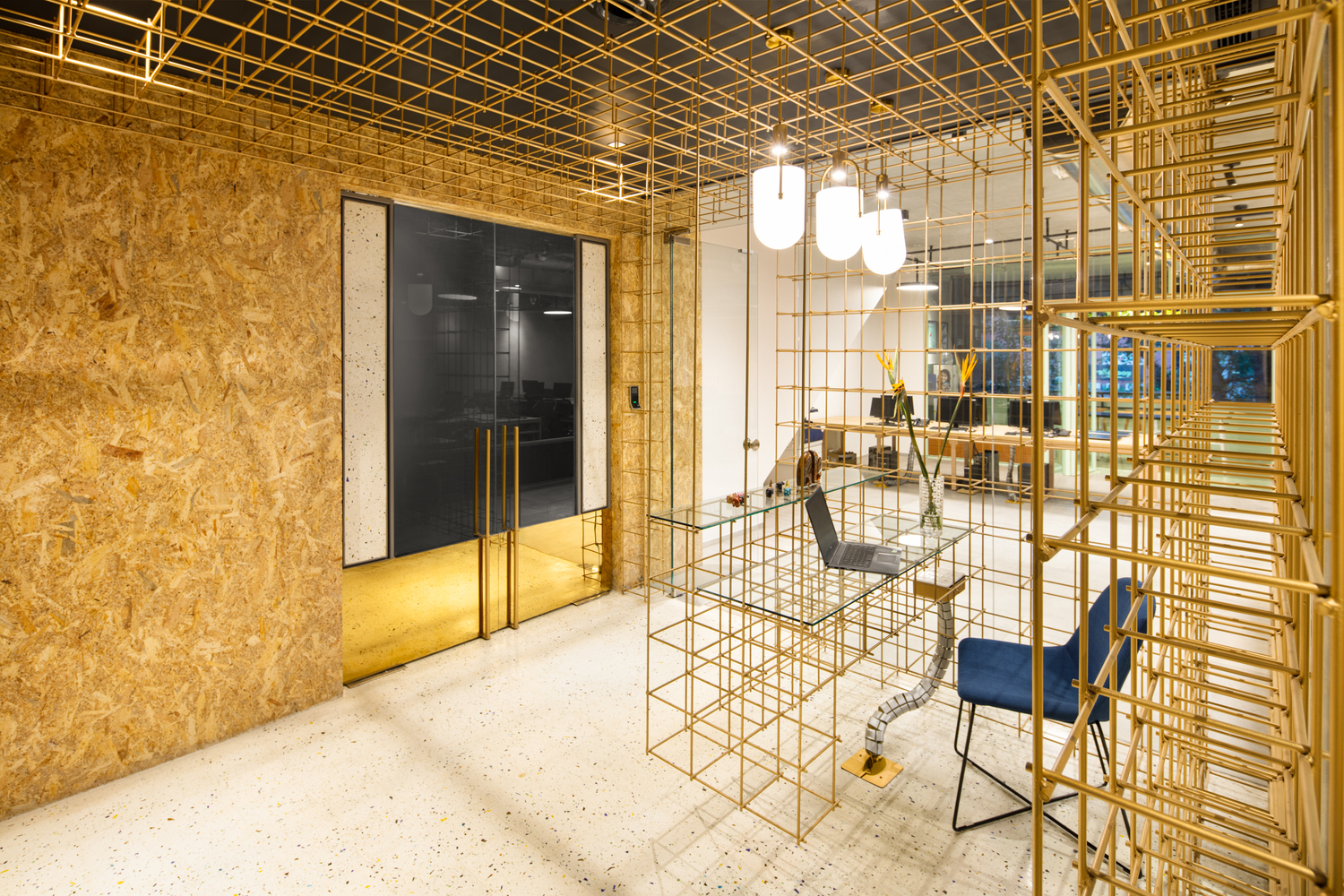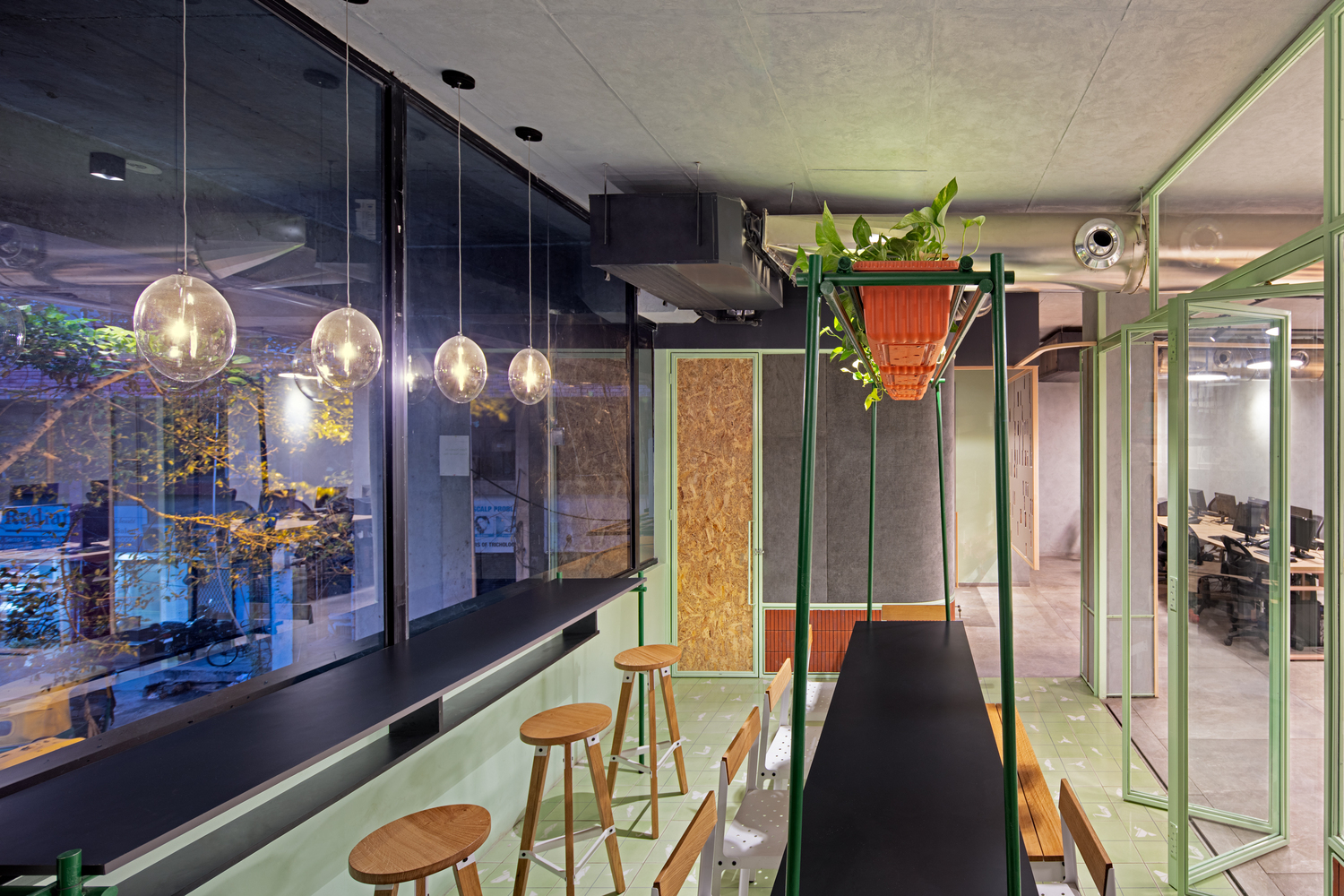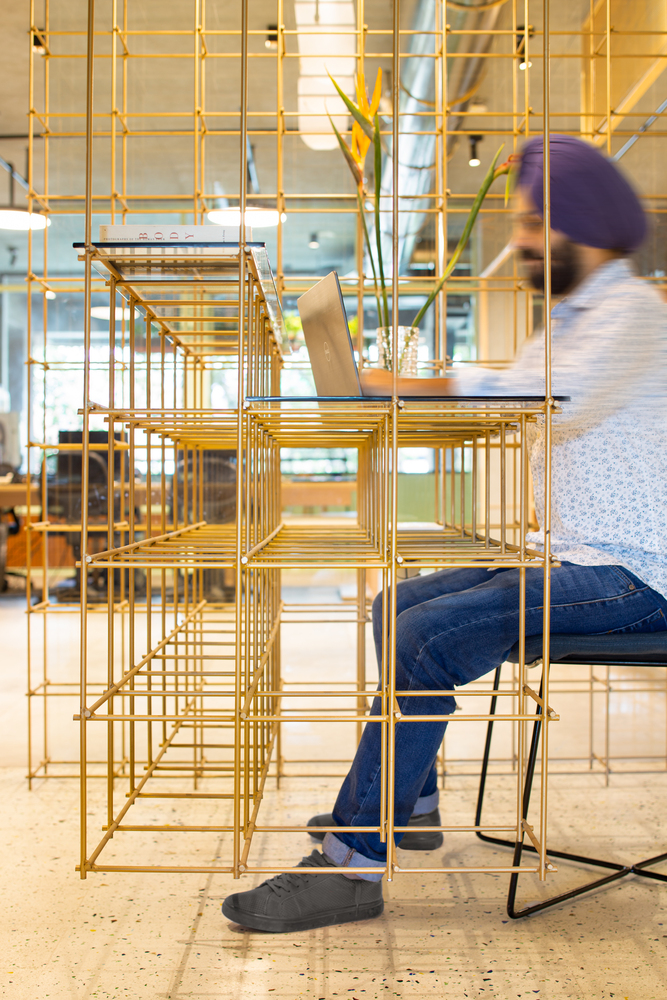 The Nureca office is eclectic, with various themes employed for different spaces. Metalwork is painted in three soft pastels colors- The sea blue in the executive areas, the earth peach in workstation area and pastel greens in the cafe / spill out area. These colors being distinct, do lend a character to each category of space but also blend into one another to create a cohesive continuum of spaces. (Source: Archdaily)
Using materials like metal, glass, terrazo and cork – which are so distinct from each, seamlessly into one space is nothing short of a feat. This is what innovation is, the ability to use materials and colors in a restrictive framework in a functional and aesthetic manner. Kudos to the NOOR team for this fabulous office interiors.
AICL Mumbai Workplace Interiors | SAV Architecture + Design
Industrial, funky and plush! The AICL Mumbai office has the best of all three worlds! Treating the office as a living space, the designers at SAV Architecture + Design came up with cohesive spaces within an interior space conducive for living, working and nature. The content and design firm wanted a bright exciting place which suits the future of the workplace as their new office, which is a brief resonating perfectly with the outcome!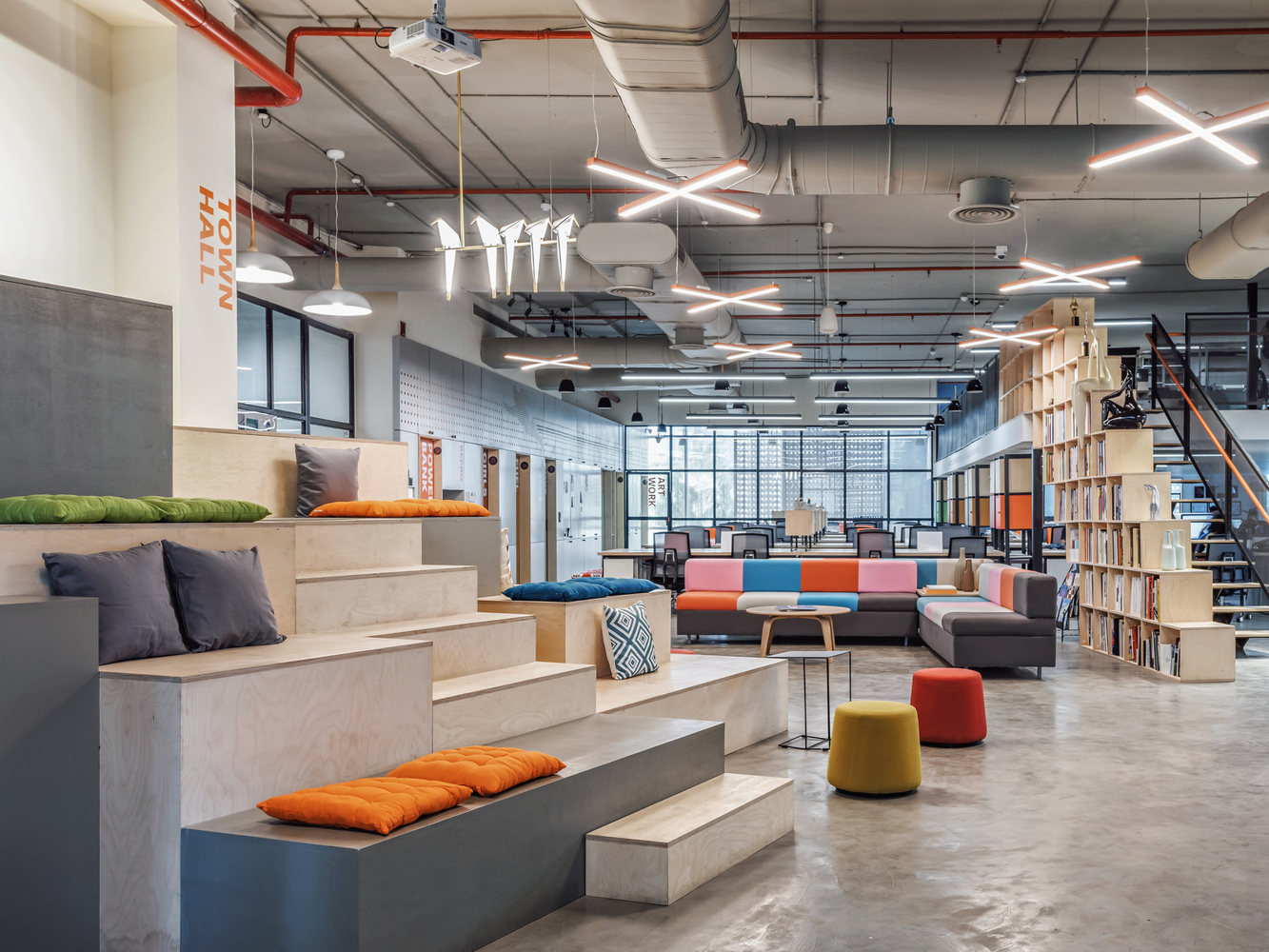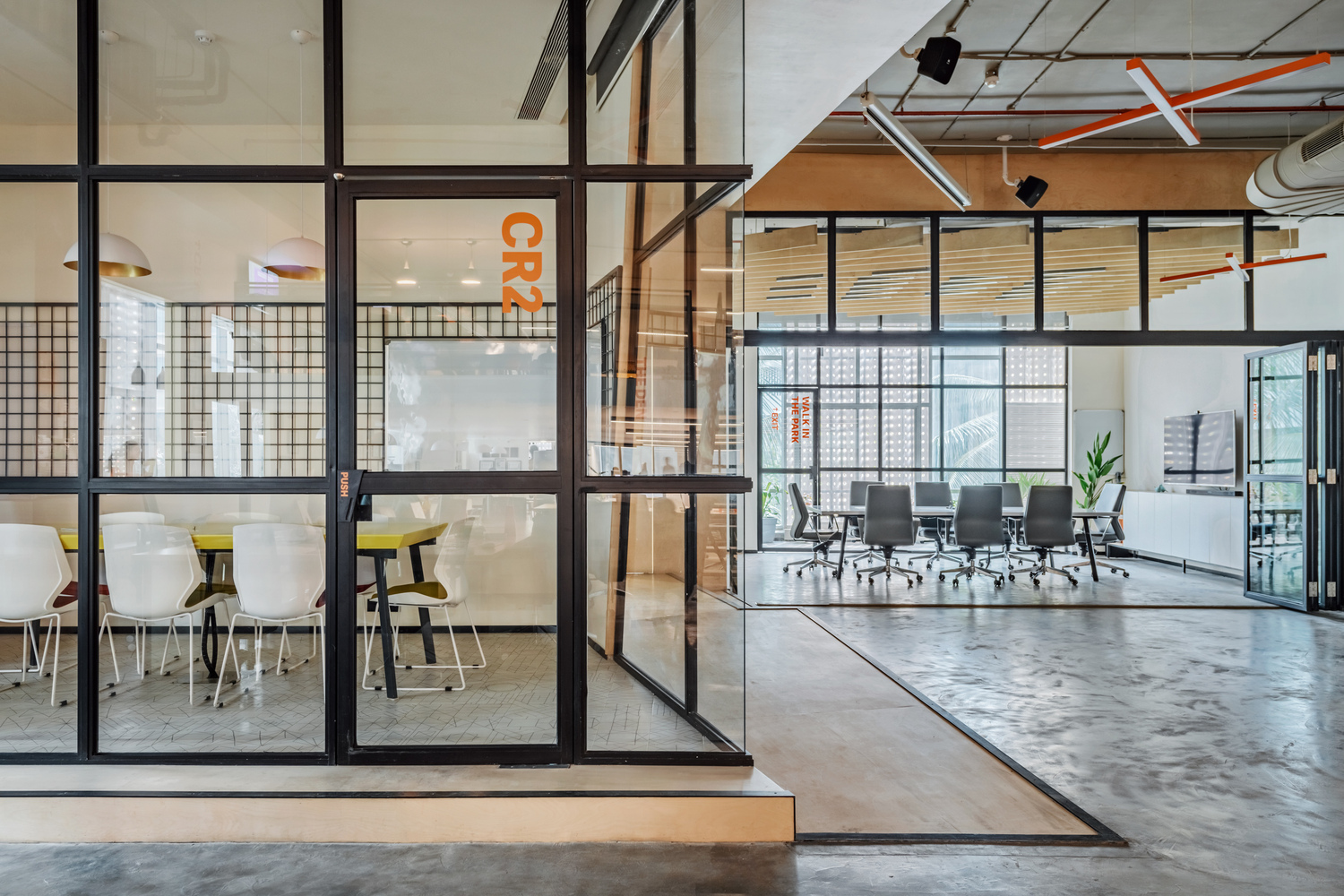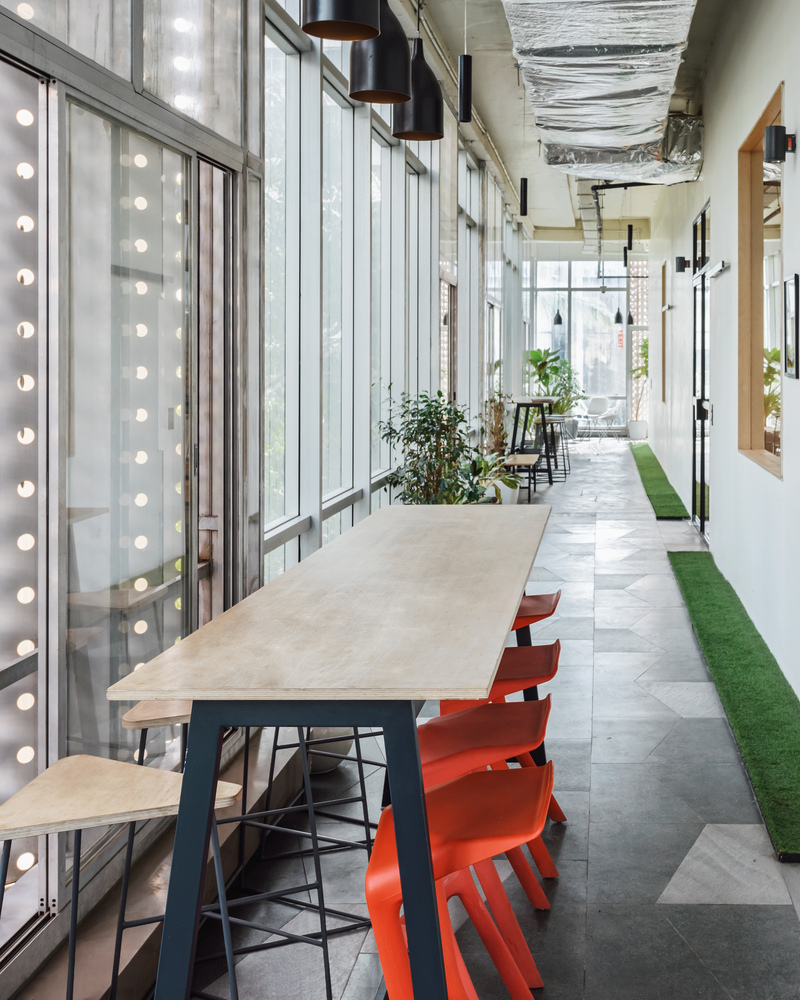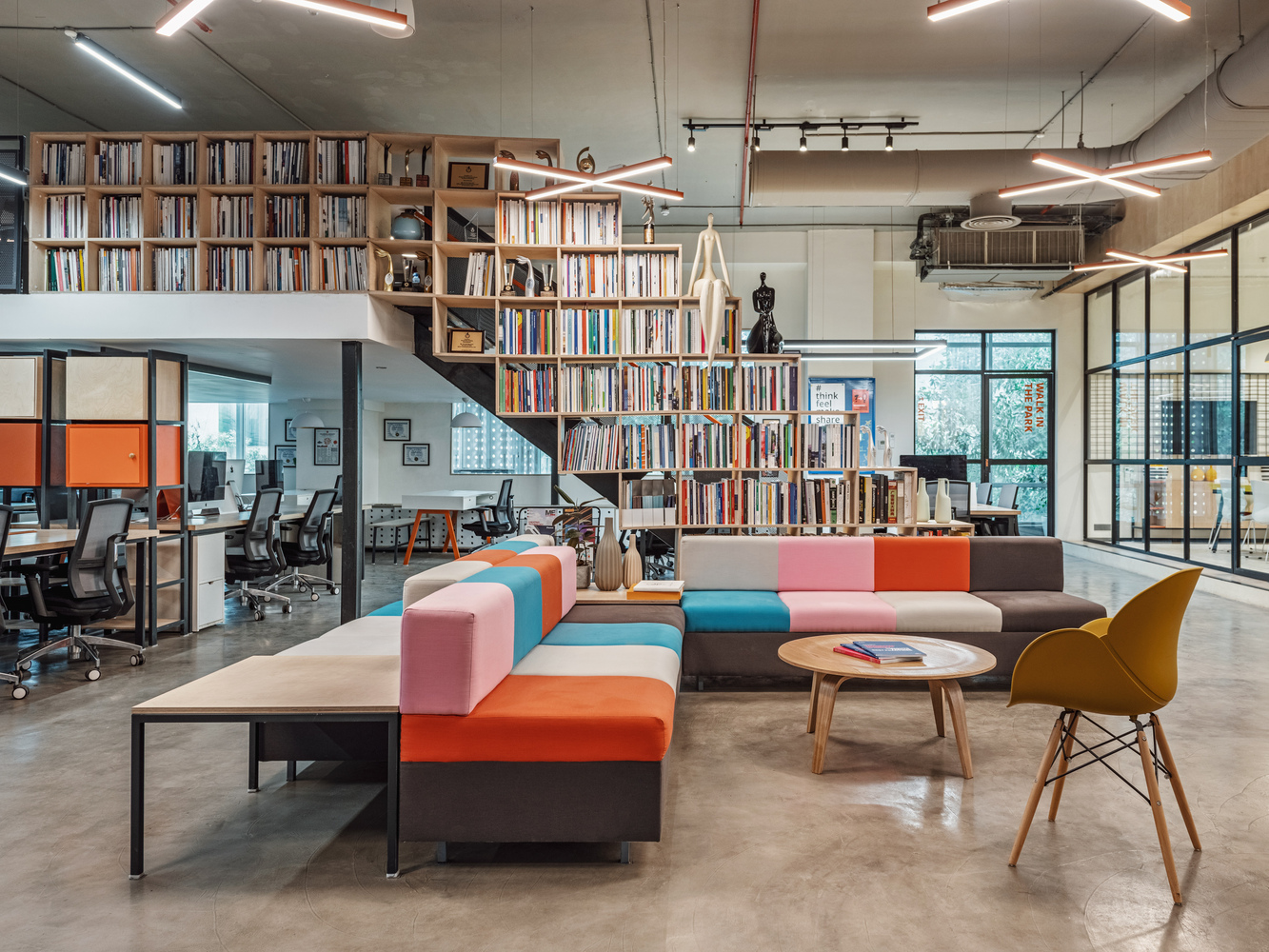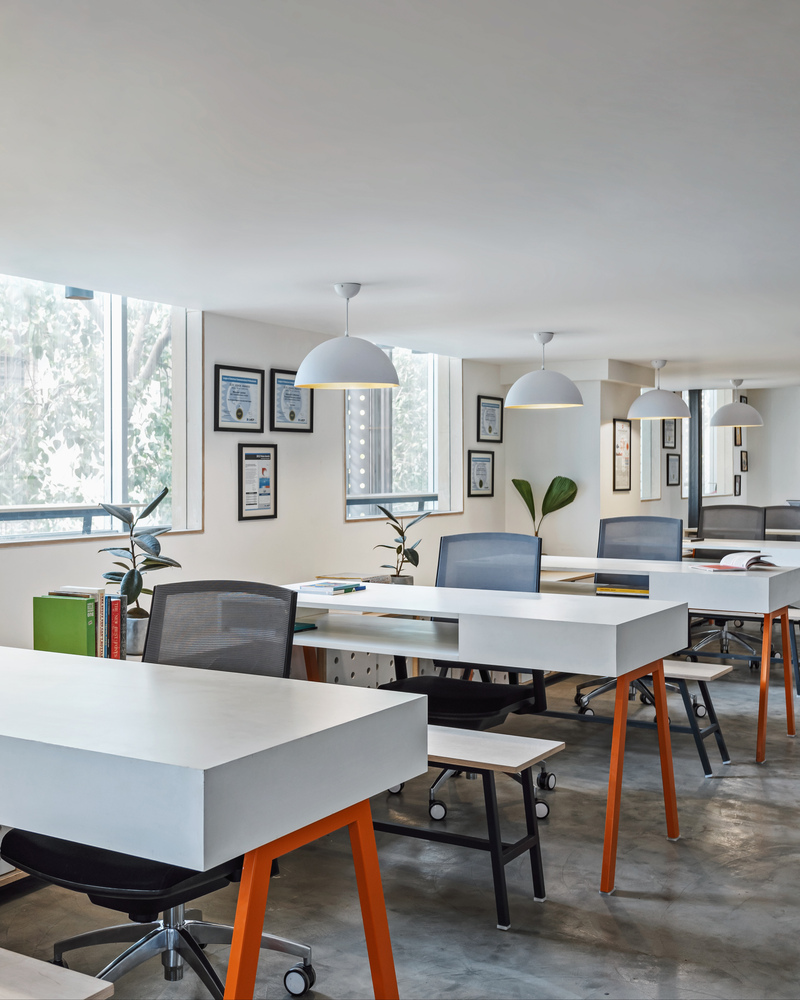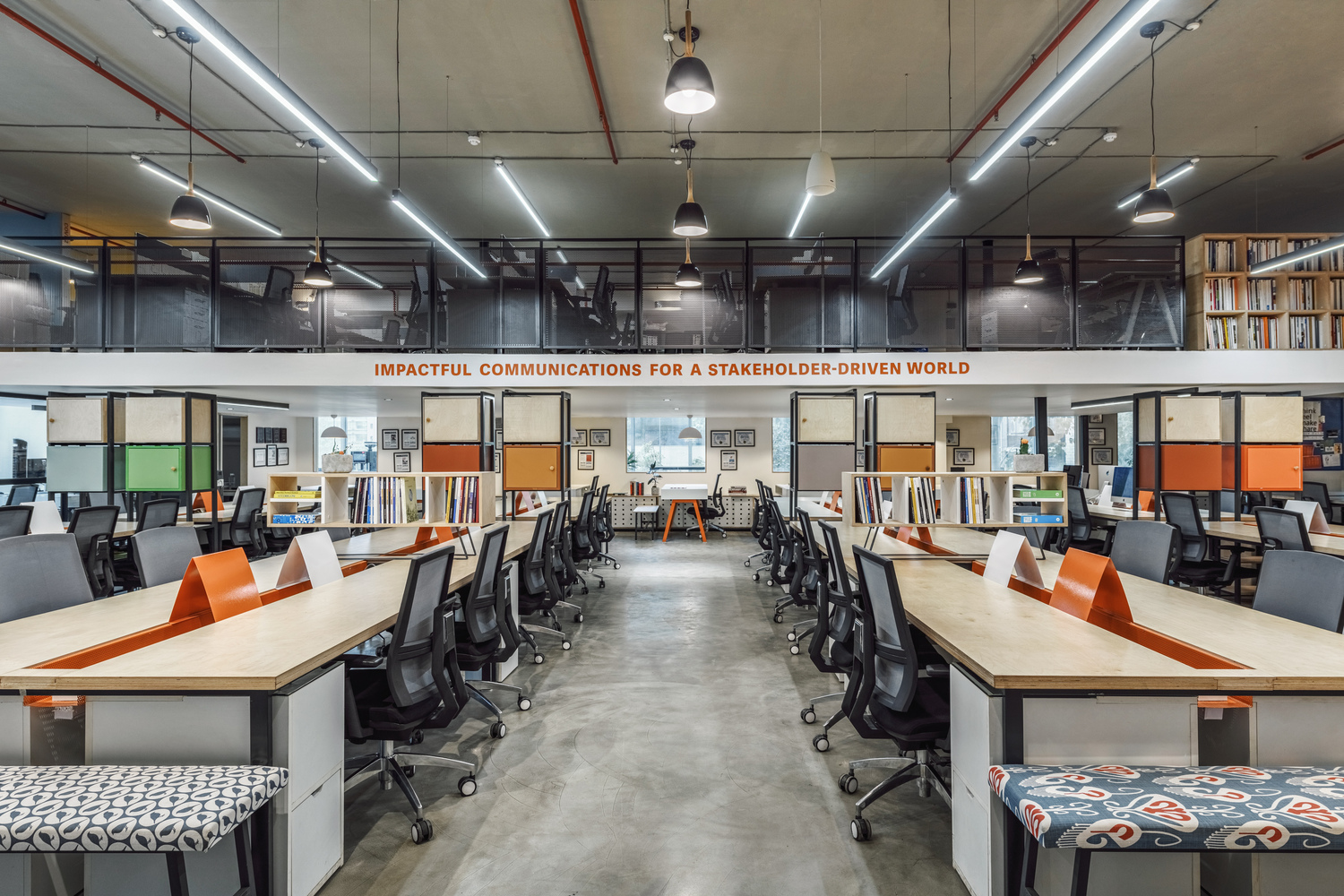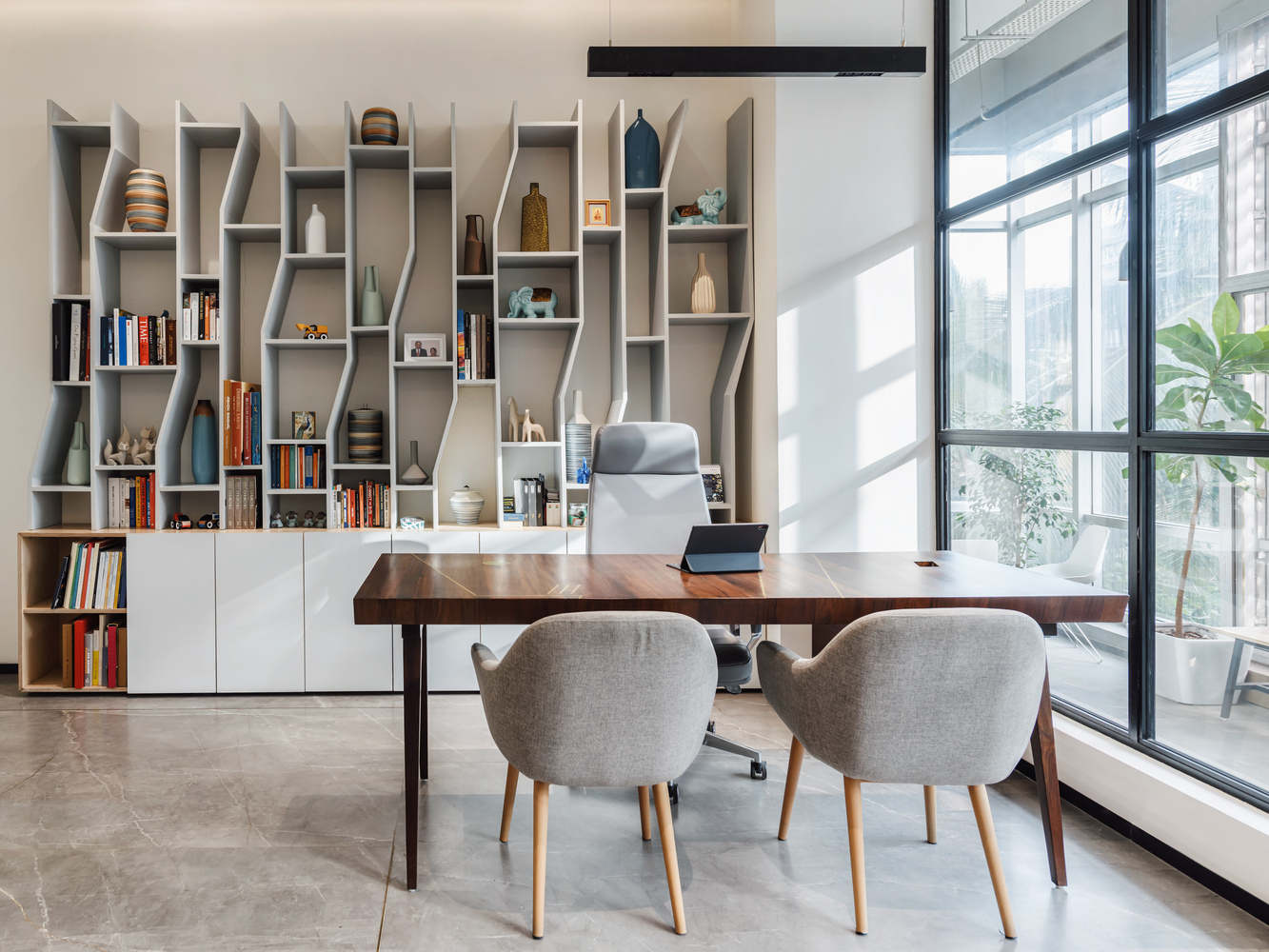 One of the best bets to achieve a semi-formal space, is to employ neutral colors for the civil work i.e. floors, walls and ceiling and bright colors for additional work i.e. furniture, art, or fixtures! This method has been applied to AICL as well, with grey and white being the continuous theme, elaborated brightly with funky colorful furniture, planters and fun light fixtures. The pops of orange in table legs and dividers, balcony chairs, signs and storage units is an understated feature! Apart from that, interesting use of geometry in the partitions (book storage), multi-level seating and cabin wall storage adds to the fun element in the design.
This creative mix of shapes and shades combined with an intensely functional space in terms of work environment makes this office my favorite of the lot! Another element that I absolutely stand for in this design, is the open planning. Without creating too many barriers, walls or partitions, the space is just visually divided by colors and textures with the hierarchy and formality visible to anyone. Smart!
Lopez Design Office | DADA & Partners
A space bespoke to an environmental graphics firm was unveiled by DADA & Partners for Lopez Design. A simple sustainable approach, with 2 storeys office space and upper 2 storeys as living space is comprised in this design with a central vertical void providing visual connect. The design uses a restrained palette of exposed brick, cast-in-situ concrete panels, and steel cladding. (Source: Archdaily)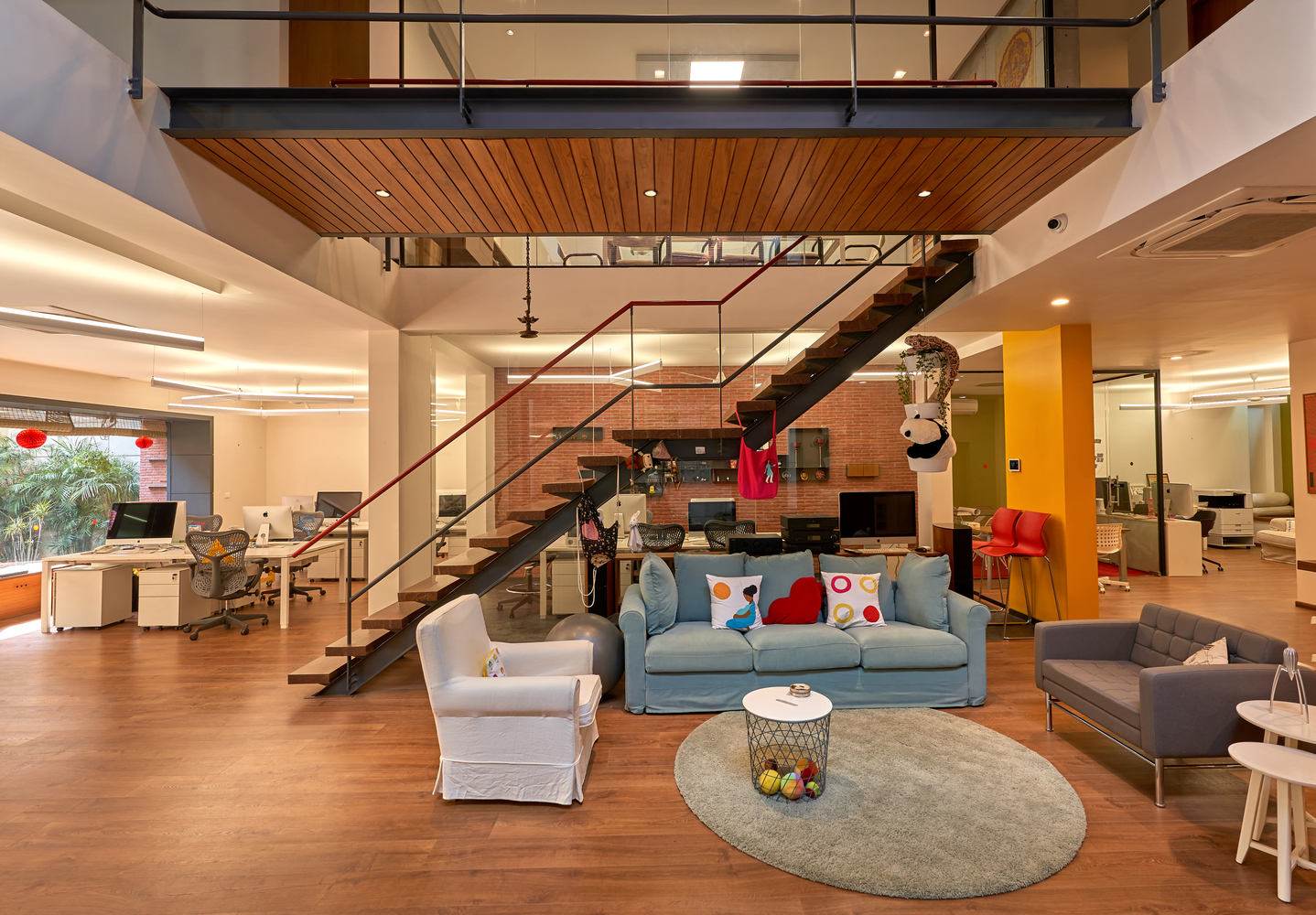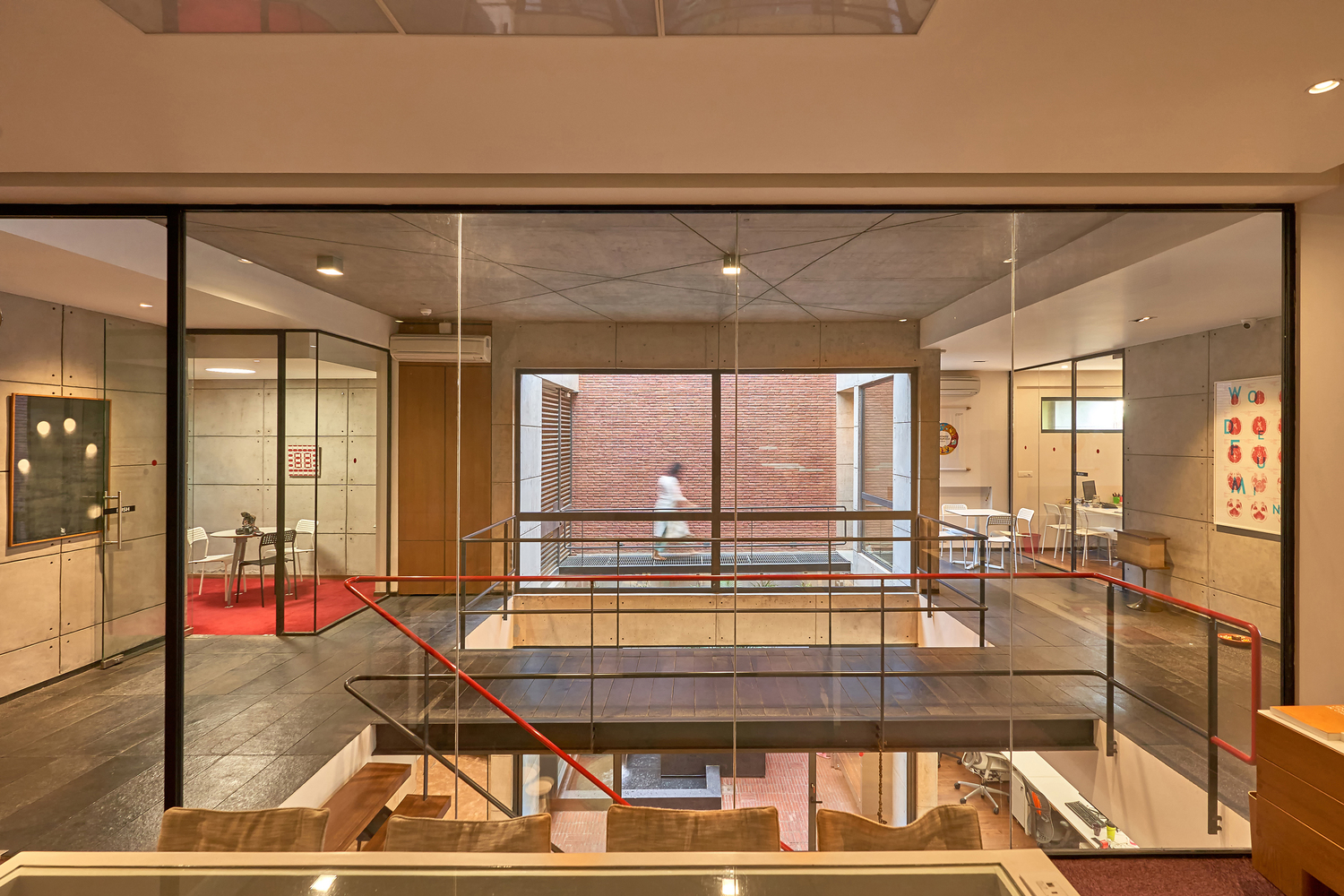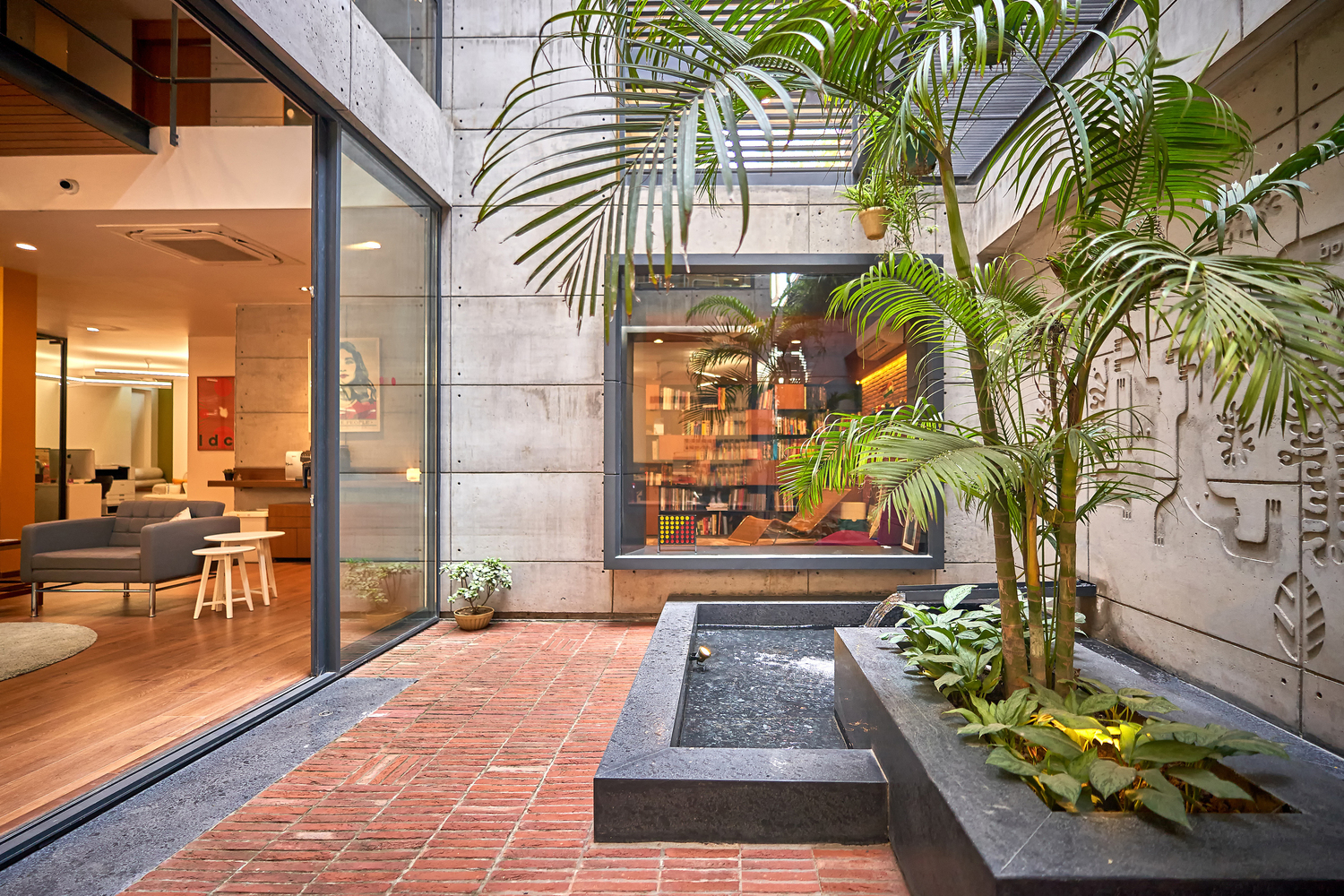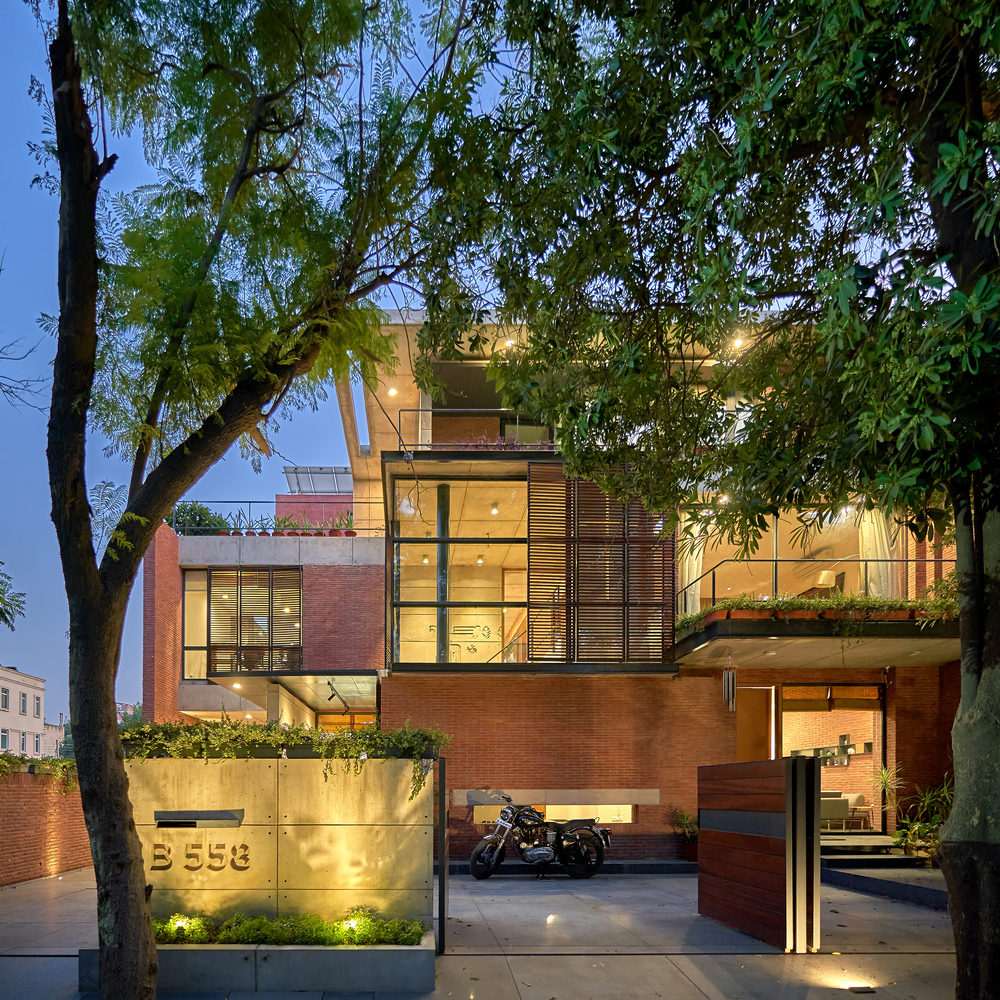 This Gurgaon office has set a precedent for others, as it incorporates the built and open spaces in perfect symphony with every space opening out to the landscape through spillover spaces or large glass windows. The use of brick in the exterior facade as well as smaller elements indoors like flooring, feature walls etc. brings out the minimalist elegance in the design. Bare cement interiors and wooden tints in furniture and cladding further uplift the interiors and result in a warm earthy work environment. Something, I can't take my eyes off of!
Other examples of amazing office interiors in India are WEWork or even the new millenial offices by Amazon, Google and even content creators like Quint or FilterCopy. Young India needs young spaces to work in, something that suits their mindset, a relaxing informal environment wherein they can communicate, socialize and brainstorm. These spaces need to cater to modern requirements as well like dispensing machines in the pantry, big plotters or 3d printers in graphics or architecture firms, event and promotional spaces in content creation offices as well as gaming or relaxing spaces in multinational IT firms.
The new norms are doing away with gigantic filing cabinets and replacing them with lighter amphitheater like environs. The big service rooms which are no longer required are being replaced with extra curricular zones like indoor auditoriums or cafeterias. In older offices, the balconies and toilets were left untreated resulting in drab dirty zones, which are now focused upon and converted to cozy reading nooks and elaborate luxurious washrooms. There has been an undeniable shift in the approach towards office interiors and this is a trend we hope doesn't go away!
Image Credits: Archdaily.Com